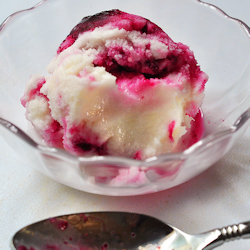 I have mentioned before that I don't turn my oven on in the summertime. We don't have AC, mostly because we don't need it here often enough to justify the expense. There is only a short time year that are truly unbearable and when those days roll around, we often opt for a nice air-conditioned restaurant for dinner. But when you are having a lot of company, and want to make a special dessert, that "no-turning-on-the-oven" thing can limit your repertoire a bit. So, when my family was here visiting, I often turned to my ice cream maker for something special. I made lemon sorbet with blueberry sauce for one dinner, because my dad has kidney problems and can't have any dairy, but much as I love a light tangy sorbet, this sherbet is even better I think. Easy too, so lets get going on it.
Begin by heating
1 & 1/2 cup water
1 & 1/2 cup granulated sugar
1/4 teaspoon salt
Zest of 1 lemon
Bring that to a boil and stir until sugar is completely dissolved. Allow to sit for 15 minutes and strain out the zest.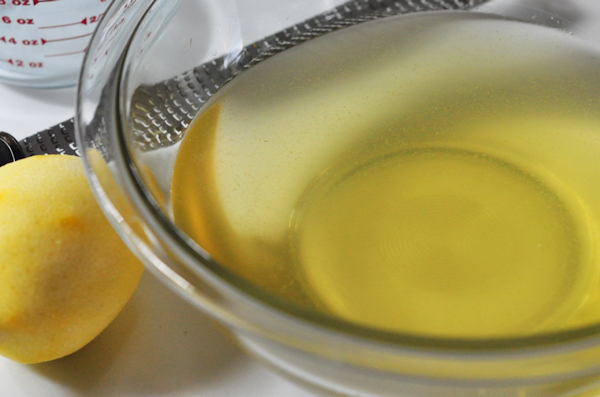 Juice enough lemons to make 1 cup of juice. I think it took 6, but these were really juicy ones, so get at least 8, to be sure you have enough.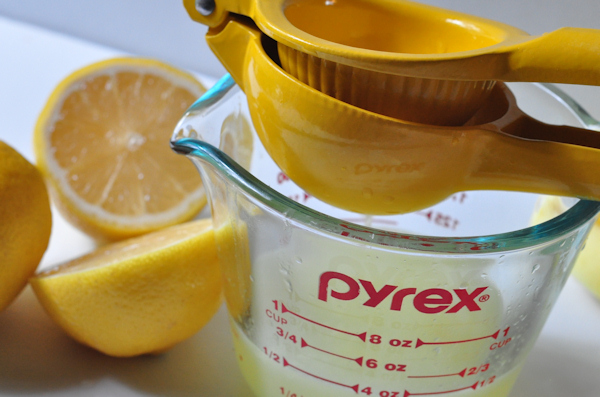 Combine the lemon juice and the sugar syrup, and chill for several hours, until very cold. I cheat and put mine in the freezer, stirring every 15 minutes or so until it is cold enough.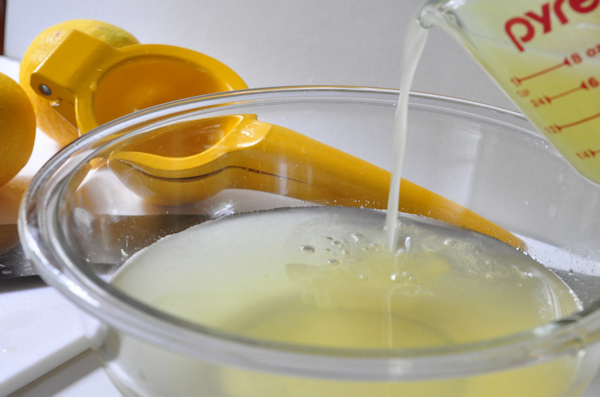 While that is chilling, make the blueberry swirl. You will need
1 cup fresh blueberries [frozen will work when blueberries aren't in season]
Juice and zest of 1 lime
2 tablespoons granulated sugar
1 teaspoon water
pinch salt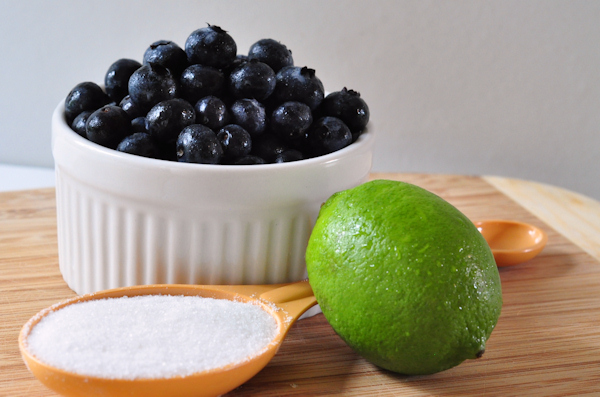 Place over a low flame and cook for about 15 minutes, until the berries have all lost their shape. Raise the heat just a bit and cook until the mixture is slightly reduced and thickened.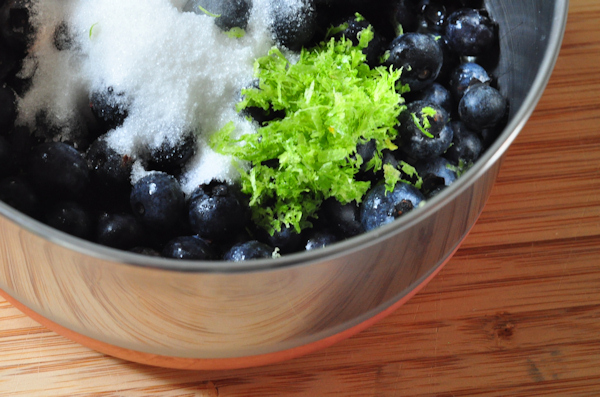 Force the sauce through a coarse strainer – you are mainly just creating a uniform texture and removing any large bits of skin from the berries.
Mix in 1 teaspoon vodka, and chill.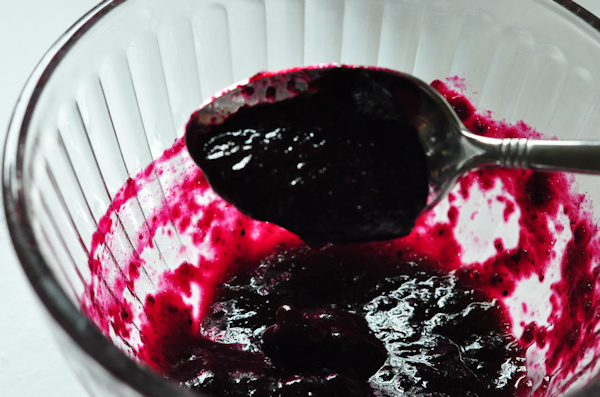 Take the lemon mixture out and mix in
1 cup half and half
2 tablespoons vodka
The vodka isn't for flavoring, but to regulate how hard the final product will be. Since alcohol doesn't freeze, adding this bit of vodka keeps the texture smoother.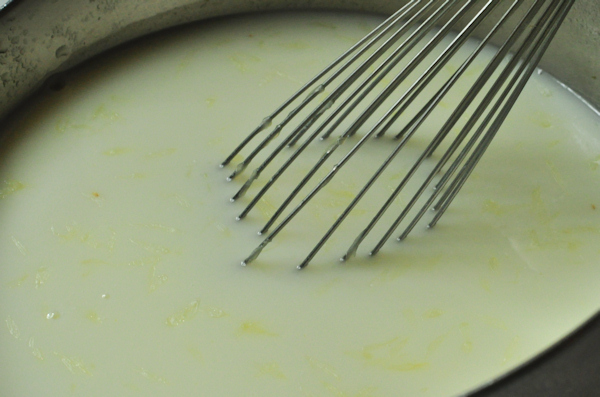 Turn on your ice cream maker and pour in the sherbet mixture.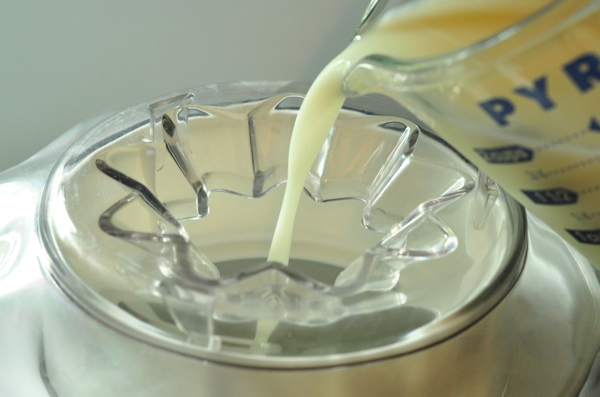 Follow your machine's direction for how long it should go – mine took about 25 minutes to become nicely thickened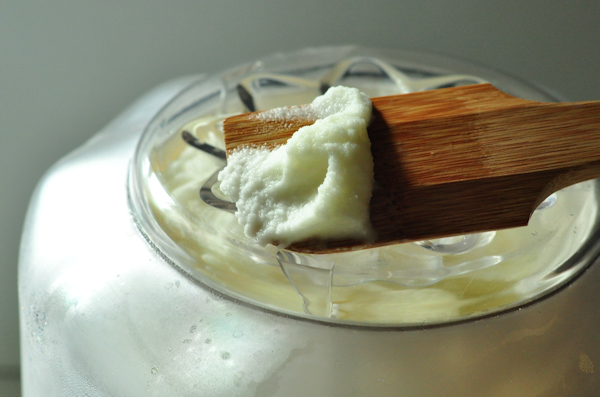 Now, you need to layer the sherbet and the blueberry sauce. You have to work quickly here, because any melting that occurs is going to make hard spots later on. It won't take long though. Put 1/3 of the sherbet in the container, top with 1/3 of the blueberries and repeat the layers, ending with the blueberries.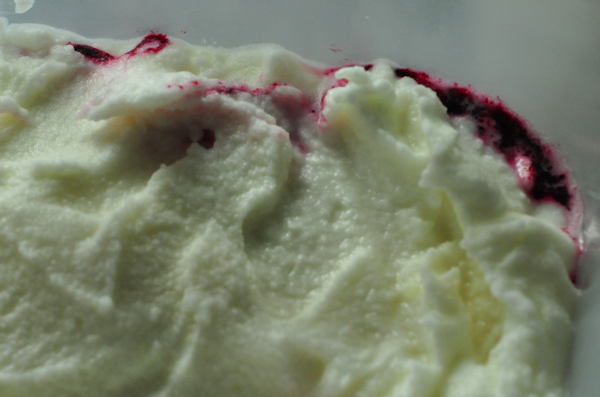 Take a table knife or large spreader and run it through the layers, back and forth just a couple times to make it all really swirley. Press plastic wrap over the top surface and cover tightly. Allow the sherbet to ripen in the freezer for 3 hours at least before serving – a few hours longer is even better.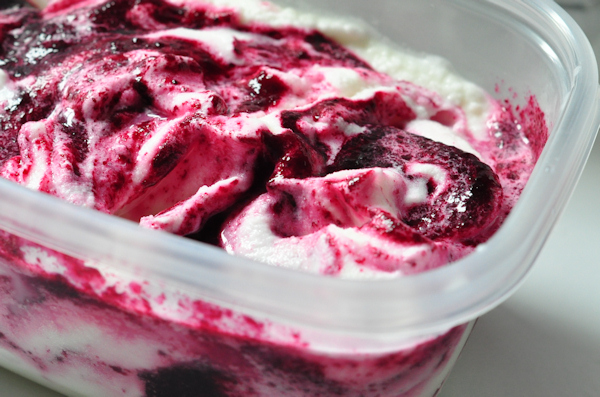 And then – you get this!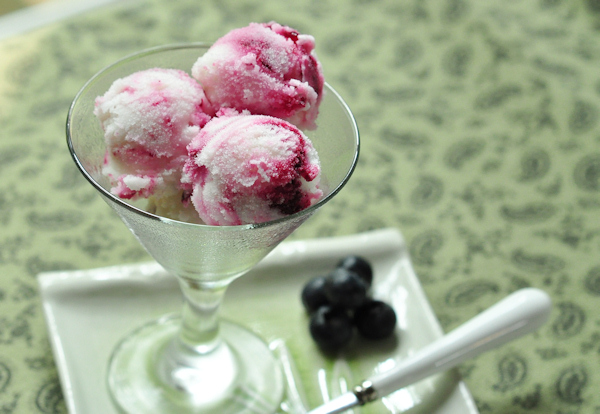 Other posts you may like:
Strawberry Rhubarb Sherbet
Blueberry Crisp
Lemon Bar Tarts