While we were out in Arizona, my sister and Lauren and I spent quite awhile going through old photos. There are a lot of them that my folks don't mind us taking, because they want us all to enjoy them. [that is one reason there has been a box of slides next to my computer for the last 5 months – I said I would scan them all and get copies to everyone. And I will – one of these days…] And anything we decide to take now is one less thing my Mom will have to decide what to do with at some point in the future.
In one of the boxes in the spare room closet, we found a bundle of photos, with a letter to my Dad's folks. Grandma must've given them back to Mom when she was doing some cleaning out of her own. The letter was written in August of 1957, when I was a little over two years old and cites the fact that I didn't care for having my hair combed [presaging years of tearstained, furious mornings of getting my hair braided before school. I'd have just shaved my head I think] and that I was fascinated by the infant belonging to a friend, so I was likely to adore and not be at all jealous of my soon-to-arrive baby sister [proving my Mom could never have made her way in the world as a fortune teller]
But most interesting, were the photos, showing early leanings toward interests I still hold today.
Like dogs – this one belonged to my folks best friends, who lived next door. Connie had brought him back home when he got out of the service. He was roughly the size of the trailer we lived in at the time and I have very clear memories of him.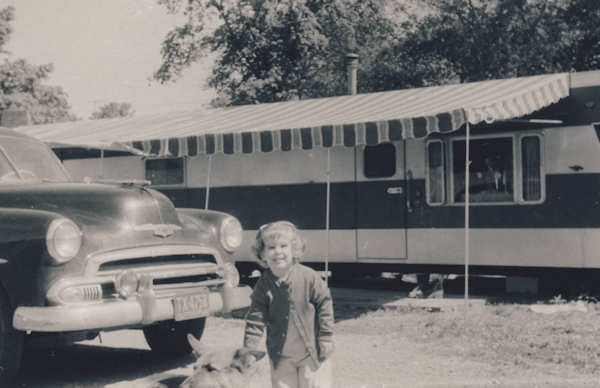 And look – an early prediliction for growing things is evidenced by my examination of this tree. The trailer in the background belonged to my folks' best friends, Midge and Connie, who lived next door to us.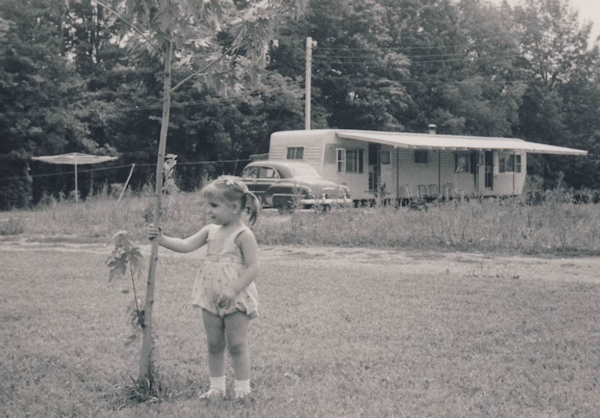 I married a man who loves old cars.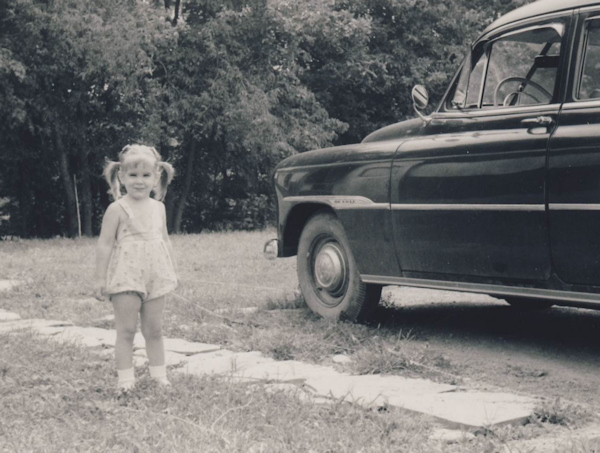 And look at this! I actually remember playing with that camera, so I think they must have given it to us at some point. I loved walking around looking into the veiwfinder which was like a reverse periscope, looking down rather than up. Obviously a budding photographer, even at two.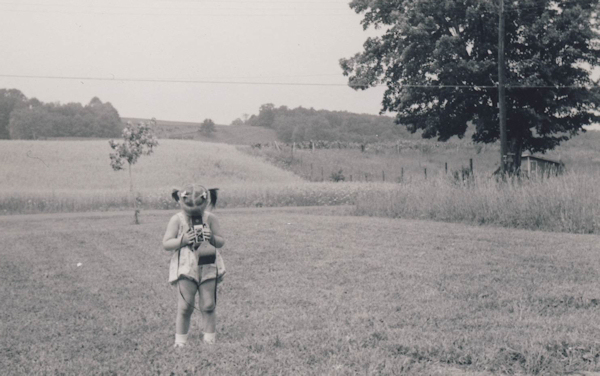 I'm not sure just what this shows, but it is Larry's favorite of the bunch, if that tells you anything.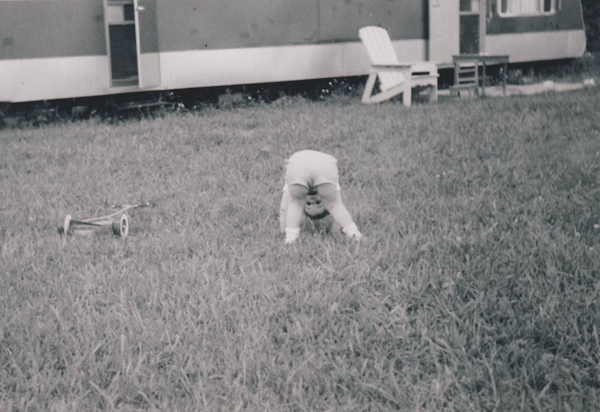 All lovely and showing what an adorable child I was.
But then, we fast forward about 12 years or so, to this gem.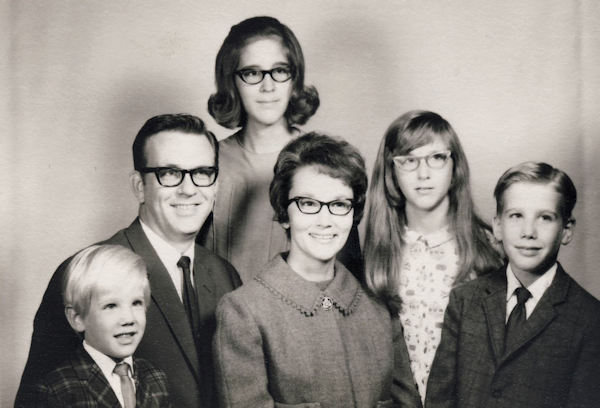 Even setting aside the interesting fact that my Dad was apparently cloned to create Greg Proops, this photo still has the power to make me cringe. Why, in the name of all that is holy, would the photographer place the gawky 13 year old so that her head is suspended miles above everyone else's? My head is like a balloon in the Macy's Thanksgiving Day parade, floating high above the earth. And we won't even go into those eyebrows that had clearly never seen the far side of a pair of tweezers. [This is before the birth, a few years later of Jason, our youngest brother. I was 15 when he was born, and his existence proved the horrifying and humiliating fact to my angsty teenage self that my parents were having sex. I thought I would die. I'm pretty much over it now though.]
Everyone in my family is planning to be here this summer, as we will be celebrating my Grandmother's 100th birthday, and a family photo is on the agenda. I am going to make sure that I am sitting down.