I don't write about politics on this blog. There are plenty of political blogs out there, but I don't focus on it for any number of reasons, not the least of which is: I don't wanna. But today I am forced to put aside my accustomed practice and take up that hornet's nest. I have been scandalized and astonished to the point that I really feel I must comment on a topic related to politics.
And Chia pets.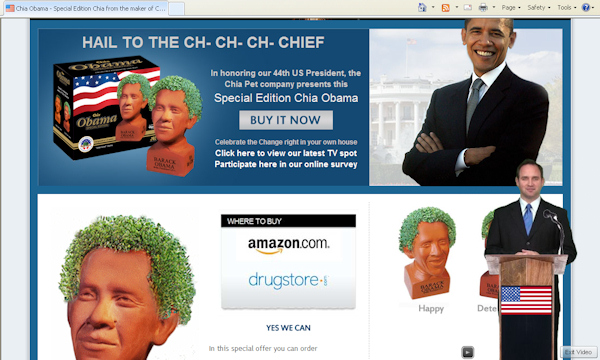 What the…..?
When I first ran across this, I thought it had to be a joke. But, no. You, too, can "honor" the President of these United States with a ChiaObama. That's right – the purveyors of this thing, believe we can "honor" the President of our country, by soaking his likeness in water, smearing ridges on his head with seeds and then waiting a few days for little green plants to sprout all over his head.
You can buy a "happy" ChiaObama, or a "determined" ChiaObama – or both! How would you ever decide? Clearly, you must get both, so that you are prepared for whatever events may transpire on the political stage in this period of our country's history. I mean – if a giant asteroid were headed for earth, you would not want the grinning ChiaObama taunting you as you contemplate your demise. Likewise – if the US wins some great honor, such as the Little League World Series, you would want the more celebratory ChiaObama to help set the right tone for your afterparty.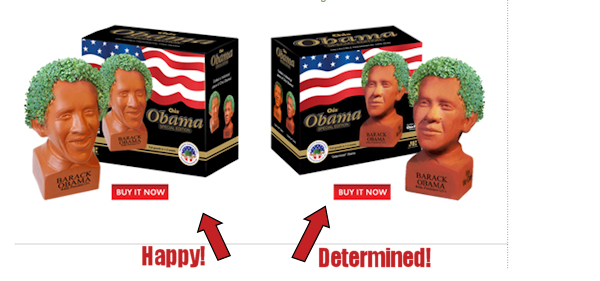 According to the commercial, the ChiaObama symbolizes "Liberty, Opportunity, Prosperity and Hope". Delicacy prevents me from mentioning a few other things it symbolizes, but I am sure you can fill in the blanks for yourself.
Here, I have conveniently highlighted some of the features of this fine piece of Americana.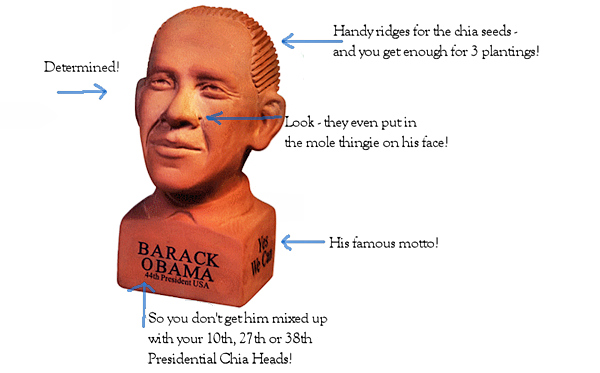 I cannot rid myself of this niggling question: Does the President have to okay something like this? Can the ChiaPeople make anyone's head into a Pet? Are there permissions, liscenses or copyrights involved? The mind boggles.  In any case, you can see this for yourself, here. Yes – you can!