I am late getting this posted, because of being away, but I don't want to skip the Comment Love Giveaway this month.  All comments, beginning with June 1st are going to be counted as entries.
For those new to my blog, each month, a comment is chosen at random to receive one of my photos, matted and framed and shipped directly from the lab.  It is just my way of showing my appreciation for the people who take the time to visit here and who let me know what they are thinking.  The more you comment, the more entries you have. 
This month's giveaway is a limited edition print of one of my favorite daylilies, called "Mary's Gold"  The print is 5×7, matted in black and framed in bronze, with a finished size of about 9×11.  It is also available for sale, priced during the month of June at $70, including shipping [for purchases there may be an additional fee for non US shipping addresses].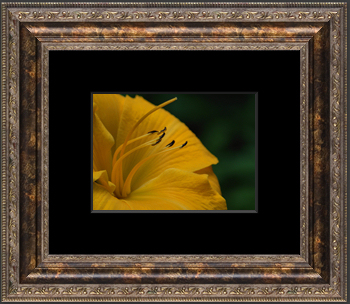 So, speak up people – tell me what's on your mind – ya know I love me some comments!
Congratulations to Trisha, who won for the month of May.
Have a great Sunday, all