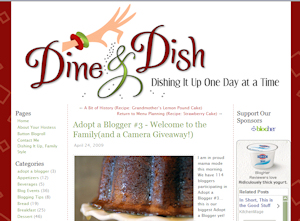 I like her so much, that I adopted her and brought her home with me. Would I kid you? Nope. Not entirely anyway. Last month, Kristin of Dine and Dish put out a call for more "veteran" bloggers who were willing to mentor some newer food bloggers. I let her know I would be willing, even though I am not strictly a food blogger, and not exactly a veteran either. Apparently I am close enough though, because she put me on the list and late last month, I got to meet my newbie blogger.
Her name is Dawn, and she began her present blog earlier this year. It is called Eat Play Live and is already a pretty good start. I look forward to helping however I can, and since she is in culinary school, I am certain she can show me a trick or two as well! I think we have hit it off quite nicely and I know I am enjoying getting to know her. We decided the best way to kick things off would be interview each other. So, without further ado, meet Dawn Knowlton of Texas and Eat Play Live
1. Unless I am missing something, you began blogging in January. What got you started?
I guess I could say I have been blogging since 2001, but it was geared as an online journal and was kept private – locked down to everyone except a few close friends and family. I had no direction or specific theme for the journal. I just posted about whatever was going on in my life, in a brain dump kind of way.
Over the last year, I have pulled away from that journal (burn out?) and decided I really wanted to go somewhat specific on topics, while still allowing personal glimpses into my life. Plus I wanted a whole new feel.
Add to that my new found knowledge through culinary school and food blogging seemed like a natural progression. I want to share the techniques and tricks I have learned in school as well as develop a network of people who have the same interests as me.
2. Your blog has also shifted in focus a bit already – where do you want to go?
I want to be a source of relevant information to anyone who chooses to read my blog while also sharing bits and pieces of my personal life. I want to focus on recipes and techniques, include some simple, but attractive, food photography, maybe touch a little bit here and there on crafting or household projects my husband and I tackle, and sprinkle in some day to day goings on in my life.
3. What about blogging is different than you had expected?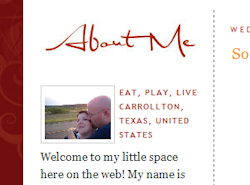 I think the main area that is different is that I believe you have to have regular content. People who follow blogs want to come back day after day to something new and interesting. When I was journaling, that was specifically for me, so it didn't matter if I wrote every day, every week, or every month. I am a planner. So for me, I think I am going to have to have a advanced plan or a list of "go-to" topics that are of interest to me so that I can provide a blog entry on the fly when topics aren't readily coming to mind.
4. I love seeing people embark on "later-in-life" endeavors, so your cooking school enrollment is just awesome. This is an obvious question, but I have to ask it – why cooking school? What led up to it? have you always been interested in food/cooking or is it more recent?
Prior to enrolling in school, I had worked in the financial industry for 12 years. When the economy started drifting south, I was laid off. I was very fortunate to have the support of my husband (fiancé at the time) who encouraged me to take some time off and find what direction I wanted to go in from there.
Being laid off was actually a blessing. I was let go at the beginning of October 2006 and at that exact time my mother's health began failing. Since I was available, I spent the last few months of her life being her live-in caregiver in San Antonio. It was a difficult period for both of us, but having the opportunity to share good times and bad, and be able to give back to her some of the support and care she gave me through my life was a wonderful experience.
After my mom's passing in January 2007, I then had the opportunity to plan our wedding! We married in May 2007 and it was a double wedding with my sister and her fiancé. We had a lovely ceremony attended by over 100 friends and family, with a sit down dinner reception at one of our favorite restaurants and we did it for under $8000 total including both our custom made dresses! It was a day we will remember forever.
After the honeymoon, I decided I had better come up with something to do. It was actually my husband who encouraged me to look into culinary school. Together we checked out the various programs available locally and I chose to attend El Centro, which is a community college that has an impressive reputation locally among chefs. I registered and started attending my first semester of college at age 40 in the Fall of 2007.
That was the long and winding story to get to a simple answer. I have always loved food and food knowledge. I was the one who always wanted to be the "hostess with the mostess" and believed that good food shared with good people is one of the most rewarding times we could have. That whole full bellies, happy heart philosophy. It's what makes me happy.
5. I could have gone all "Baba Wawa" here and asked her if she were a tree, what tree would she be, but instead, opted for: What is your favorite color?
I like vibrant colors and my tastes and mood changes with the seasons. Being spring, I love the greens of new grass shoots and the blues of the bluebonnets that are sprouting on the sides of the roads here in Texas.
6. Describe your perfect day. Who would you spend it with? What would you wear? Where would you go? What music would you listen to? And most important – what would you eat?
Wow…this one is difficult because there are so many things I enjoy doing…but to narrow it down and focus on the most important part – what would I eat – it makes it a bit easier.
My husband, JJ, and I would wake up between 6-7am and have a pot of good coffee brewed and waiting for us. I would make a simple breakfast of buttered English muffins with a poached egg and we would sit on our back patio and read the newspaper while eating and sipping coffee. The sounds would be the birds waking up around us and joining us for breakfast at our birdfeeders.
After that we would dress comfortably in jeans, t-shirts, and sneakers (me in my Crocs) and head out for a short road trip and lunch somewhere unique…up to Gainesville for a fried chocolate pie as a decadent lunch, perhaps Dublin to enjoy a Dublin Dr. Pepper float, or east to Terrell for fresh peach ice cream at Ham's Orchard. We would have our iPod set to shuffle through our favorite roadtrippin' songs (The Andrew Sisters, Roger Miller, Nat King Cole, Perry Como – catchy old songs that we, goofily, sing along to).
Once home, we would take a short nap before waking and getting ready to go out that night for a spectacular dinner at a chef's table – either at the Adolphus Hotel's French Room or Lola. We would dress simple, but elegant. JJ in slacks, shirt and tie. Me in a blouse, slacks and pearls (no Crocs this time, but no heels. Comfortable shoes are a requirement for me!). Our dear friend, and fellow foodie Judith, would join us (she is wonderful and is one of those people that knows a little something interesting about everything and is a primo conversationalist). My sister, Lisa, and brother-in-law, Kenneth, would also join us. We would splurge and get wine pairings for each course of our dinner and we would spend hours dining, chatting, and enjoying each other's company.
After dinner, we would all go our separate ways with JJ and I heading home where we would enjoy a cup of tea on the patio enjoying the quiet of the night before heading off to bed on clean, fresh sheets that somehow miraculously appeared during the day – because I didn't want to stay home and do laundry and make the bed!
Hmmmmmm….maybe my dream day included a maid. Yeah, that's who made my bed. ;o)
7. What other occupations have you had? This is always a fun thing for me to talk about because I have been a Dawn-of-all-trades.
My first real job was at 10. I delivered a publication called the Penny Saver. At 12 I decided I wanted to be an Avon Lady. I purchased my sales kit and knocked on neighbor's doors. I did this for a while with the help of my mother. I finally decided I wasn't really that talented of a sales person and my mother took over entirely.
At this time I had about 5 years of misspent youth. At 18 I spent nearly a year driving a horse and carriage in downtown San Antonio. I spent my early youth around stables and riding horses, so this was an awesome experience for me. I am still talented at parallel parking because I learned how to do it first with a horse and "vis-à-vis" carriage!
When I was 19 I was employed as a bather/brusher in a dog grooming salon. I moved on from there to work as a kennel manager while training to be a dog groomer. I groomed dogs for about 4 years and during that time I also sold homeopathic products for animals. I was hired as a groomer at a veterinary hospital and worked my way up from dog groomer to veterinary technician, to surgery technician, to front office manager, to manager.
In 1994 my sister, who worked for the manager of a Dean Witter Reynolds office, mentioned that they were looking to hire an assistant for a husband and wife stockbroker team. I was ready for a change as I was topped out on salary and promotion in the veterinary field, so I put my name in the hat and two weeks later I was the newest hire at DWR! I quickly earned my Registered Representative license and was soon offered a position (along with my sister!) at another DWR office in Dallas. We jumped on the offer and relocated together.
It turned out to not be the dream job I had hoped it would be so I put my feelers out and was soon hired by a wonderful man who specialized in municipal bond sales at a small boutique brokerage firm. I worked with him as an office manager for the next 10+ years until a financial downturn forced him to let me go.
Somehow I have always landed on my feet with unique opportunities because this is where I started my journey towards being a personal chef.
Currently I work two part-time jobs (short hours at both – about 12 at each a week). One, as a Lab Assistant at the college I attend two nights a week where I assist an instructor during his Garde Manger class (Wed/Thurs), and the other is at a meal preparation business where we put together meals that can be taken home and stored in the freezer until ready to be used (Fri/Sat).
I am currently starting to pursue a career as a personal chef. I hope to specialize in weight loss surgery patients, people with food allergies, and overweight children. I am also playing with a few other ideas where I could marry my love of food with money making opportunities.
So that's it! I had a lot of fun answering these questions and really enjoyed the walk down memory lane and in the dark recesses of my brain! Thank you for the opportunity! -Dawn
So – there you have it. We will be doing some other fun stuff together, so stay tuned for that. You can find Dawn's interview of me here – she asked me some great questions! And if you want to check out the other pairings, and discover some of my favorite food bloggers, go check out Kristin's Adopt a Blogger project.
Have a great day everyone!