Now that I am only cooking for grownups most of the time, we have soup quite often. Soup can be a quick meal, or one that sits and simmers for a while – either way, it is usually pretty low maintenance, so it's perfect for a week night meal for us. This is not super quick, but once you get the chopping done, you are pretty much home free, with the exception of a little zapping with immersion blender at the end. The flavor of the celery really sparks up the cauliflower and the wine deepens the flavor of the cheese – great combos all around.
To start, chop
3 ribs of celery
1 medium onion
You are going sweat the veggies for a bit, which means you keep the heat down until they are translucent. I used chicken stock left after roasting a chicken, so I had some chicken fat from that, which I used for the sweat, but if you prefer, you can use a couple tablespoons of olive oil. The chicken fat is richer though.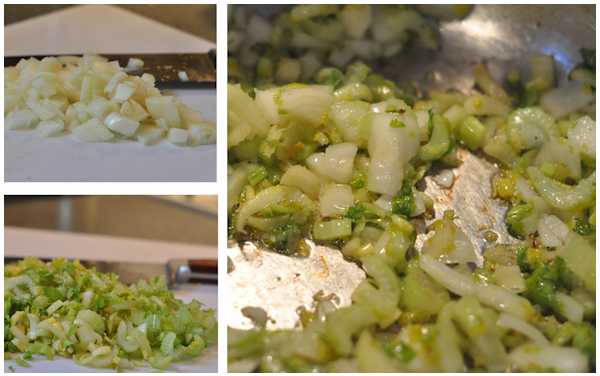 Pour 1 cup of dry white wine into the pot and simmer for a few minutes, and then add 2 cups chicken stock, plus a teaspoon of kosher salt and a few grinds of pepper.

Add 3 or 4 medium garlic cloves, chopped and 2 teaspoons dried thyme [1 tablespoon fresh]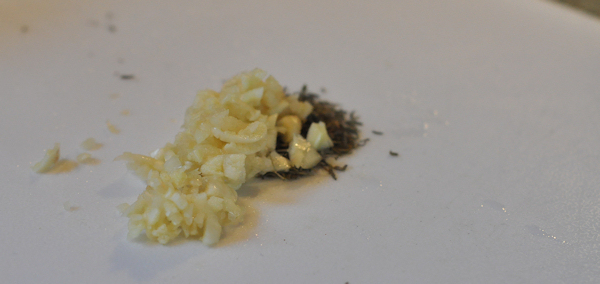 Add 1 medium head of cauliflower, chopped

Simmer until the cauliflower is very soft – about 40 minutes.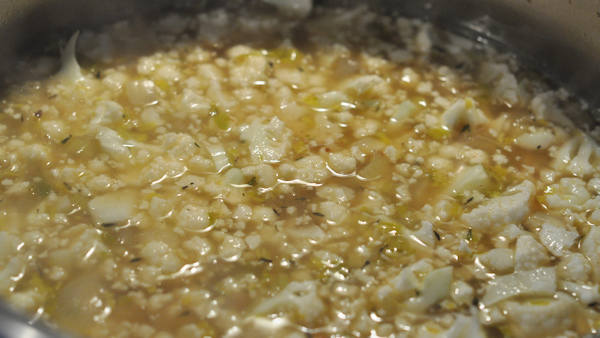 Add 2 cups milk – 1% or above, and bring back up to a simmer.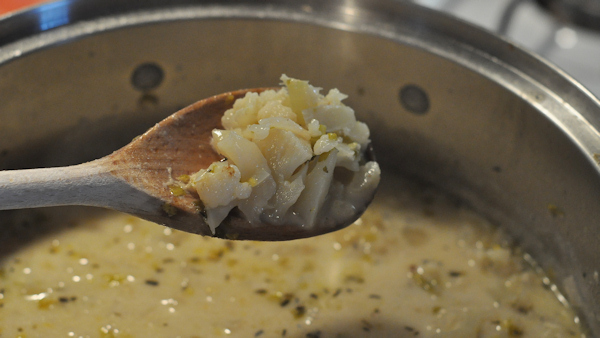 Use an immersion blender and zap it all together until it is smooth. You can leave it chunky if that is what you prefer.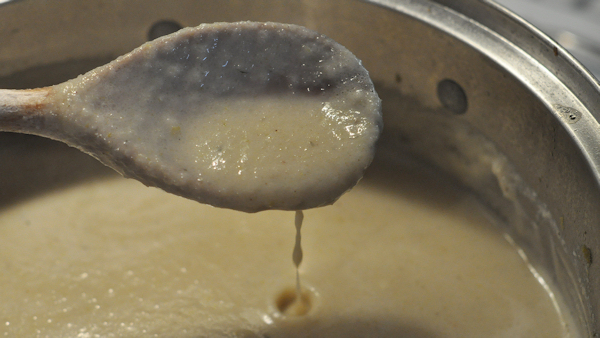 This is 4 ounces of extra sharp cheddar and 2 ounces of feta. You need about 6 ounces of cheese, but you can use whatever you like the best. I use what I have on hand and what I think will make a nice combo – try cheddar and pepper-jack sometime!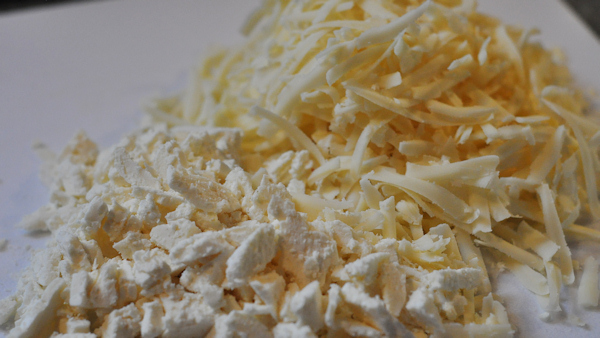 Whatever you use, keep the heat very low and stir constantly for a couple minutes to melt cheese. Remove from heat, cover and allow to sit for about 5 minutes more. If you use feta, you might want to run through it another time with the immersion blender because feta is not a smooth textured cheese, even when melted – not a big deal to skip that though.  Taste and add salt if needed.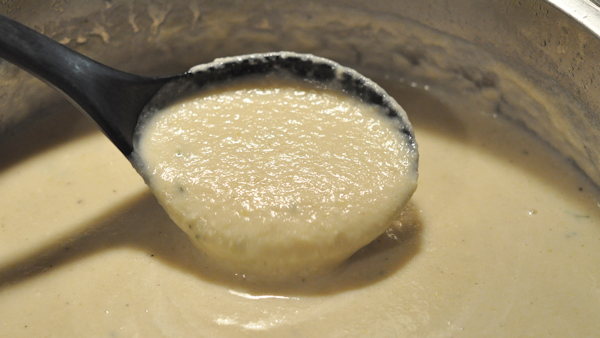 Just before serving, stir in a couple tablespoons fresh parsely, roughly chopped. And enjoy.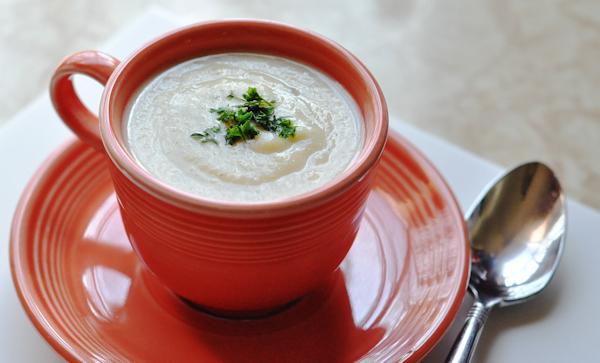 Repeat as needed.