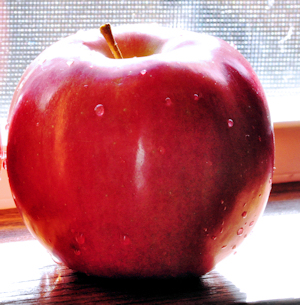 I know – I have been lax about posting this week. The little matter of my job actually expecting me work [can you imagine?], a side project I am getting ready to roll out, and getting caught up from a week away. And there is some kind of holiday coming up too isn't there? That means getting some beautiful Christmas-ey treats baked up to share. You will start seeing those next week. These little sweets were born out of a sudden desire for something apple, when I didn't have a lot of time to fool around. Once the puff pastry was thawed, they took just minutes to throw together and about 35 minutes to bake. This could be adapted for pears or peaches, and the walnuts can be changed to suit your taste. And, come to think of it, they would make a nice addition to Christmas breakfast, wouldn't they?
Thaw one sheet of puff pastry, as the package directs. When you unfold it, you will see that it is very easy to divide into 12 equal pieces. Not that I actually did get it divided equally, mind you, but it would be easy, if you paid a little more attention to what you are doing than I did.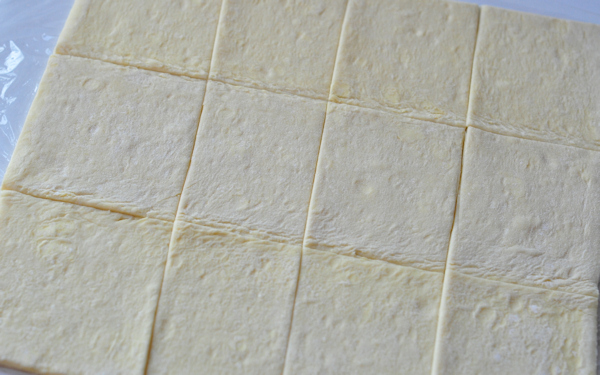 Generously grease a 12 muffin tin. I used baking spray, but butter would be nice too. Gently stretch or roll out slightly each square and fit them down into the cups on the muffin tin.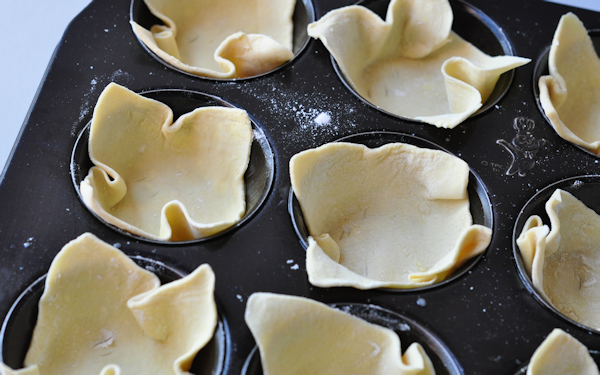 While the pastry is thawing, you can throw together this simple filling.  You can do the chopping and mixing by hand if you like and if you have the time, but I used the food processor.  Pulse it until everything is blended and the apples are the size you want.
2 medium apples, peeled, cored and roughly chopped [or quartered if using a food processor]
1/2 cup toasted walnuts, roughly chopped
1/2 cup light brown sugar
2 tablespoons all purpose flour
1 teaspoon ground cinnamon
1/2 teaspoon ground ginger
1/4 teaspoon cardamom
1/4 teaspoon allspice
pinch of kosher salt
Mix it all together well, and divide evenly among the pastries.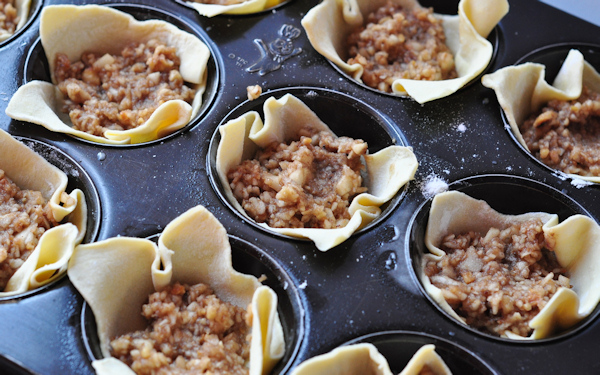 Wet finger slightly and draw the points of the puff pastry together, pinching to seal ends together. Sprinkle generously with granulated or raw sugar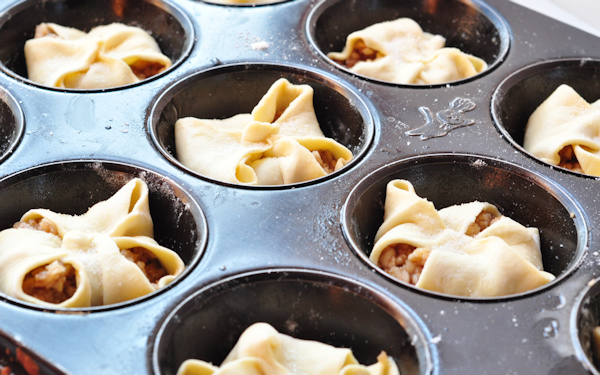 Bake at 350 degrees for about 35 minutes, until filling is bubbly and the pastry is very puffed and golden. Remove immediately to a cooling rack. If you leave them in the pan to cool, they will stick, so get them out right away.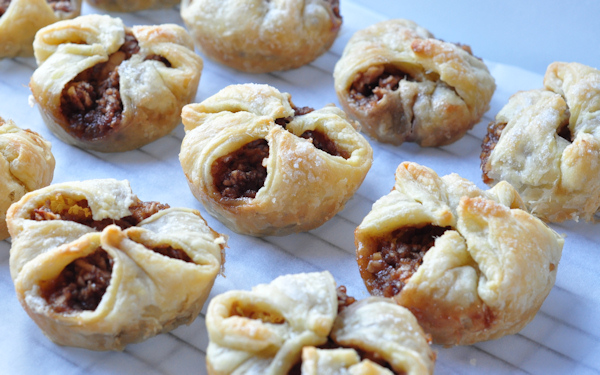 Let them cool at least 10 minutes or so before serving, or the filling will be too hot to eat. These are best served the same day you make them, though you can stretch it one day, by sealing into an airtight container. They are so luscious, no one will believe how easy they are!
Other apple-liciousness you may enjoy:
Apple Cheese Crisp
Apple Kuchen