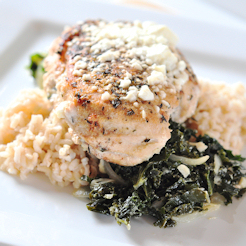 This recipe has been kicking around my kitchen for years. I used to make it with spinach, until my younger daughter, Lauren made it for us with kale. The kale is so much more flavorful and toothsome, and its more substantial texture stands up much better than the spinach ever did. Having said that however, if you prefer spinach to kale, then, by all means use it. It is going to be really good, no matter what green you choose.
First – prepare 2 servings of brown rice, according to the package directions. You can use white rice if you prefer. Then, begin with the chicken. I know a lot of chefs and cooks don't like to use skinless, boneless chicken breasts. For many uses, I agree, but skinless, boneless breasts are fast, easy and a good source of lean protein. If you season them well and take care not to overcook them, they can be the starting point for a delicious meal. This recipe is going to serve two people, so expand it accordingly, if you plan to feed more people. I began with 2 skinless, boneless chicken breasts, about 6 or 7 ounces each. Trim away any nasty bits, and pound them to an even thickness. I use a french rolling pin for this, after covering the chicken with plastic wrap. Season both sides of each breast with generous sprinklings of kosher salt, fresh ground pepper, garlic powder and dried thyme and oregano.

Heat a tablespoon or so each of butter and olive oil – get it good and hot.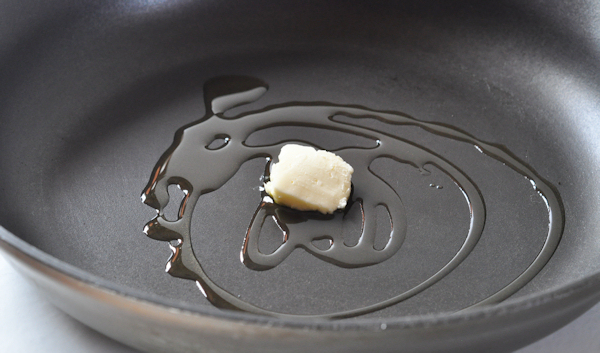 Cook the seasoned breasts on each side, until nicely browned, but don't cook them all the way through. These got 5 minutes on the first side and about 3 minutes on the second side. Remove them to a plate.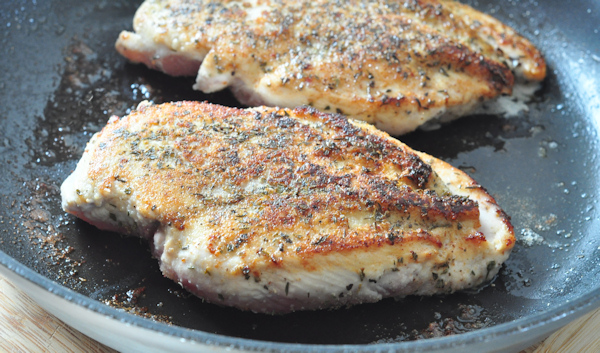 Add half of a medium onion, sliced in half end to end and then cut into thin strips, and 2 or 3 large garlic gloves, smashed and minced, along with a small sprinkle of kosher salt. Let these vegetables saute for several minutes over medium heat.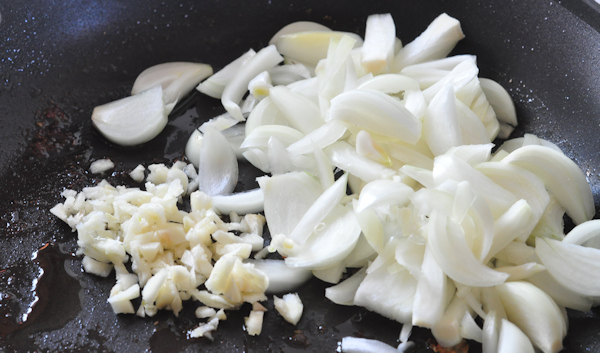 Wash and remove stems from about 1/2 pound of fresh kale. Chop coarsley and add to the pan with the onions and garlic, stirring over medium heat for about 3 minutes.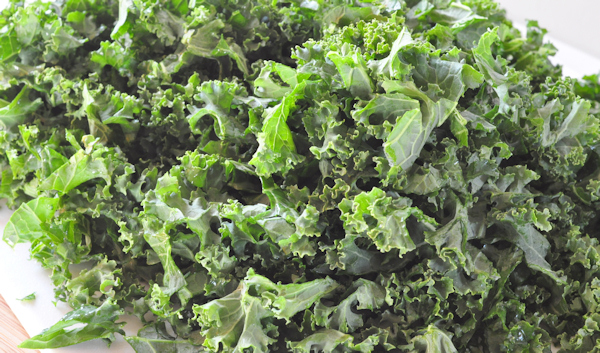 Add 1/2 cup chicken broth, 1/2 teaspoon dried oregano, 1/4 teaspoon kosher salt and a few grinds of fresh pepper and cook about 5 minutes.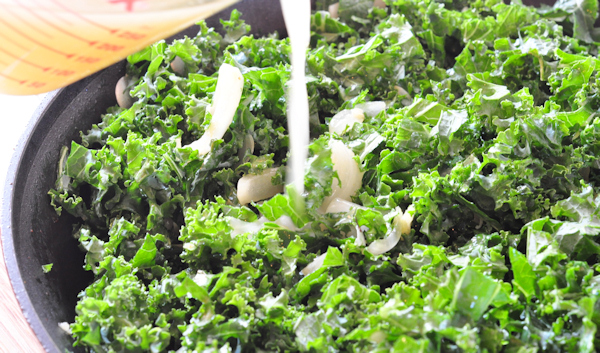 Stir 1/2 cup half and half into the kale mixture. Taste and add a bit more salt if needed. Nestle the chicken breasts down into the pan, so that they touch the bottom, and are surrounded by the vegetables. Sprinkle 2 or 3 ounces of crumbled feta cheese over the top of everything. Cover and bring back up to a simmer and cook for about 8 or 9 minutes until the chicken is cooked through.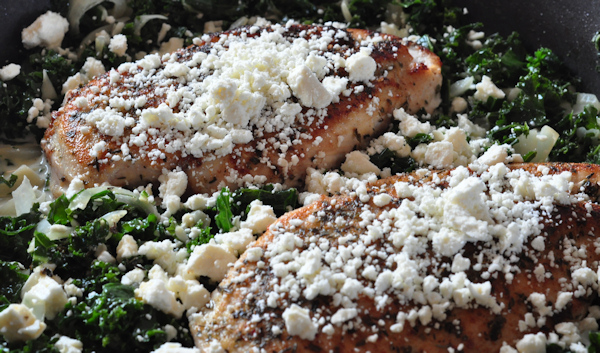 Arrange the kale and chicken over the cooked brown rice, and give each plate a little squeeze of fresh lemon juice just before serving. Enjoy!

Other recipes you may enjoy:
Chipotle Lime Chicken Quesadillas
Oven Fried Chicken