Roasting peppers is one of those intimidating techniques that becomes amazingly simple once you try it a few times. And it's not only easy, but kind of fun as well. I learned how to roast a sweet pepper from that culinary masterpiece, "The World According to Garp" by John Irving. No really – I did! The main character roasts a pepper to make a vinaigrette, and I was so intrigued that I put the book down and tried it immediately. My first few attempts were less than completely impressive, but I am going to help you avoid my early mistakes.
There are other ways of doing it, but 30 years later, this is still my favorite. This does require the use of a gas range, though you can achieve similar results with a gas grill or a broiler. I can't imagine it would be a very good idea on an electric range, but I have never owned one, so I can't say for sure. I think an electric broiler would work just fine though. Anyway – turn on your burners and let them heat up for a minute or two. The peppers you use should be in good shape. These are actually some of the last from our garden, brought in right before we got a killing frost. I let them ripen a bit out on the counter, because they taste sweeter that way. When the burner has heated for a minute, lay the pepper right on the grate.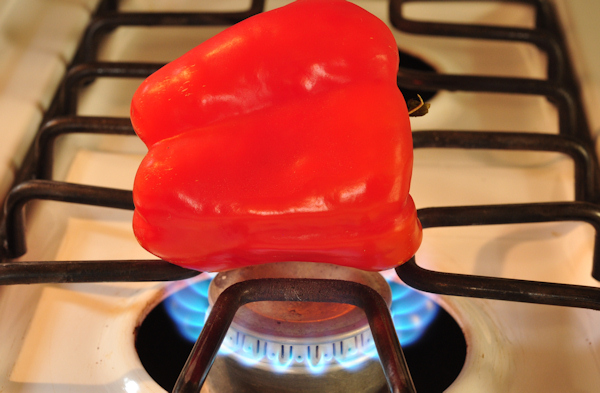 Use metal tongs to turn the pepper as the skin on each side begins to char a bit. Don't try to get each side completely charred before turning it.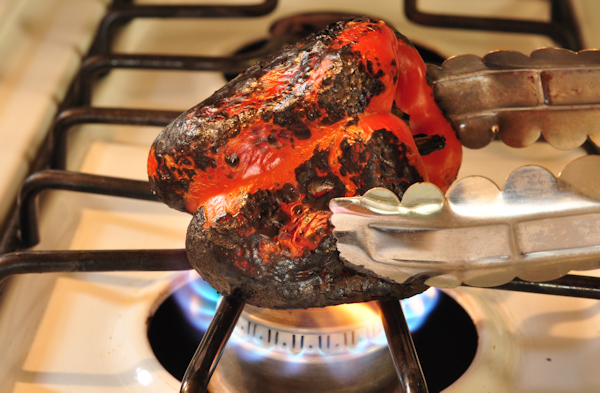 Just keep watching and turning, and go back over to get all surfaces nicely charred.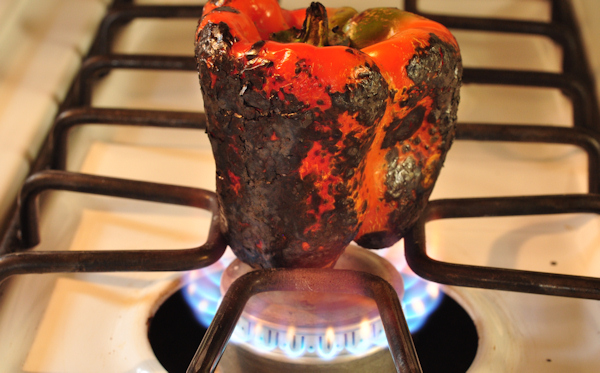 Don't forget the top and bottom. An even, heavy charring is what ensures success here.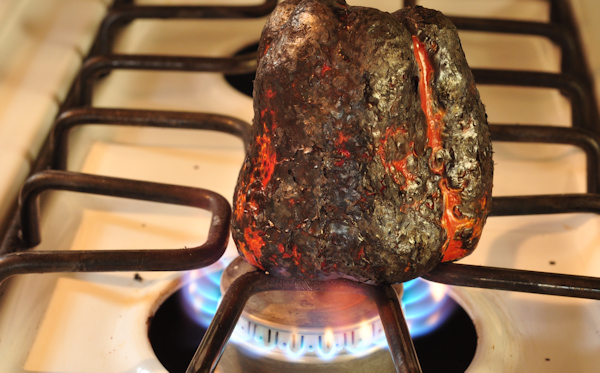 You can do one on each burner, though you have to pay a bit closer attention.  I had 5 to do, so I did the single one first and then the other four.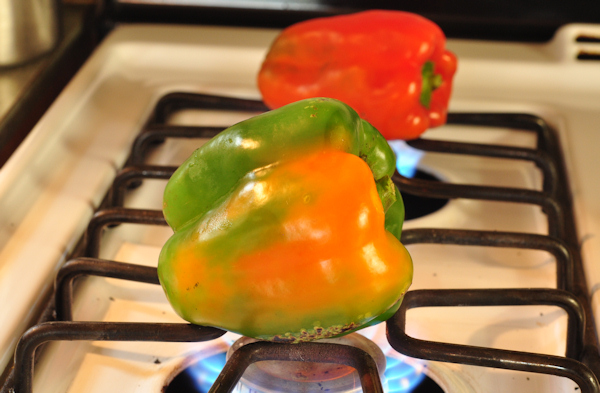 If a side won't sit level by itself, hold it with the tongs until that part is done.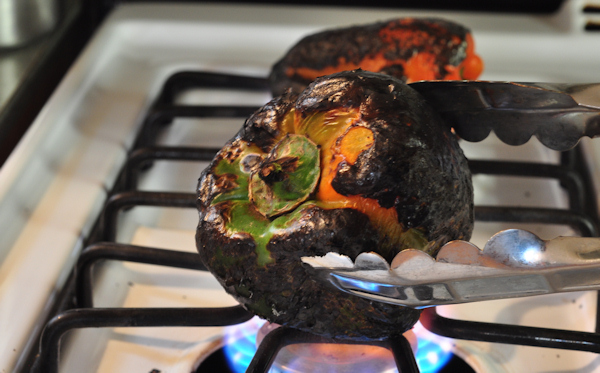 The biggest mistake is in not getting the skin charred enough.  The moisture in the pepper itself protects the flesh from burning while the skin gets very done.  They are much harder to peel if they aren't done enough, and the flavor will not be as intense or sweet.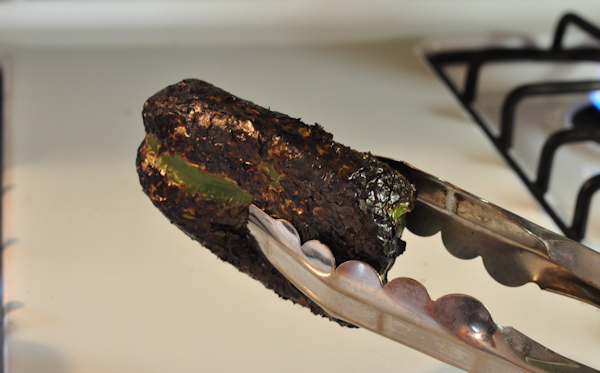 As they get charred all over, immediately put them into a heat proof bowl, and cover with plastic wrap.   You can use a small paper bag if you are doing just one or two, but for more, the bag gets too soggy, so I use a bowl instead.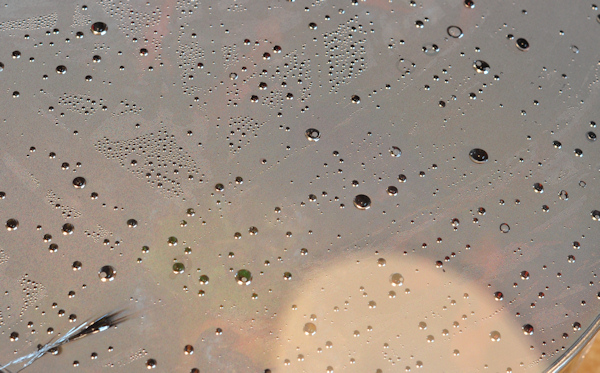 See?  All nice in steamy in there.  Leave them covered until they are cool enough to handle.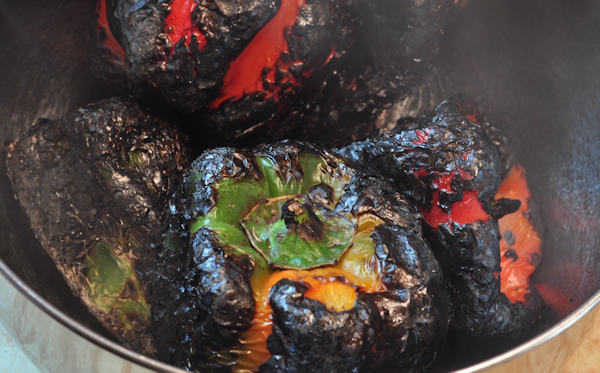 Now comes the messy part. No matter how messy it gets – DO NOT wash them.  No washing. You can take it!  Washing the skin off will take a lot of the flavor and the special character that all of this charring brings to meat of the pepper.  Instead, you want to either rub the skin off with a paper towel or pull it off with your fingers.  If you have a cotillion to attend that night, you will want to wear rubber gloves, because it might leave your hands looking a little on the grubby side.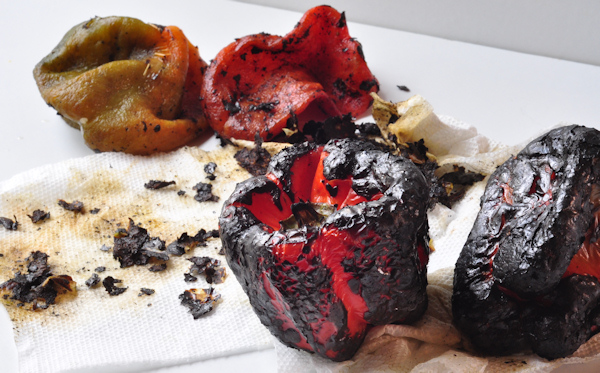 Once all of the charred skin is removed, go back over them with a fresh paper towel to clean them up a bit more.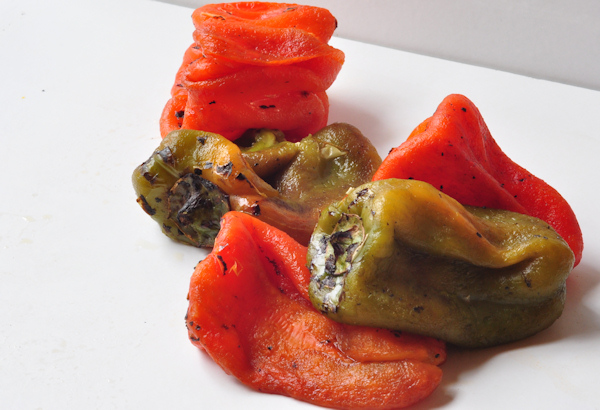 You can store them whole in the fridge for a few days at this point.  When you are ready to use one, cut it in half and remove the stem area, ribs and seeds.  Cut into strips or a dice or leave intact, depending on the recipe you are using for them.  This one ended up on an awesome pizza, but some of the others went into another special dish I will show you in a few days.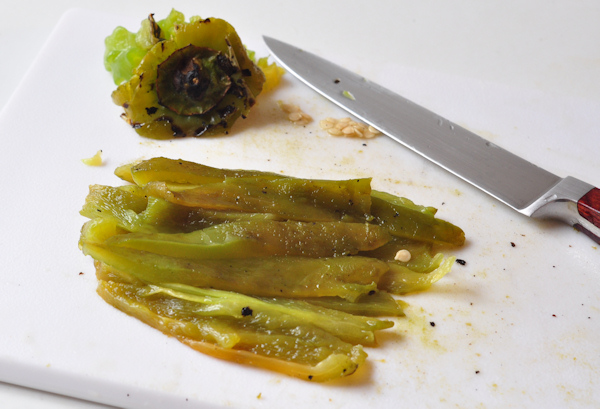 I encourage you to give this a try – it is a lot easier than you may think and the result is well worth it.  You don't have to buy those little jars of overpriced roasted peppers at the store, when you have this method under your belt.  That Garp was a pretty smart fella!
<a HREF="http://www.foodista.com/recipe/F8HFV4J7/roasted-peppers/widgets/" rel="nofollow">foodista widget</A>