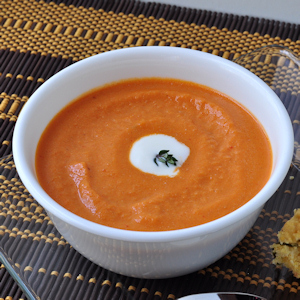 We have had a true bumper crop of sweet peppers this year. We grow a type called "Ace" because they are a relatively short season pepper that does well in our area. You never know with peppers – some years they do great, and other years not so great. And, as I mentioned, this year has been very good. I freeze peppers for the winter months, and our freezer is so full that we can't fit anything else in there, so now I am in "use them up" mode. I also over-bought some local cauliflower and wanted to use that up as well, so this delicious soup came to be. Red peppers used to cost a fortune in the wintertime, but I think their popularity has increased the availability, because the past couple years, they often have actually been cheaper than green peppers. This would be a lovely meal at the end of a cold wintry day, so if you don't have 20 pounds of roasted red peppers in your freezer, I hope they're not too pricey at your market.
You don't have to worry about hard and fast amounts of ingredients for this soup, but I plan to use about 4 cups of chicken stock for the base, so I made that first. You can use purchased stock if you like, but making stock isn't terribly hard, so if you'd like to give it a try, this is how I did it for this soup. I had about a pound or so of chicken wings in the freezer, so I used those. I often buy chicken legs for stock because they are frequently on sale, and the method would be the same, no matter what chicken pieces you use. I wanted a very richly flavored base for my soup. so I really browned the heck out of the wings. Get the oil in the pot nearly smoking hot, and drop in the chicken pieces, which have already been washed, dried as much as possible and seasoned with salt and pepper. Don't move the chicken around – let it get a nice deeply colored caramelization on one side before turning it over to sear the second side. Once you turn the pieces over, add a quartered large onion and a couple of garlic cloves.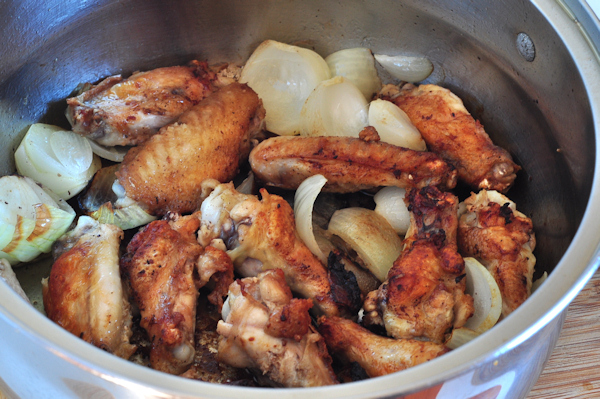 When the second side is nicely browned, add 1/2 cup dry white wine and stir to loosen all the browned bits at the bottom of the pan. Simmer for a minute or two and then add 4 and a half cups of water. Bring back up to a simmer, and cook for an hour to 90 minutes. Strain and reserve the liquid, discarding the bones. If you have time, it is best to chill the stock so that you can easily skim off the fat. If I am in more of a hurry, I throw in some ice cubes to speed things along. Once defatted, add water, if needed, until you have 4 cups. Set aside.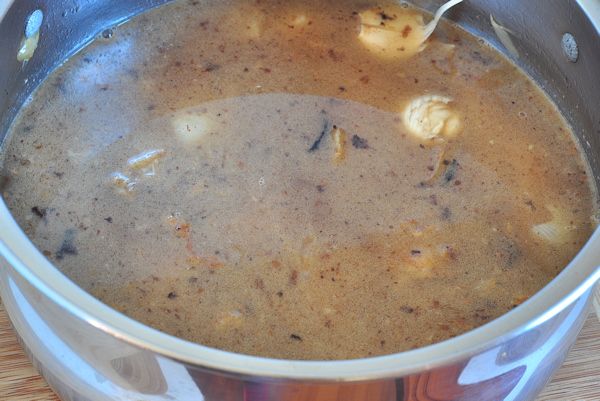 In a clean 5 quart pan, heat 2 tablespoons of olive oil. Chop 2 or 3 celery stalks and a medium onion. Saute in the oil, over low heat, for about 5 minutes until the vegetables are slightly softened.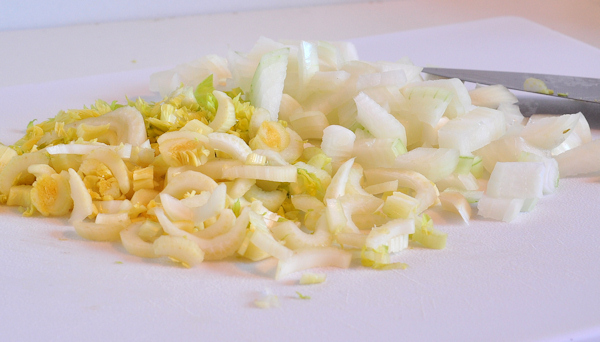 Add a medium sized head of cauliflower, bottom stalks and leaves removed, roughly chopped.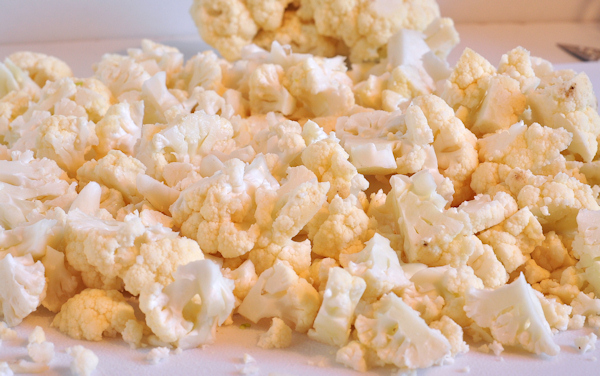 Add 4 red peppers, that have been roasted, peeled and coarsely chopped. You can find a method for doing that here: Roasted Sweet Peppers.
Add the 4 cups of stock and bring up to a simmer.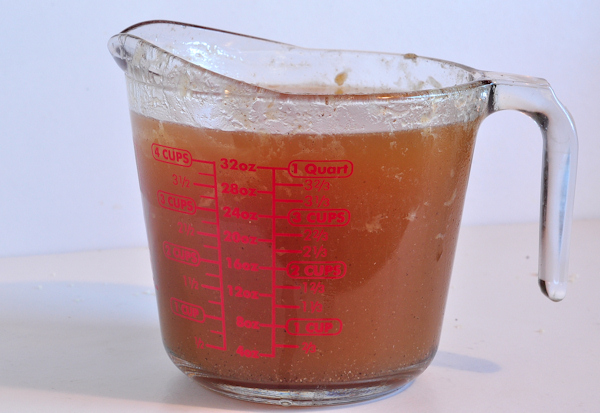 Add a nice big sprig of thyme, and a minced clove of garlic. Keep over low heat until the cauliflower is soft.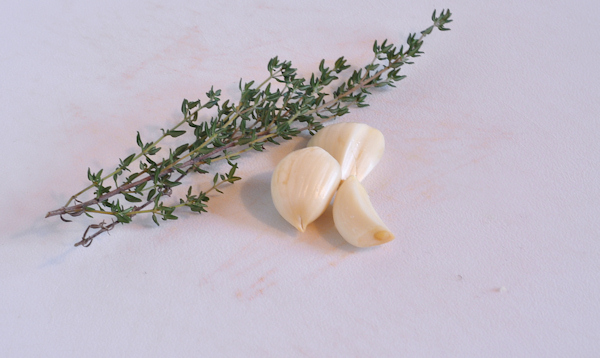 This is where I ran out of good light for photos, so my description will have to suffice for the last couple steps – sorry 'bout that.
Remove the thyme stalk – it's ok if the little leaves have fallen off, but you want to make sure and remove the tough part.  I used an immersion blender to puree the soup, but you can do it in a blender or food processor. Any way you do it, take care with the hot liquid, which can get splashy. I like the texture to be completely smooth, but you can leave it as chunky as you like. Return the pot to low heat and add about a cup of half and half and 3 or so ounces grated sharp cheese, and stir until the cheese is melted and smooth and the soup is at serving temperature.
The Jalapeno Bacon Cornbread from last week was the perfect accompaniment for this soup, so you might want to give that a try as well. In any case, the soup is delicious – perfect for the crisp fall days we have been having. And now, I have a few less red peppers sitting around my kitchen. I welcome ideas for using those up, if you would like to leave that in the comments. Hope you are enjoying some wonderful fall weather where you are!