The fall flavors just keep rolling in. I can't promise an end to the squash recipes anytime soon though. There are so many ways to enjoy winter squash,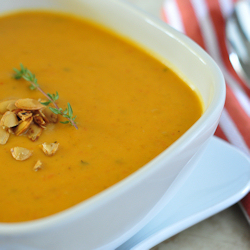 and I use it a lot, so it is just logical that many of these ideas are going to end up here. This soup is so easy to make and the result is so impressive that it is something you will want in your bag of tricks. You will need some roasted peppers of course and you can do them yourself by the method I blogged last week, or you can buy them jarred in the store. I think the fresh ones are better, but if you don't have the time or means to roast them yourself, buy some instead. Everything else about this recipe is incredibly easy – we are going to oven roast some veggies, puree them, add some seasonings, chicken stock and cream and bring up to serving temperature. Easy easy. So, lets get going.
Line a heavy baking sheet with parchment paper [or not, if you don't mind the clean-up. I'm lazy though.] Peel and seed a butternut squash. You want approximately 3 pounds of cubes, so if you are buying it at the store, get one a little heavier than that. A medium sized squash will weigh about that much and it doesn't have to be exact in any case. You can use other kinds of squash, but I like butternut for this because being smooth-skinned, it is easy to peel. Cut into about 1 inch cubes and spread out evenly on the sheet pan. Drizzle with a couple tablespoons olive oil, sprinkle with salt and pepper and place in the oven set at 350 degrees.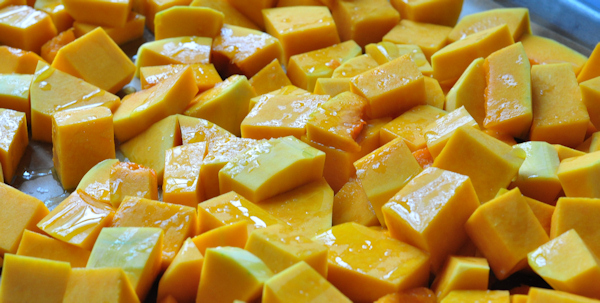 While that is getting started, cut 2 stalks of celery into slices – thinner than you see here. These were too thick and I ended up picking all of the pieces out to puree separately because they didn't break down fast enough. So, only about 1/4 inch slices for the celery. Cut a medium onion into a very large dice. After the squash has roasted about 10 minutes, take the pan out and add the onions and celery. You can lay a couple sprigs of thyme in there as well, or sprinkle 1/4 teaspoon or so of dried thyme over the veggies. Add a couple large, unpeeled garlic cloves. Stir to coat the onions, garlic and celery with some of the oil, and return the pan to the oven.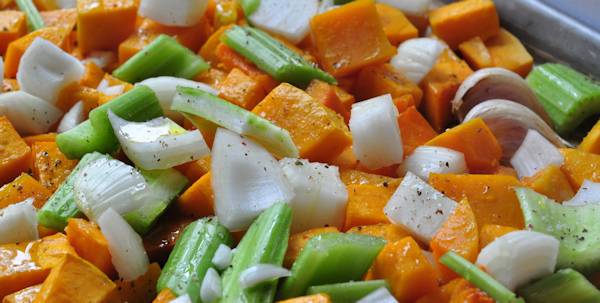 Stir after about 20 minutes. It will probably take at least a half an hour for the squash to get nice and soft, which is what you want. Make sure it is very soft before you take it out. Remove the garlic from the skins. If you used thyme sprigs, strip the leaves and discard the stems. The peppers are just in the photo for illustrative purposes – they were already all roasted and peeled earlier. I used two large ones.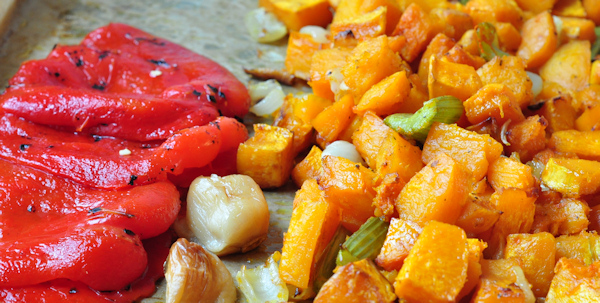 Working in small batches, puree all of the vegetables until very smooth. I used a food processor, but a blender would work also. If using a blender, you may have to add a bit of chicken stock to the vegetables so that they will move easily.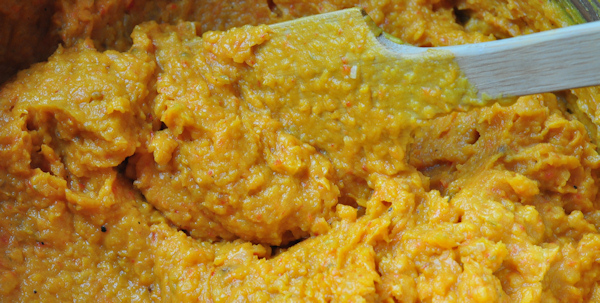 In a 5 quart stock pot, have about 4 cups of good chicken stock warming. Gradually whisk in the puree until it is all incorporated. If the soup is still too thick, add additional stock until it is thinned down to your liking. Add 2 teaspoons cumin, 1 teaspoon smoked paprika and 1 teaspoon chili powder. Taste and add salt if needed – I added about a teaspoon of kosher salt. Bring up to a slow simmer and cook about 5 minutes. Slowly whisk in 1 cup of heavy cream and cook another minute. Allow to cool slightly before serving.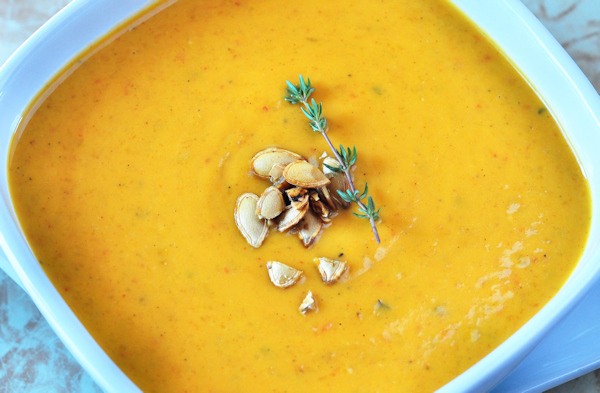 You can garnish with some toasted squash seeds if you like and maybe a sprig of thyme if you have it. It is rich and creamy and velvety – and the flavor is autumn in a bowl. Makes me glad I have 89 pounds of winter squash around here right now. Enjoy!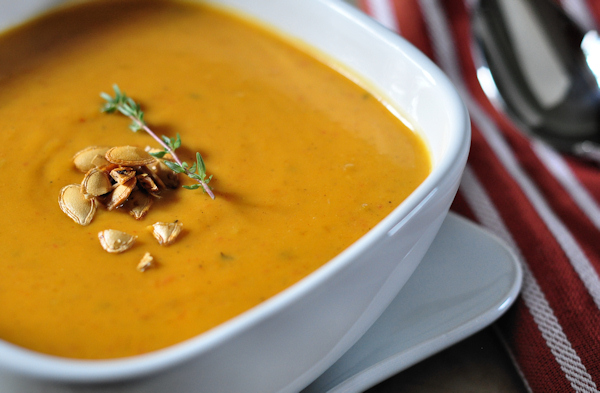 Other posts you may like:
Honey Hot Pepper Winter Squash
Candied Ginger Pumpkin Cake