You have to love a simple, delicious recipe like this one. My grandmother used to make a similar, albeit less flavorful version of this and we looked forward to it each summer as the vegetables came into season. A million years ago, when I was in high school, girls had to take Home Ec and it seemed that we could not graduate until we could make a good white sauce. If you were a guy, you had to be able to make a cutting board in the shape of a pig. Both very useful things to know and I am sure subsequent generations of students will eventually come to rue the fact they never learned these crucially useful skills. But we will fix at least part of that today, since you have to be able to make cream sauce for this delightful combo. You are on your own with the cutting board.
It sounds a lot more complicated than it actually is. Begin with about 3 pounds of new red potatoes, scrubbed and cut into bite sized pieces. You will also need about a pound and half of fresh green beans, washed, ends removed and cut into 1 to 2 inch pieces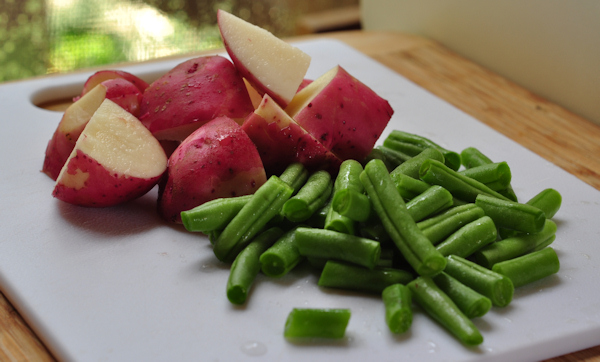 Put the potatoes in a 3 quart or so saucepan and fill with water to about half way up the potaotes. Throw in a teaspoon or so of kosher salt. Bring to a boil and allow to simmer for about 3 minutes, and then add the beans. Simmer another 10 minutes or so, until the potatoes are fork tender, but not mushy at all. How long this actually takes will depend on the age of the potatoes you use, so don't just go by the time, but rather by how done they are – might take 8 minutes or it might take 15, so keep checking. When they are done, drain all of the water off and place the potatoes and beans into a serving bowl.
In the meantime, make the cream sauce. A Béchamel Sauce is all about proportions. For one cup of sauce, you need one tablespoon of all purpose flour, one tablespoon of butter or other fat and one cup of dairy. This will give you a relatively thin sauce – for a medium sauce, increase the flour and fat to 2 tablespoons each, for a very thick sauce, increase them to 3 tablespoons each. The amounts can be multiplied for 2 or 3 or even 10 cups of finished Béchamel. The method could not be easier, though you will find more complicated ways of doing it. We are going to make this one a little more special, but first, here is the basic way to make any white sauce.
In a smallish sauce pan – I use a 1 quart for 2 cups or under, then move to a 2 quart pan if I am making more – melt the butter. Whisk in the flour until completely incorporated and allow this to cook over low heat for 2 or 3 minutes, making sure you don't let it brown. It will become a light tan color. Next we are going to whisk in the milk. Now, Miss Blieler certainly insisted one had to heat the milk, and so does just about every recipe you will find, but I never do. If I think of it, I let the milk sit out for awhile so that it gets to room temperature, but I never heat it up. I'm lazy and heating the milk requires another pan, which then has to be washed, though I suppose you could heat in the microwave. You can heat it if you like, and I will state again for the record that yes, I do know that you are supposed to heat it. I just don't.  As far as I can tell, all it does is take a little longer to come up to a boil and you might have to whisk a little more vigorously to prevent lumps.
In either case – heated milk, or not, slowly pour the milk into the butter and flour, whisking constantly. Keep the heat low and continue whisking until it comes back up to a simmer. Add a few grinds of pepper and 1/4 teaspoon or so of kosher salt. Allow to cook for a few minutes, stirring all the while. Ta da! Béchamel Sauce. Easy easy easy. But we are going to make it a little better.
Melt 3 tablespoons butter in a 2 quart saucepan. Add 2 medium cloves of garlic that have been peeled and minced. Cook for about a minute, taking care not to let it brown as browned garlic can become bitter. Whisk in 3 tablespoons of all purpose flour and allow the mixture to cook for a couple minutes. Have 1/2 cup of half and half and 1 & 1/2 cups milk already combined in a small bowl or 2 cup measure and gradually whisk it into the butter, garlic and flour. Add 1/4 cup white wine, a few grinds of pepper and 1/4 teaspoon kosher salt and continue whisking until the sauce comes up to a boil. Allow it to cook over low heat for several minutes to prevent a floury taste and to allow the flavor of the wine to really blend in. Stir in a couple tablespoons of fresh minced herbs – I used thyme and basil, but any combo you like will work. Taste to see if it needs more salt.
Immediately pour the sauce over the potatoes and beans, top with some torn fresh parsley leaves and serve.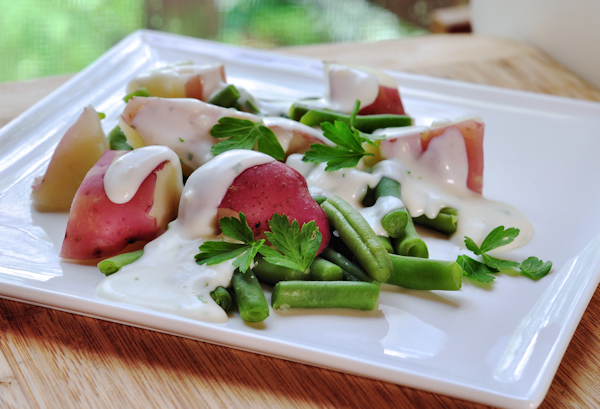 A beautiful fresh accompaniment to any meal.  Or make it the whole meal, cause you are going to want to keep on eating this yummy stuff.