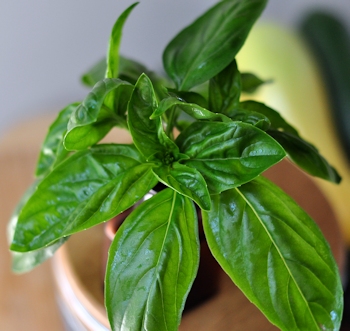 I can't remember where I first saw the idea of a salad made from thinly sliced zucchini, but I have to admit it did not catch my interest much right away. Though I have a deep and abiding love for zucchini, I never thought much of it raw. Probably because for awhile few years back, everyone was bringing it to family reunions and church suppers with big bowls of gloppy onion dip. But, I wanted a salad to go with dinner the other night and I had made pickles [more about these in a few days!] from all of the cucumbers that were ready. I had these gorgeous little squashes fresh from the garden so I thought I would see what I do could with them. The result was this ribbon salad that takes just a couple minutes to throw together.
It is key to use small, very fresh zukes for this – if the centers are at all spongy, either use a different specimen, or, at least, scoop out that spongy part which will take on levels of sogginess that you just don't even want to think about. The red onion is going to be nice and mild, and have some lovely contrasty color, but if you only have white onions, then use those. Scallions, or green onion would work well too. We are getting some carrots from the garden now too – little baby ones, from thinning out the rows and they were nice and crunchy in here. This is an exception to my usual "test 3 times before you post" rule, because it was so easy and uses a vinaigrette that I have made a thousand times. I know you will love it as much as we did.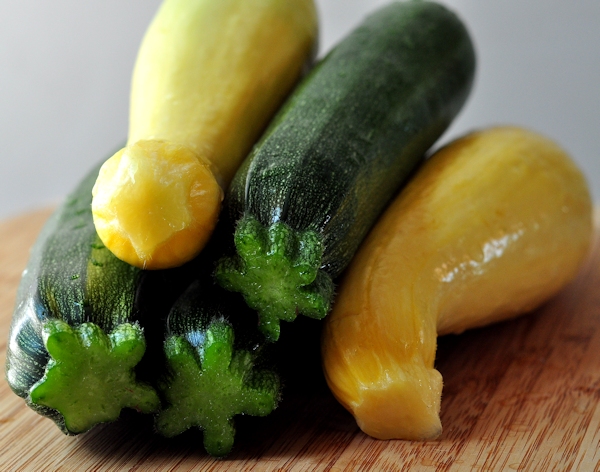 1 medium garlic clove
¼ teaspoon salt
¼ cup white wine vinegar
1 teaspoon Dijon mustard
¼ teaspoon sugar
A few grind black pepper
½ cup extra virgin olive oil
3 or 4 small zucchini or summer squash
½ small red onion
1 small carrot [optional]
4 or 5 medium size basil leaves, chiffonaded
Begin by making the vinaigrette
Peel the garlic clove, and smash it with the side of a heavy knife, on a cutting board. Chop through it a few times to break it up a bit, and sprinkle with the salt. Mash the salt and garlic together with the tines of a fork until it turns into a paste. Scrape into a smallish, high-sided bowl.
Add the vinegar, mustard, sugar and pepper, and whisk until the sugar and salt are dissolved.
Gradually whisk in the olive oil. Set vinaigrette aside.
Wash squash and dry with a kitchen towel. Trim the ends, and cut into thin ribbons, using a vegetable peeler.
Do the same with the carrot, if using.
Peel the onion and slice in half, from top to bottom – save half for another use. Cut the other half, across the grain, into very thin slices.
Combine the squash, carrot, onion and basil in a bowl, and drizzle with about half of the vinaigrette. Combine gently with clean hands.
Refrigerate for a couple hours. Right before serving, drizzle a little more of the vinaigrette over the top, and finish with a couple more grinds of fresh pepper.
The zucchini just soaks all that tangy vinaigrette right up, and the fresh basil goes really nicely with the lightly earthy flavor of the squash.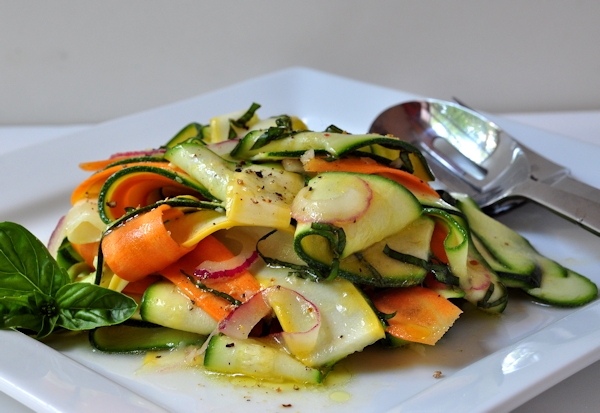 It was even better as a lunch the next day!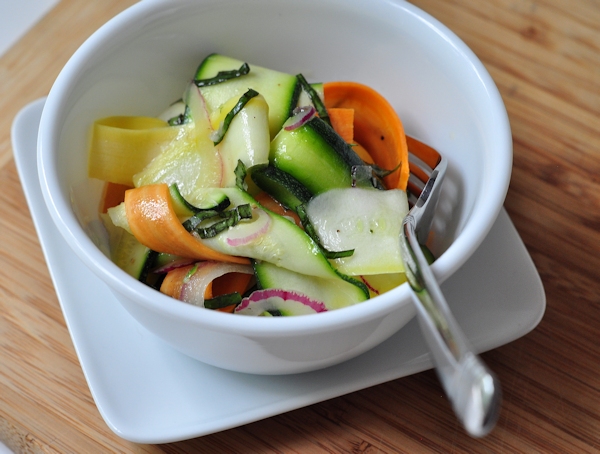 Printable for Zucchini Ribbon Salad here