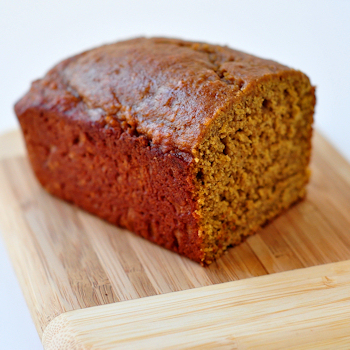 We really really love winter squash. Every year, we try some new kinds, while always sticking to our favorite standby, Butternut. But even people who really really love winter squash, might be a bit flummoxed at the idea of what to do with something like 70 Butternut squashes. 70 Butternuts and about 50 other smaller kinds might have you downright scared, but so far, we are coping. Little treats like this are one reason. Did you know that you can substitute an orange fleshed squash like this for pumpkin in nearly any recipe? They are pretty much interchangeable as far as I'm concerned, with both having a great flavor in sweet as well as savory recipes.
The one thing to look out for in using fresh pumpkin or winter squash in recipes that call for canned pumpkin, is the moisture level. Cut the squash in half, scrape out any seeds, and lay cut side down on a baking sheet, lined with parchment paper. Roast at 350 degrees until the flesh is completely cooked and very soft. Allow to cool, and scoop the squash from the shell. If it seems watery at all, put it in a mesh strainer and allow the extra moisture to drain off – you can discard the excess moisture or save it to use in soup or risotto. Then, you can put the squash through a food mill, food processor, or just get in there and smooth it all out with an immersion blender, which is how I like to do it. It is then ready to use, or it can be frozen for later use. Today, I used it to make this moist, delicious bread.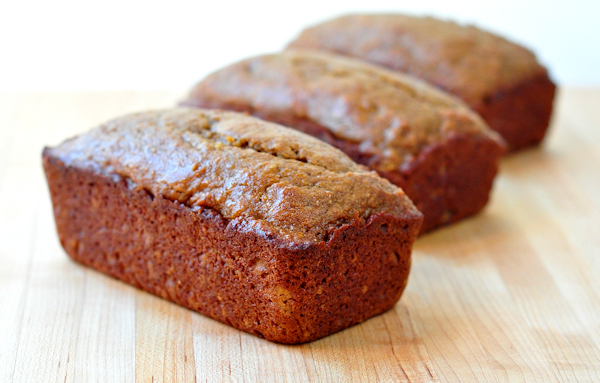 Here is the recipe, which makes about 8 mini loaves or 2 nice big, 8 x 5 inch loaves. To get started – prepare your pans, by buttering them generously, and setting your oven to preheat to 350 degrees.
In a large bowl, combine by whisking together:
2 cups all purpose flour
2 cups whole wheat flour
1 cup wheat germ
1 & 1/2 cup sugar
2 teaspoon baking soda
1 teaspoon baking powder
1/2 teaspoon nutmeg
2 1/2 teaspoon ground cinnamon
2 teaspoon ground ginger
1/2 teaspoon allspice
1 teaspoon salt
In a medium bowl, whisk until completely combined:
2 cups cooked, pureed butternut squash
2/3 cup molasses
4 eggs
2/3 cup vegetable oil
1/2 cup Greek, non-fat yogurt
1/2 cup milk
Zest and juice of 1 lemon
Pour the liquid ingredients into the dry ones, and fold together, turning bowl and scraping sides, until the mixture is combined and uniform. It need not be completely smooth, but there should be no streaks of flour showing.
Divide among the prepared pans, and level the tops with a spoon that has been dipped in cold water, to prevent the batter from sticking to the spoon. Bake at 350 degrees for about 25 to 30 minutes for the small loaves, and around 50 minutes for the large loaves. Test with a toothpick, inserted near the center – there may be just a few moist crumbs sticking to the toothpick, but no wet batter. Cool in the pans for a couple of minutes, then slide a butter knife around the outside edge of the bread to free from the pan, and carefully turn the loaves out onto a cooling rack, sitting upright. Cool completely before wrapping for storage.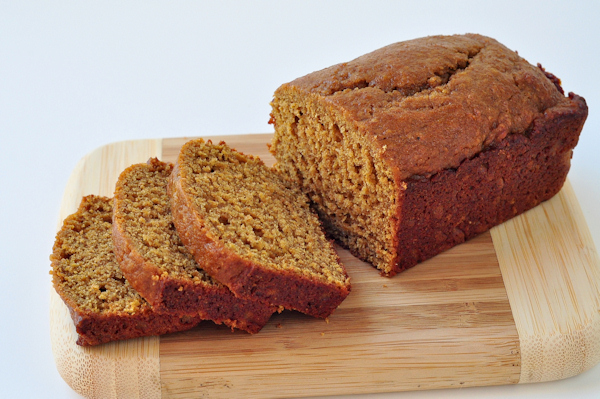 It will keep nicely at room temperature for up to 3 days, or can be refrigerated, or frozen for longer storage. If freezing, wrap tightly in plastic wrap, and then in foil, or in a ziplock.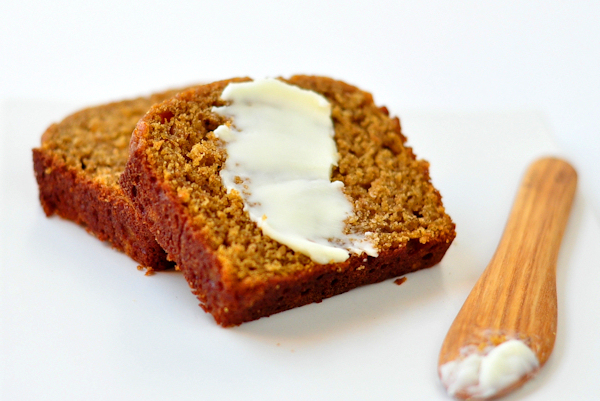 It is good plain, with a little schmear of cream cheese or butter, or, my personal favorite, toasted and then buttered. For a yummy sweet and savory breakfast, toast two slices, butter lightly, and lay on a plate, topping each with a soft fried egg – an awesome combination of flavors, trust me.
With about 40 huge [did I mention the huge part before? every one of these squash is HUGE] Butternuts still left, you can bet there will be more recipe in the weeks to come!