The humble, lowly cabbage – I think it gets an undeserved bad rap a lot of the time. I no doubt hold that opinion because it is one of my favorite vegetables, but I am not claiming to be unbiased. I love the earthiness of it, the crunch, the fact that it is just as good raw as it is cooked and it is cheap – a whole lot to love if you ask me.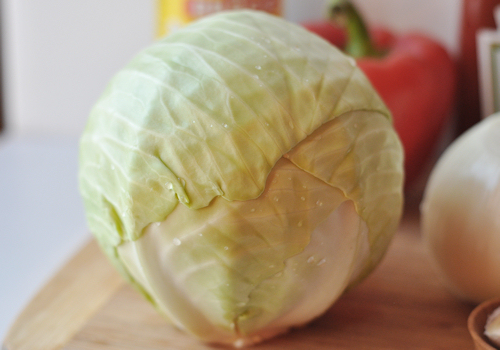 I can't remember where I got the recipe that is the original inspiration for this dish. It seems as though one of Larry's sisters or perhaps his Mom, found it in the local paper, but I'm not certain. It was a lot simpler in terms of seasoning, but the fast and easy preparation hasn't changed. And it is adaptable – if you don't like onions, then leave them out, or use more brown sugar if you prefer a sweeter flavor. It's your food, make it the way you like it!
A braise is a cooking method that involves two different stages. First the food is seasoned and browned over high heat, then it's simmered in a liquid with lower heat, either on top of the stove or in the oven. Typically used to cook tougher cuts of meat, it also works very well for a robust vegetable like cabbage, which will stand up well to the longer cooking time required to get a deep rich flavor.
Not a lot of ingredients here [and not all pictured], all easy to find and not very pricey. The cabbage of course, sweet peppers, green, red or any combination thereof, onion, garlic, ketchup [yes, ketchup – trust me, ok?], cider vinegar, Worcestershire sauce, brown sugar, smoked paprika, cumin and liquid smoke.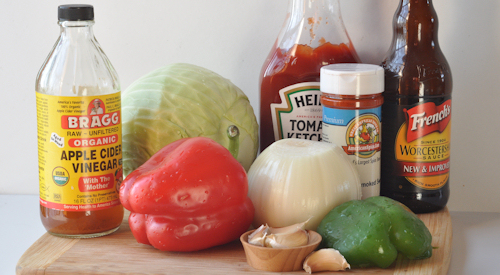 To begin, cut the cabbage into 1/4″ strips – from end to end, first removing tough outer leaves and the core. This is about 2 pounds of cabbage, which is quite a pile. It's going to make 6 to 8 servings, so even though it is going to cook down a lot, you need a good sized pan – this one is a 13″ saute pan. Now, the original recipe called for using bacon drippings, which is my preference – I used 3 tablespoons. You can use olive or other vegetable oil instead, if you don't have the bacon drippings handy. Larry is thin a rail and he can eat all the bacon he wants [the jerk]*, so we always have some on hand.
Sprinkle with about 1 teaspoon of kosher salt and about 10 grinds of black pepper and saute the cabbage over medium heat for about 10 minutes, stirring frequently. Meanwhile, cut a large onion [about 12- 14 ounces] in 1/4″ inch strips, along with 2 sweet peppers in any combination of colors you like. Mix in the peppers and onions and saute another 10 minutes, stirring enough to keep it from sticking. There should be a bit of color on the veggies and they will be somewhat wilted and cooked down.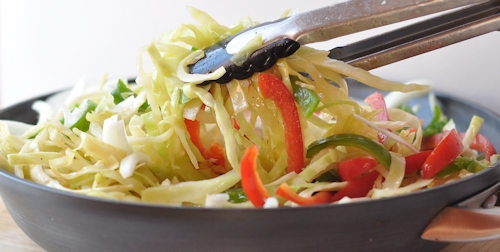 In a small bowl, mix together 1/2 cup ketchup, 3 tablespoons each Worcestershire sauce and apple cider vinegar, 2 tablespoons dark brown sugar and 1/2 teaspoon liquid smoke [optional].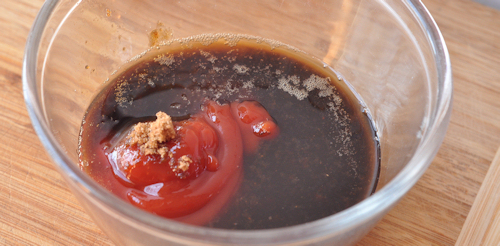 Chop 3 or 4 garlic cloves and add to pan, along with 1 teaspoon smoked paprika and 1 teaspoon cumin. Add sauce and 1/2 cup water and stir together. You may add more ketchup if you like – I added another couple squirts because it just didn't seem like enough.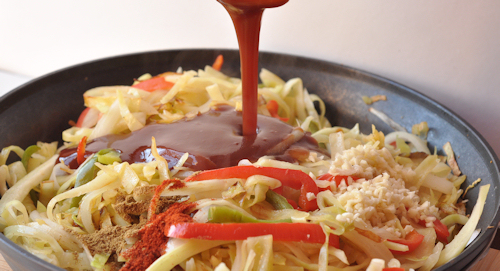 Simmer, covered about 20 minutes. You can, at this point remove the cover and cook another 10 minutes or so to reduce the sauce – if you prefer the cabbage to have a crunchier texture. We like to let it go a little longer though – about 40 minutes before removing the lid to reduce the sauce. You should taste it when you remove the lid, to make sure it has enough salt and that the flavors are balanced to your taste.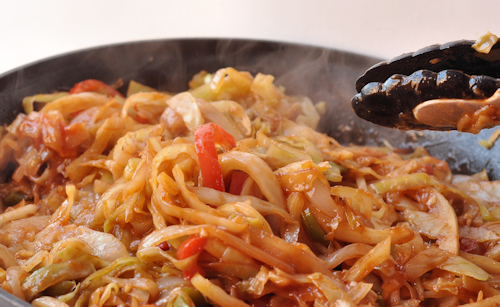 It is just wonderful stuff – full of good nutritious veggies, flavors that pair well with a lot of different things [like pork chops and a nice garlicky herbed couscous, or baked ham with mashed potatoes and gravy, or meatloaf and rice pilaf or burgers and fries or …. you get the idea] and the leftovers are even better than when you first make it. It is also a great thing to take for picnics or dish to pass dinners – it holds well, tastes good even if it isn't steaming hot and it's unlikely someone else made it too. [unlike one memorable church supper where every single person made macaroni and cheese. I kid you not.] Give it a try and let me know what you think.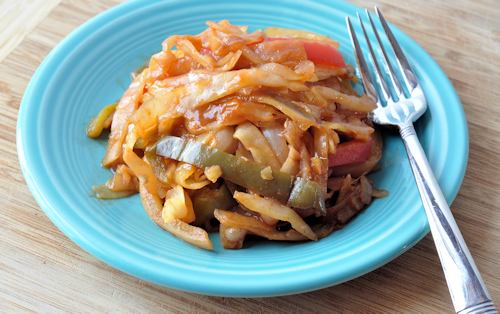 *not really – being a carpenter burns a lot more calories than sitting at a computer apparently.