Here it is the middle of the month already, and that makes it time for our favorite girl to show up – the Potato Ho!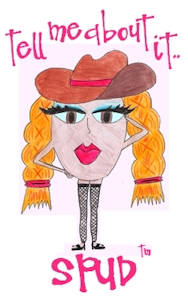 Cathy and Krysta, of Noble Pig and Evil Chef Mom began this project last year an it continues to provide us all with tons of great ideas for using spuds. Anyone is welcome to join in and this month's hostess is Christie of Fig & Cherry. Now lets get to the goods!
In keeping with my newly-found efforts to be reasonable in both price and calories, I threw together a little something you might like to try. It also fits nicely with my overall cooking philosophy – that fresh, simple ingredients make the best meals. And it truly can't get much more simple than this.
Ingredients include
red skin potatoes, scrubbed and cubed
onion, peeled and cut into a large dice
fresh broccoli, separated into florets
fresh cauliflower, separated into florets
garlic, minced
fresh rosemary, leaves stripped from stem [the stuff in the little jar will work in a pinch]
kosher salt
cracked pepper
olive oil
butter [optional]
See – no amounts are given? That is because you can adjust this for your own personal taste and dietary needs. You can use fewer potatoes if you are watching your carbs, or use lots of cauliflower because you prefer it to broccoli. You can leave off the butter at the end. Using red waxy potatoes means using less oil because they won't absorb as much as starchier potatoes would. And it can all be adjusted for the number of people you need to serve. If you are making a lot though, you may want to use two sheet pans, because if the ingredients are crowded, they will not cook as well. They can be touching at the start because they will shrink up a bit, but there should be room for just a single layer with no piling up of the veggies.
Line a sheet pan with parchment paper. Scatter the potatoes and onions around, sprinkle with salt and pepper and drizzle with olive oil. It won't take a lot of oil – you don't need to coat everything. I probably used 3 tablespoons for the whole pan. Place in oven set at 400º for 20 minutes, stirring after 10 minutes.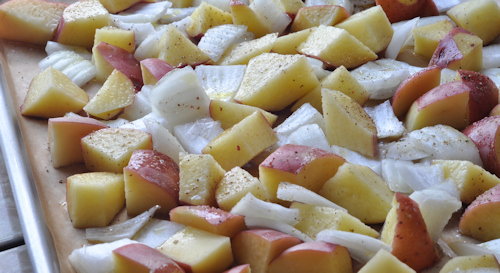 Add the broccoli, cauliflower, garlic and rosemary and stir around to even distribute everything. If it is looking terribly dry, you can drizzle over another tablespoon of oil. Return to oven and continue roasting another 20 minutes or so until potatoes are done and everything has a little color on it.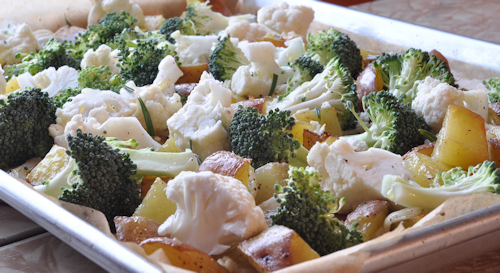 At this point, you can dot it with a few small cubes of butter and return to the oven for another 5 minutes. Do an extra 10 minutes on the elliptical to make up for it.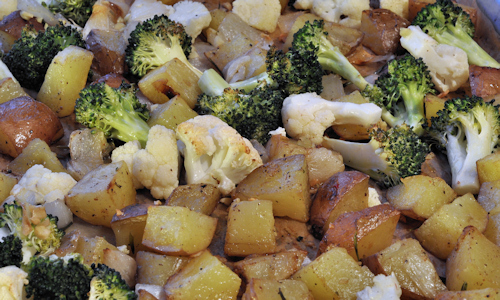 Now doesn't that look yummy? Less that an hour from start to finish and most of that time it was in the oven, so you could be doing other things. Give it a try!