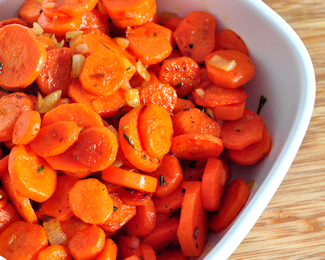 I realized recently that I have a group of recipes that I use all the time, but have never shared here. Why not? Because they are so simple. Too simple I thought, to bother photographing and figuring out the amounts, and setting down step by step instructions. And yet, I make these dishes all the time – they are staples of our diet really. All are fast, easy fresh vegetable preparations. We'll begin with this one – a quick little stir fry of carrots, combined with some herbs and a splash of acidity right at the end to keep everything bright.
Begin with around a pound of carrots. From our garden, I don't bother with peeling, but alas the garden carrots are long gone now. These store bought ones get peeled, and then sliced to a uniform thickness. The mandolin slicer is handy for this, but a knife works nearly as well. Unless you plan to join a witness protection program, be careful using this slicer, because it will take your finger prints right off if you don't watch what you are doing.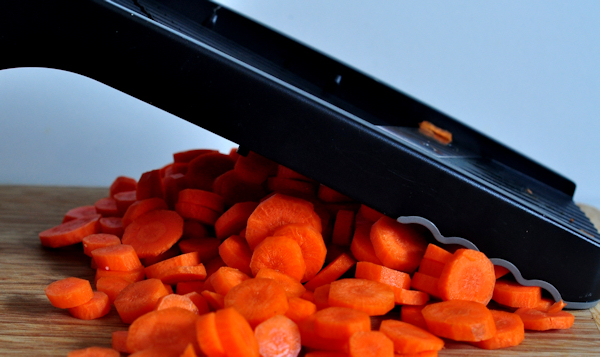 Have a couple cups of salted water boiling in a big saute pan. Add the carrots and simmer for just a couple minutes. This step ensure the carrots will stay a nice bright color and helps them cook more evenly. You can skip it if you are in a big hurry, but it will take a bit longer to get them cooked in the butter. Drain the carrots, wipe out the pan and plunk a tablespoon or so of butter in there and return to the heat. Shake your strainer around to get most of the moisture off the carrots and return them to the pan. Keep the heat medium high, and stir them every minute or so. It will take maybe 5 minutes to get them tender crisp.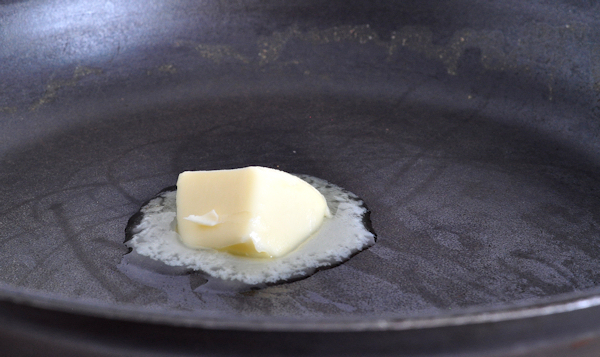 Add to the pan, about a tablespoon of chopped fresh rosemary leaves, and a largish shallot, minced. Taste one of the carrots and if it needs salt, add a bit, along with some grinds of fresh pepper. Stir and saute for another 2 minutes, and then add a tablespoon of red wine vinegar.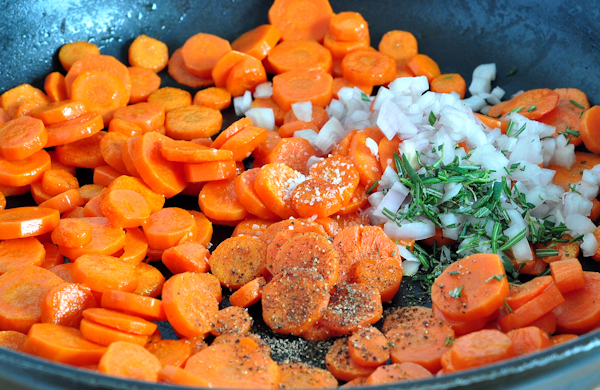 Stir briefly and remove immediately to a bowl for serving. See how easy that was? Very little fussing, a few fresh ingredients and you have a pretty impressive side dish that will go great with just about any meal.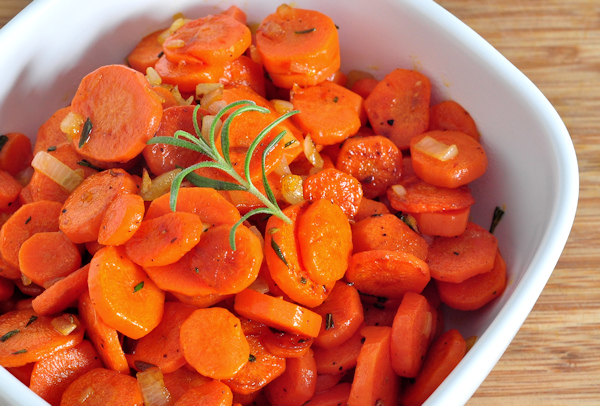 And pardon me for tooting my own horn, but – Yum!