Back in August, I posted my recipe for Refrigerator Garlic Dill Pickles. This recipe uses the same basic principle and is equally easy. The hot peppers it produces are ridiculously good – if you like that sort of thing. That sort of crunchy, fresh, garlicky heat kinda thing. Larry cries real tears when we finish off the last jar each year.
If you want to make grown men weep at your own house, here is one way do it.
The brine:
2 quarts water
1 cup cider or white vinegar
1/2 cup canning & pickling salt
Bring to a boil and stir to make sure salt is completely disolved. Keep at a low simmer until you use it. This much brine will make about 3 quart jars of pickles. I made a batch and a half and came out with the 5 quarts you see here.
You also need 1 or two cloves of garlic for each jar – peeled.
Then you need some peppers. Any kind of hot peppers will do. I am using a mixture of jalapenos, red cherry peppers and hungarian wax or banana peppers.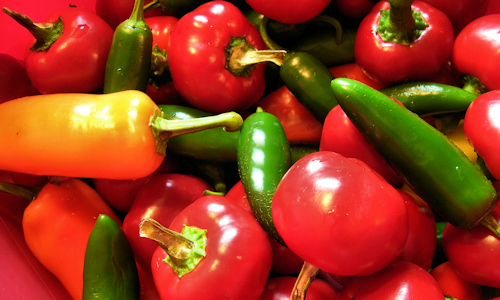 You can also blanch some cauliflower, onions, carrots and celery, along with the peppers and make some Giardiniera. Today though, I am using just the peppers. Wash them very thoroughly and slice however you like. You can even leave them whole though not as many will fit in a jar – just be sure to poke each pepper 5 or 6 times with a toothpick so the brine can get inside. Slicing, as I mentioned, means you can cram more of them into a jar and also results in a more uniform final result.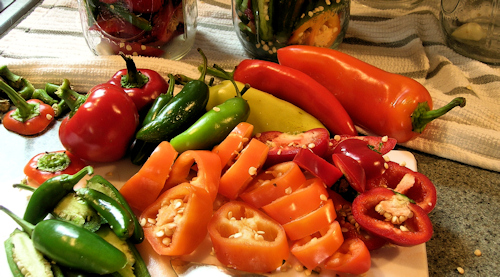 Each jar gets 1 or 2 cloves of garlic, as many peppers as you can cram in there and is then filled to the top with the simmering brine. Put on the lids and wipe down the outsides. Again, as with the garlic dills, I like to use widemouth canning jars because they are meant to stand up to the heat of the brine. I use these plastic lids [I think I got them at Walmart] because they too are reusable. You can use any jar with a screwtop lid, but try to fine ones that are thick – a spaghetti sauce jar for instance, rather that one that held mayo.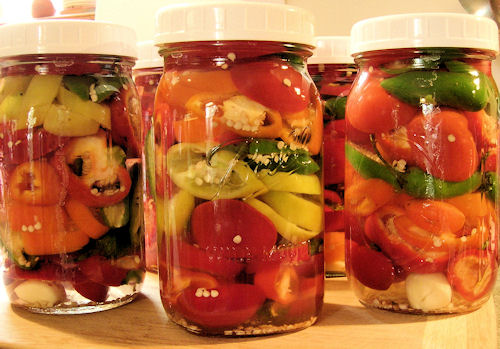 That is about it – leave them out on the counter for about 48 hours and then refrigerate. Remember – these MUST be refrigerated. They are ready to eat in a couple weeks and will keep for 3 or 4 months usually.