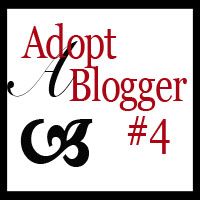 So – finally I get around to blogging about my partner in this round of Adopt-a-Blogger, which is a nifty event; the brainchild of Kristen at Dine & Dish. You might remember that I did it last year, and then my adoptee, Dawn, got such an awesome job, that she gave up the honor of being my adoptee for the job. [well, I never!] We have stayed in touch though and she still has time to blog once in awhile.
When Kristen started another round, I signed up again and have been in touch with my adoptee, Amy over the past couple weeks.   This came at the same time as DessertStalking began to take over my life and it was taking me so long to get it in gear and start working with her, that I was beginning to fear that Blogger Protective Services might come and take her away from me, due to neglect, but we managed to avoid that, thankfully.
You never know who you are going to be paired with, so when then list came out, I was a little nervous, before I had a chance to check out her blog, but once there, I had no more worries.   She is a delight – a stay at home Mom of 3 daughters, 6, 9 and 10.  Her blog is a mixture of her interests, ranging from fashion and style, her faith,  homemaking and her family, as well being frugal and healthy.  It is all nicely balanced and she has a warm, inviting personality that really shines through in her posts.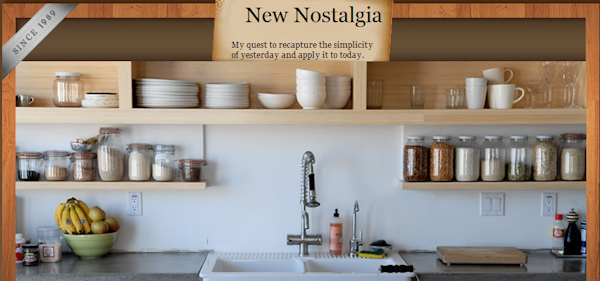 I asked her a few questions to give you a chance to hear her voice:
1.  What made you start blogging?
I love information and I love sharing information, plus I kept getting emails from friends asking for how-tos and links of what I was doing/making. I have been admired for my simplistic approach to life, and since it is has been a long journey to get to this place (feeling balanced in most areas) I thought a blog would be a great way to share that with others, especially young moms.
2. How does blogging fit into your family life? How does it fit in…hmm..very late nights!  I have time while my girls are at school, I am a full time stay at home mom ( I do about 10 hrs/week hairdressing) so that gives me some time.  It is ironic that the thing I want to use to communicate the idea of a simple life is what is making my life less simple!!(I just love blogging so much it is hard to make myself stop and do what I need to do around here)
3. What is your ultimate "dream" blog-wise? If you could snap your fingers and make anything happen in regards to your blog – what would it be?
My ultimate dream?  I would love, love knowing what I write reaches others and inspires them to live simple, whole lives in all ways–physically, emotionally, spiritually.  It would be awesome to know I am making a difference in someone's life.  I am also very passionate about being a Christian.  I want everyone I know to experience the hope, peace and freedom I have in knowing God. I think too many Christians have given God a bad rap by their actions(including myself at times!), I want "self" to get out of the way so God can shine through to my readers and they could see Him and His amazing-ness, undistorted by me.  Also money-As I have seen how time consuming blogging can be, it would be great to feel like there is a financial payoff, even if small, to help our family budget.
4. What are the best and worst things about blogging?
Best thing about blogging-feeling like I am helping people and making a difference in their lives. Worst thing about blogging-lack of sleep b/c I stay up too late-blogging!
She has a couple of recent posts you should check out here and here.
Amy has a few goals for her blog that I think I can give her a hand with, including migrating to WordPress, improving her photography and just some general spiffing up. It is already a really fine blog, and you should go and check her out, and maybe even say hello: New Nostalgia . I think we are both looking forward to working together over the next couple months.