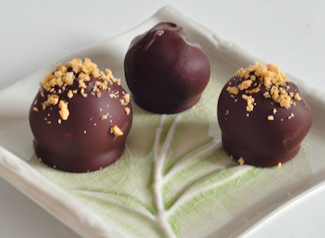 Truffles are the perfect way to celebrate Valentine's Day, don't you think? And while it's nice to have someone to celebrate with on the day for lovers, you have to keep an eye on your sweetie, or they will be eating these all up, when you are distracted by putting roses in a vase, or pouring the Champagne. Remember – celebrate wisely and hide some truffles to enjoy later on, when you don't have to fight anyone for them.
This is my first time making truffles, so I consulted my older daughter, Ellyn, who has made them for Christmas the last couple years. She steered me to Alton Brown's recipe, which seems to be very popular and apparently foolproof. I pretty much followed it to the letter, with the exception of adding a little something in the centers. These are sour dried cherries. I started ahead of time, soaking them in 1/4 cup of brandy for 48 hours, and then drying them on this plate for 48 hours. [save the brandy!] I wanted to make sure the ganache would stick to them, so I wanted the outer surface to be dry.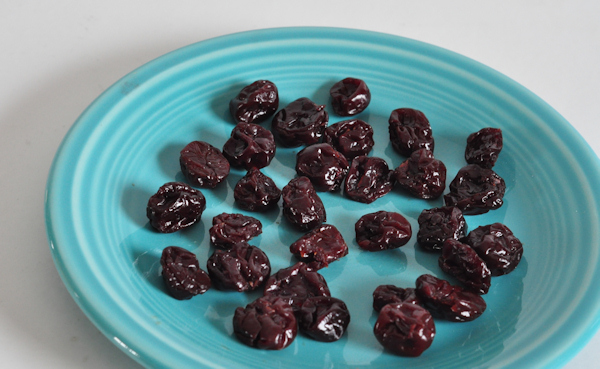 Measure 10 ounces of bittersweeet chocolate and 3 tablespoons of butter in a glass bowl. I used 70% cacao chocolate chips. Some places say not to use chocolate chips for candy making, because they are formulated to hold their shape, not melt, but they are what I had, and seemed to work fine. Alton says to microwave the chocolate and butter for 30 seconds on high, stir well, and repeat.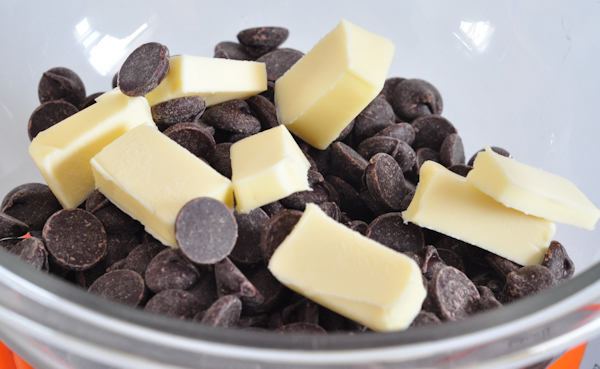 Meanwhile, heat 1/2 cup of heavy cream just to a simmer, and pour over the the chocolate/butter mixture.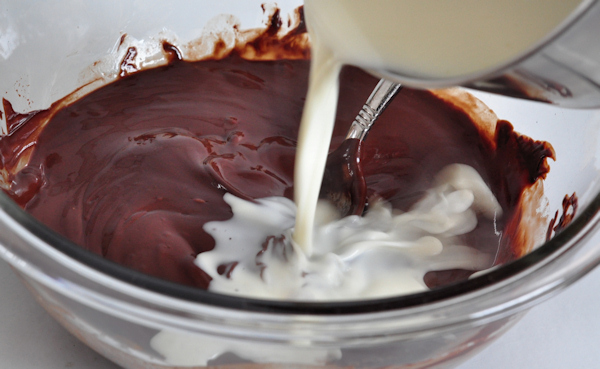 Allow to sit for 2 minutes, and then gently stir, until smooth and creamy.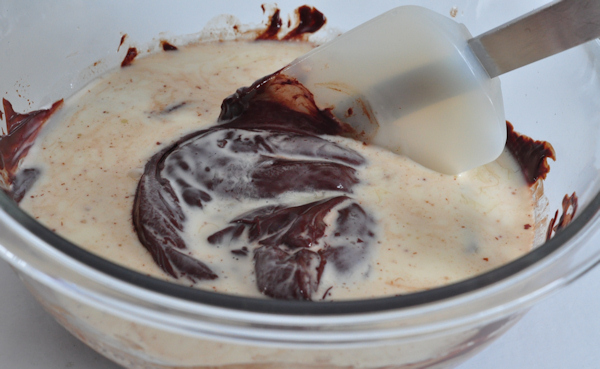 Add 1/4 cup of brandy. I saved what I drained from the cherries [suppressing the strong urge to just up-end the bowl], and then added enough to make 1/4 cup. Stir this in well too.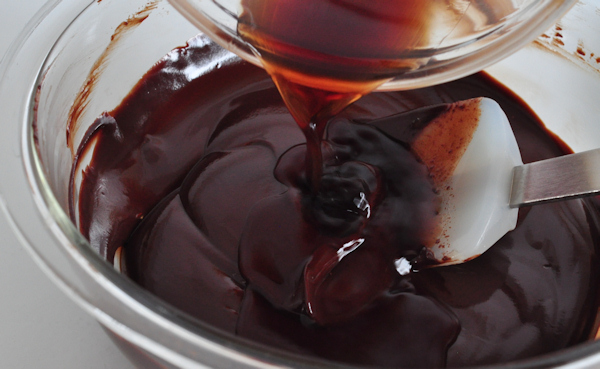 No one is looking – go ahead and give it a try. You might want to think about putting some lotion on your hands once in awhile too.
Spread the ganache in a flat baking dish, 8×8 or thereabouts, and refrigerate for an hour. I used my smallest cookie scoop to portion out the truffles, laying each one on a parchment paper lined plate. Return to the fridge for 30 minutes.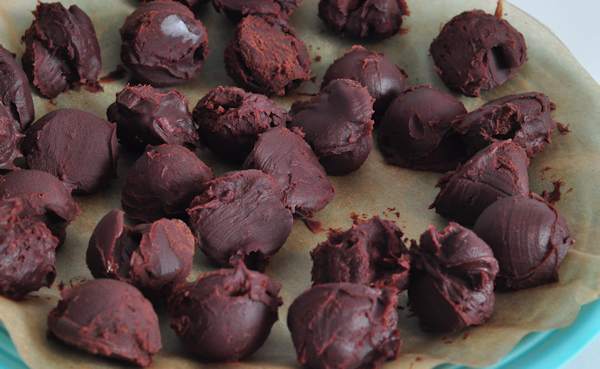 My friend Maggie said on Facebook the other day, that I should post an occasional failure, so that everyone knows I'm human. I think this next part will at least partially satisfy that requirement. I had thought that I'd be able to just gently poke the cherries into the center of each ball, and then easily roll them round. That might have worked had I not gotten distracted and left them to chill for over an hour, but I'm not sure it would have made that much difference – the cherries were just to soft to be poked.
Instead, I flattened out each ball, using the heel of my hand, with the ganache sandwiched between parchment paper. Then I put the cherry in the center and kind of bent the edges of the ganache over the fruit, sort of munging it into a rough circle. It wasn't a pretty process, and I would welcome ideas from anyone who has a better method for this.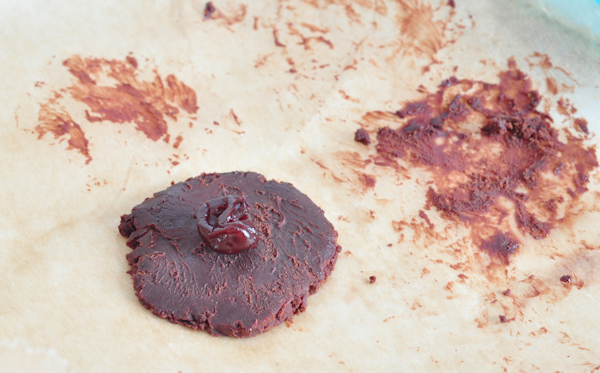 Aren't these lovely? You know, truffles are often formed to resemble the real thing, which are found by pigs, specially trained for the job. These look like they were made by pigs, and not trained ones either. Still, having tasted them, I wasn't about to give up, so I popped them back in the fridge for 15 minutes, and donning plastic gloves, I rolled them into something resembling spheres. Back in the fridge for 15 minutes.
Alton Brown uses a heating pad to warm his coating chocolate and keep it at the optimum tempurature. Given his aversion for equipment that only accomplishes one task, I wonder what he does with that heating pad when he's not making truffles? But I digress. I don't have a special, dedicated chocolate melting heating pad, so I used my double boiler, returning the pan to the heat a few times to maintain the proper texture for dipping. Roll each truffle, to coat completely, pick up by sliding a fork under it, let it drain briefly and lay on parchment paper, If you plan to add any decoration or further flavor, like these toasted, chopped hazelnuts, do so immediately or the chocolate will harder and nothing will stick to it.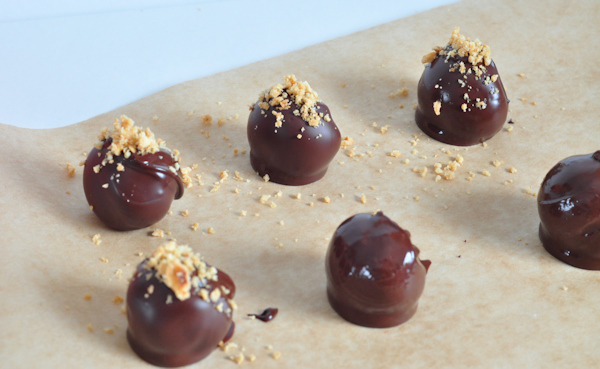 I think it's a good idea to use these little cupcake liners to keep the truffles looking nice, when putting them in a sealed container where they will keep for a couple weeks – even longer if you refrigerate them. I got 30 truffles from this recipe.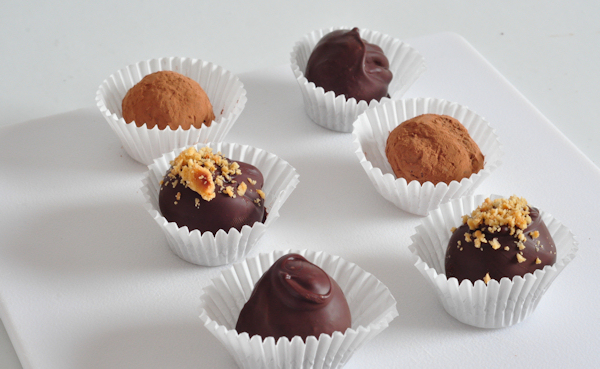 They are really just about indescribable in their delicious, sensuous silky richness.