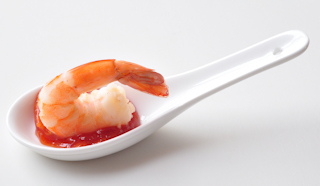 Why do you need a recipe for Shrimp Cocktail anyway? You can just buy one of those big ring things with their neatly arranged shrimps surrounding a bowl of red, kinda spicy sauce, right? Hmmmmm. No thanks – not my idea of tastiness. There is nothing wrong with frozen shrimp actually. It is frozen almost immediately upon being caught and unless you live very close to the ocean, any fresh shrimp you see in your store has every likelihood of actually tasting older than thawed frozen shrimp will. It may have even been frozen, before they thawed it and layed it out all pretty on the ice with the fake parsely separating it from the "fresh" whateverelse is in the fish case that day.
Not long after they got married, Ellyn and Jason lived in a little town in North Carolina called Cape Carteret. On one of our trips to visit them, we went to a fish store that was right on the dock and the guy who sold us our [obscene amount of] shrimp had caught it that morning. That meal was the pinacle of shrimpy deliciousness in my lifetime. But, this can come close to that ideal. The trick is to buy frozen raw shrimp – the E-Z peel kind is, naturally, easier to peel, but if you are going to cook it with the shells on, and peel them afterward, that won't matter much. I prefer to cook them shells on, because even though they only take a couple minutes to get done, the shells do add to the flavor, in the same way that cooking chicken with the bones in it does.
You can just throw plain old shrimp into boiling water, take them out and cool them when they are done, dunk them in store-bought cocktail sauce and call it a day, of course. But, why not bring a little extra flavor to the whole thing? Use a wide saute pan, so that the shrimp will be able to spread out and cook more evenly. For one pound of shrimp, I used a 12 inch pan and filled it half way with water. To the water, I added 1 bay leaf, 1/2 teaspoon of salt, 1/2 teaspoon smoked paprika, about a tablespoon of 5-pepper blend peppercorns, lightly crushed with a mortar and pestle, and 2 large cloves of garlic, smashed, peeled and coarsely chopped. Bring the water to a boil, and simmer gently for about 3 minutes, to bring the flavors out of the spices. Quickly add the entire pound of mostly thawed shrimp to the water, and turn the heat way up so that it comes back to a simmer faily quickly. Once it is boiling again, it will not take long for the shrimp to cook through. You can tell it is done, when the entire shrimp is opaque and pink. Once they are cooked, dump the whole thing through a strainer, and then spread the shrimp, along with the stuff from the pan, on a pie plate or other large flat dish and chill in the fridge for a couple hours.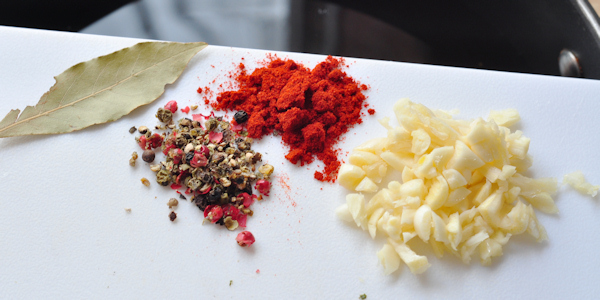 For a quick cocktail sauce, mix ketchup [about 1/2 cup per pound of shrimp], prepared horseradish to taste, a good squeeze of lemon, a squirt of siracha hot sauce and 1/4 teaspoon of smoked paprika. Stir and chill.
To serve, you can peel the shrimp and nestle each one in a little pool of sauce on some small vessel. This is the way to do it at a party where people will be walking around with drinks. Or you can let people peel their own, providing each guest with a small piece of lemon and a small dish of sauce – better for a sit down meal, as an appetizer. Frankly, we usually just make a meal of them, sharing the whole pound between the two of us, along with a big fresh salad, and a garlicky vinaigrette. A simple meal – and like many simple things, hard to beat when it comes to satisfaction.