It has come down to this. What can a person with a ton of zucchini do with all of it? You can only sneak the excess into so many back seats before people quit stopping over. You can't leave it on the neighbors back porch without running into them sneaking gourds of their own over to your front porch. You can fry it, sauté it, grill it, freeze it, fricassee it, turn it into risotto, alfredo, marinara, soup, fritters, casseroles, gratins, stew and bread. But sooner or later, you run out of ways to cook it.
Until one Saturday morning the idea of ….. brownies pops into your mind. Brownies? Well, why not? Vegetables and chocolate are a winning combination aren't they? I decided to find out.
I already have a really good brownie recipe. It's the same recipe my Mom always made, though I have tweaked it a bit. I adapted it a bit more to include a certain prolific denizen of the garden. The first thing I did was to grate a largish zucchini and place it in a colander over a bowl. After an hour, I thoroughly squeezed as much moisture as I could from the squash. I also decided to try using brown sugar instead of white in an effort to keep the texture more fudgey than cake-like.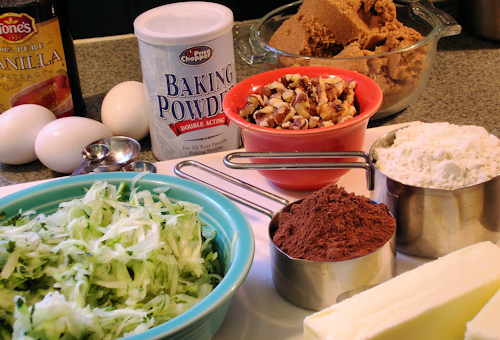 Grease a 9×12 inch baking dish and set the oven to 350 degrees.
In a heavy 3 quart sauce pan, melt:
2 sticks butter
Turn off heat and stir in
2 cups brown sugar
1/2 cup baking cocoa
Let that cool for about 5 minutes and beat in, one at a time:
3 eggs
Then, add
1 teaspoon vanilla
2 cups of the squeezed dry zucchini
1 cup all purpose flour
1 teaspoon baking powder
1/2 teaspoon salt
1/2 cup toasted walnuts, roughly chopped
And mix, just until combined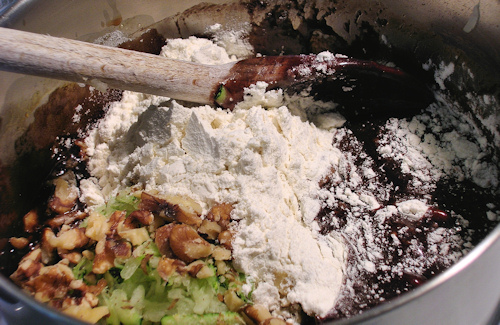 Pour into greased baking dish and place in preheated oven. Bake approximately 40 minutes, until the brownies test done with a toothpick.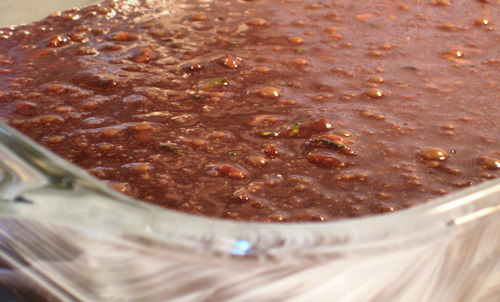 Then get ready to amaze your mouth, 'cause these are GOOD! They're gooey and chewy and the squash gives them a fantastic texture a bit like coconut. And packed with nutrition! Ok – they are probably not packed with nutrition because really zucchini doesn't have a whole lot of nutrition to begin with and we got rid of some of it when we squeezed out all the liquid. They are awfully yummy though.