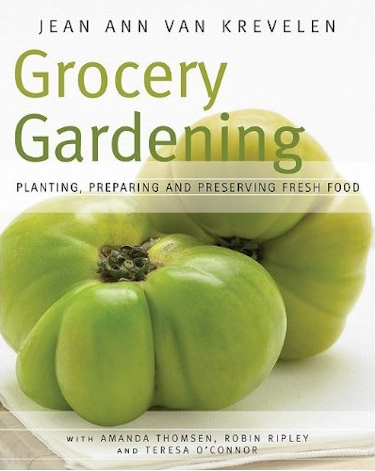 Last fall, Amanda Thomsen of KissMyAstertwittered that she was involved in authoring a book about gardening to take advantage of the best of the season when we get it all back to the kitchen. She was looking for food bloggers willing to share their recipes that used fresh veggies. I mean really – could there be a more fitting project for me to get involved with? Larry brings stuff in from garden, and 10 minutes later, we are eating it. The next morning, I'm blogging it, so that tomorrow night, you can can have it for your dinner. Is that like the circle of life or what?
So anyway – I gave Amanda 3 of my favorite recipes using fresh herbs, because she was covering that part of the book. She wasn't sure which – if any – they might end up using, but that was fine with me. I pretty much forgot about it until the other day, when I saw the women involved twittering about the book being available on Amazon and at book stores. I had it saved on my wishlist, so I went and ordered it, because whether it had any of my recipes in there or not, I was excited to see it. I follow all of the authors on Twitter, read their blogs and occasionally have short, insightful conversations with them. Ok – that last part mostly just happens in my head, but still.  They know gardening and they are entertaining as heck.
Anyway [are we there yet, Dad?] – on Friday, I noticed that I was mentioned on Facebook as being a contributor to the book. With 3 recipes! Pretty cool.
So – as often I hear people mention in the comments that they wish they could grow their own vegetables, or even that they can find good recipes for vegetable someone else grew, I am guessing that among my readers will be some folks who will enjoy this book. So – go here
and order one! You can show people my name in the book and say – "Look – I know her! Ok – so I read her blog. She cooks stuff. And we have short insightful conversations occasionally." Hmmmmm. Never mind about that last part – that's just in my head…