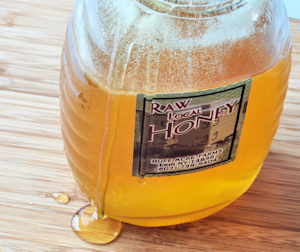 Sometimes it seems like Larry is going to a swap meet instead of work. It's what happens when you get a bunch of guys together who all live out in the sticks, and have big gardens, along with other country-type enterprises. Among his trades and buys this year, one of my favorites is this raw honey. Honey that you buy in the store is ok, but kind of bland and characterless compared to honey from bees that range in the wild for pollen. What makes the biggest difference though is that raw honey has not been heated which changes the taste and texture. One whiff of the aroma and you can tell the difference. Richie, the guy Larry bought this jar from does have it available for local sale. He lives in Erin, which is in the Ithaca, Horseheads area, and he was happy to have me share his phone number if you are interested in getting some from him: 607 739 5404. One caveat about raw honey – it is not considered safe for kids, or people with compromised immune systems. That is kind of an official disclaimer that I want to mention, though we gave it to our kids when they were little, and have eaten it ourselves for years. The chances of raw honey containing any harmful bacteria is actually pretty small, but it does occasionally happen, so it is something you should be aware of. It is perfectly fine in these yummy cookies, though, because as they bake, the honey gets to a high enough temperature to kill any bad beasties. And naturally, if you don't have access to raw honey, the supermarket brands will work just fine – the flavor may be a little lighter, but still very good. The honey makes for a nice chewy texture and the spices are total comfort flavors that are perfect for this time of year.
Here is what you need:
1 cup soft butter
1 cup dark brown sugar
1 egg
1/2 cup honey
3 & 1/2 cup all purpose flour
1 & 1/2 teaspoon cinnamon
1 teaspoon ginger
1/2 teaspoon allspice
1/2 teaspoon freshly grated nutmeg
1 teaspoon baking soda
1/2 teaspoon baking powder
1/2 teaspoon table salt
Cream the butter, add the brown sugar and beat until fluffy. Add the egg and beat in, then the honey, beating that in thoroughly as well.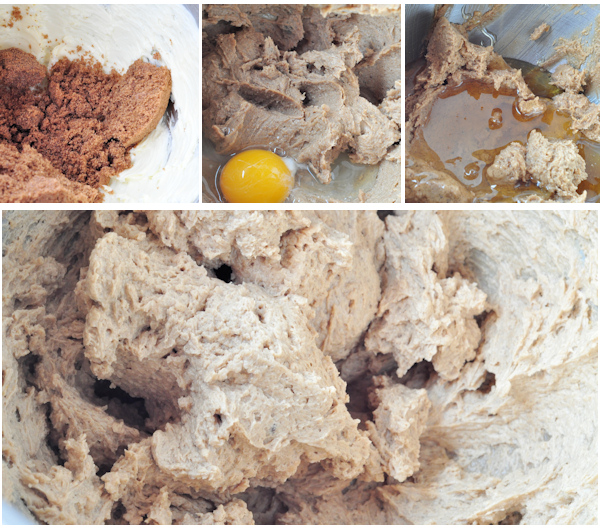 Add 2 cups of flour and all of the remaining ingredients, and beat a couple minutes to combine well. Scrape the sides of the bowl and beat in the remaining flour for another 2 minutes. Chill well – at least a couple hours. At this point, you can store the dough in the fridge for 3 or 4 days if you like.

Now you have a choice. Just as was the case with the Sesame Cookies,how you shape the raw dough will make a pretty big difference in the final outcome. I decided to try them two ways – left in balls, and squished with the bottom of a glass, dipped in sugar. Either way, use a medium cookie scoop [about 2 teaspoons] to portion the dough. Roll in balls – work quickly because it gets soft pretty quickly and dips just the tops in sugar. I used raw sugar, which is nice because of the big crystals – they really give a nice crunch – but regular granulated sugar is fine too. If you want a flatter, crisper cookies, flatten each one with a glass bottom that has been dipped in the same sugar. Put a couple drops of water on top of each cookie.

Bake at 350 degrees for about 15 minutes, turning and rotating pan positions in the oven after about 7 minutes. Remove to cooling racks immediately.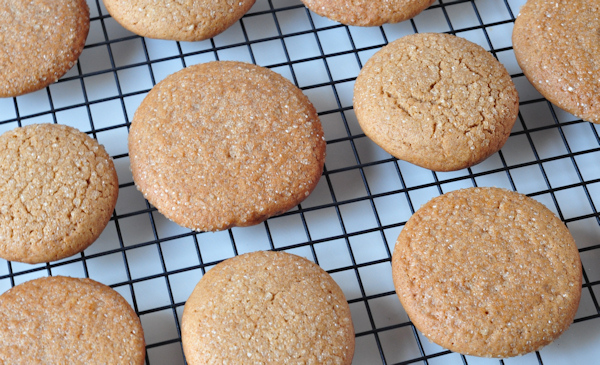 The ones left in balls are more cake-like in texture, but still have a nice crisp edge and crunch from the sugar. The flattened ones are … flatter, amazingly enough. They are also still a bit chewy in the center and very nicely crisp around the edge. I can't choose which I like better – kind of like getting two batches of cookies from one recipe – and in either case, they taste wonderful.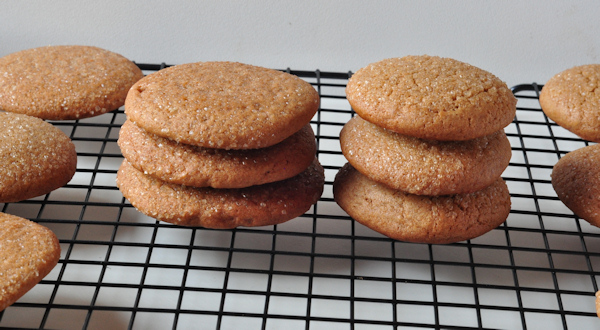 Get yourself a nice big glass of cold milk and enjoy!
Other posts you may enjoy:
Sesame Cookies
Molasses Crinkles 
Pumpkin Snickerdoodles