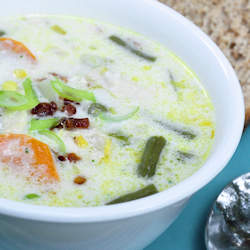 Don't you get the urge to make soup this time of year?  In truth, I always want to make soup, but when the weather begins to cool, the urge is particularly strong.  What a great feeling to have a bubbling pot on the stove when your family comes in for dinner, and then to sit down together and share a meal from a communal pot, in the center of the kitchen table.     
 I admit that I nearly forgot this recipe, which I actually made a couple weeks ago. It is not too late for it to still be seasonal though – all of these vegetables are still available fresh here. At other times of year, you can substitute whatever is fresh at the moment. And even in the dead of winter there is always the supermarket. I mean – we eat what we grow plus what others around us grow for a large part of the year, but we don't want to get scurvy, so in the winter our fresh veggies come from places a lot further away. Beans and corn don't grow very well in snow after all. My point is – while the vegetables I chose here are a great combination, use what you have and what you like.  We better get started if we want this for dinner tonight.
In a heavy stock pot, brown
4 strips bacon, diced
Remove bacon and reserve. To the bacon drippings in the pan, add
½ cup chopped celery
Pinch of salt
5 scallions, divided
Saute until the celery begins to get translucent – about 4 minutes.
Add, and saute another minute
1 large clove garlic, minced
Add
1 cup corn kernels
1 & ½ cups sliced carrots
1 cup green beans, cut in ½ inch pieces
12 ounces new red potatoes, cut in 1 inch pieces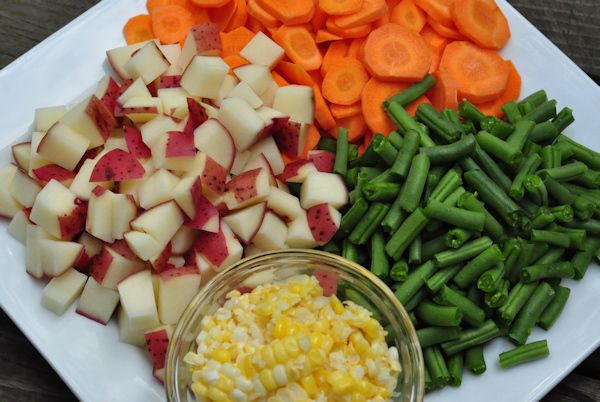 Saute over medium heat for 6 or 7 minutes
Increase heat to high and add
½ cup dry white wine
Cook and stir gently until wine reduces by about half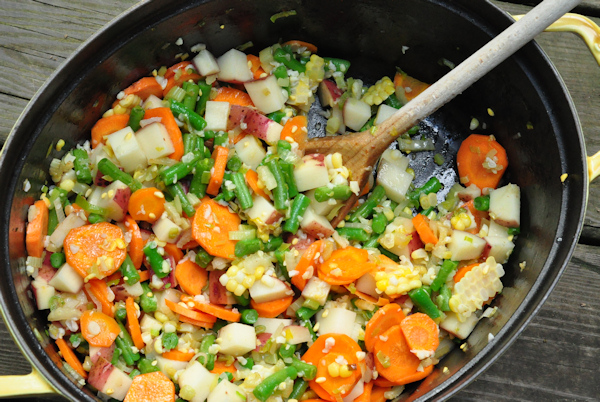 Add
4 cups strong chicken stock
3-4 sprigs fresh thyme
Simmer on low heat for about 20 minutes, until carrots and potatoes are just tender. Remove thyme stems.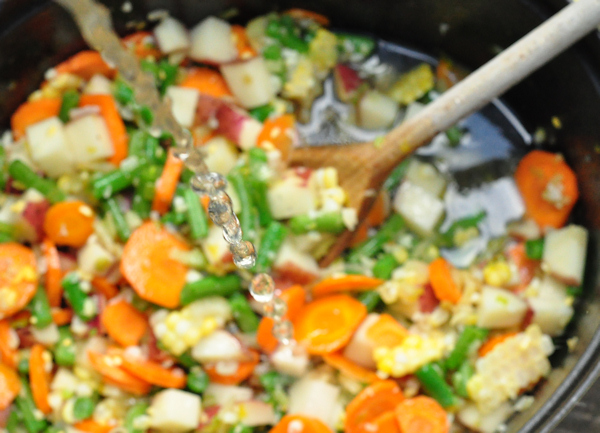 Stir in
½ lb skinless, boneless chicken, cut in 1 inch cubes
4 or 5 sprigs flat leaf parsley, roughly chopped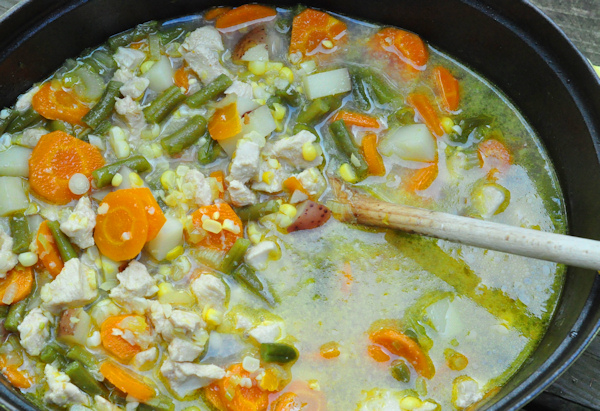 Bring back up to a simmer for a couple minutes and add
2 cups half and half
Reserved cooked bacon
Bring back to a simmer, stirring occasionally
Serve with a sprinkle of the green onion tops for garnish.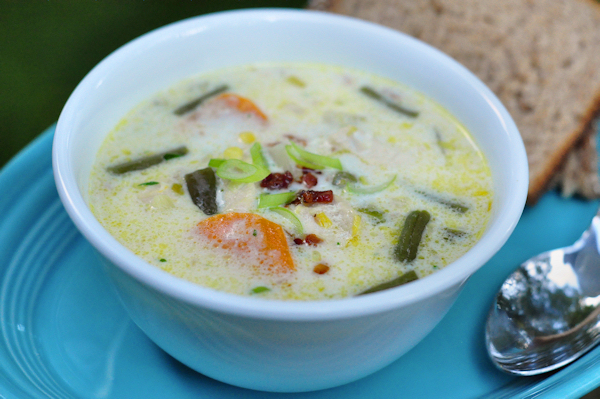 A perfect blending of the seasons: Late season summer-like veggies satisfying your fall craving for a hearty soup. There's nothing better than that!