Like a great many people, I was shocked yesterday to read that Gourmet is going to cease publication after their November issue. I love getting my copy every month and can't wait to dive into the gorgeous photos and great recipes that have inspired me to become a much better cook than I would have been otherwise. I was thrilled to see this recipe for Roasted Cauliflower in the September issue. Our weather is perfect for growing cauliflower and it's relatives, and I had just picked up a few heads of snowy white local deliciousness. And I had the Kalamata olives too, so I wasted no time in getting started. It is pretty unusual for me to follow a recipe exactly, but I did not change a thing in this one, wanting to enjoy it just the way it was written.
Cut a 2 to 3 pound head of cauliflower into 3/4 inch thick slices [most of mine did not hold together in whole slices the way the photo in Gourmet pictured it, so I pulled the slices apart a bit so that it would cook evenly] Lay peices on a baking sheet [lined with my best friend, parchement paper] and drizzle evenly with 2 tablespoons olive oil. Sprinkle with 1/2 teaspoon each kosher salt and fresh cracked pepper. Roast at 450 degrees for about 20 to 25 minutes, turning a couple times to brown evenly. When it is done it will be just tender with lots of yummy browned spots on it.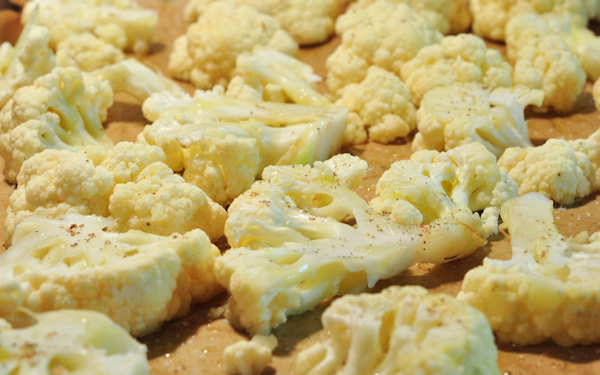 While the cauliflower is in the oven, make the vinaigrette
Mash 1 large [ok – so I did change something – they said small clove. I don't do small when it comes to garlic] garlic clove into a paste.
Whisk the garlic with
2 tablespoons olive oil
2 tablespoons freshly squeezed lemon juice
1/4 cup pitted Kalamata olives, finely chopped
1/8 teaspoon kosher salt
1/4 teaspoon fresh cracked pepper
Serve the cauliflower drizzled with the vinaigrette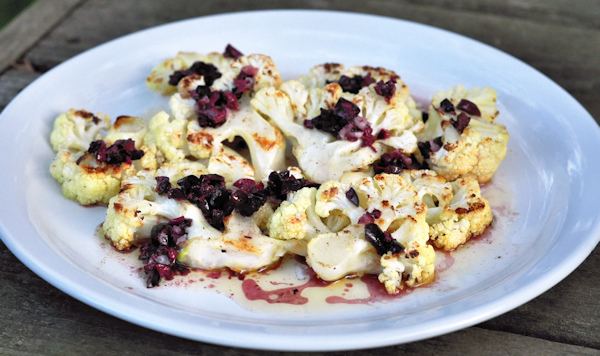 This was so good hot, and the leftovers were fantastic for lunch the next day. The time in the fridge gave the vinaigrette time to really penetrate the cauliflower, without overwhelming it. I didn't even heat it up – just let it come to room temperature. An unintended bonus, because now I have a new salad recipe to fool around with. Even when I try really hard, I can never leave any recipe alone.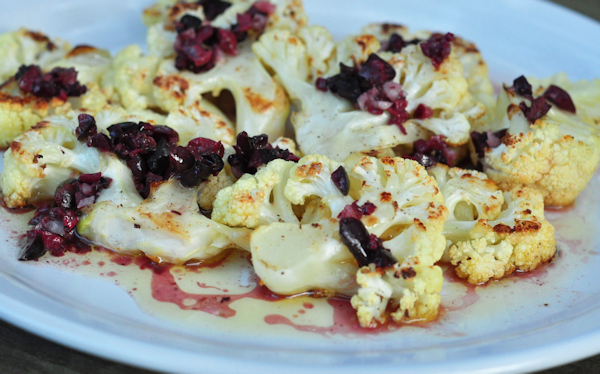 Farewell Gourmet – you deserve better than this.