A cobbler, to my way of thinking, should be a dessert where the fruit is the star. I add a few flavors that bring out the best characteristics of the fruit I'm using, and then top it with a lightly sweetened biscuit dough. As it bakes, the juices from the fruit become one with the underside of the biscuits and come up through the spaces to caramelize and form lovely chewy spots here and there. We have peaches in abundance now. These are imports from Pennsylvania as it is difficult to grow peaches here. The weather isn't quite warm enough long enough to ensure a good crop. You do see some growing here, but not a lot.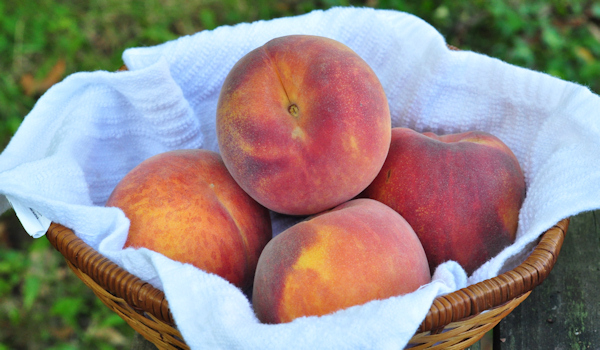 You can peel peaches with a knife, but I find blanching to be easier and less wasteful. Bring a pot of water to a boil, immerse the fruit for about 3 to 4 minutes and then remove to cold water. The skins will slip off pretty easily then.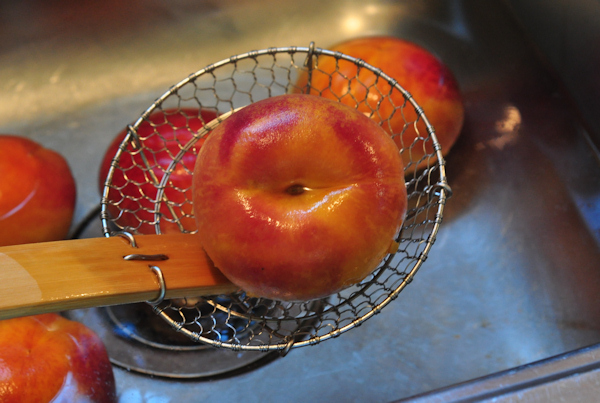 For 6 servings of cobbler, begin by heating the oven to 350º and buttering a 3 quart flat baking dish. In a bowl, combine
6 large peaches, peeled and sliced thickly
1/2 cup light brown sugar
1 teaspoon cinnamon
1 teaspoon freshly ground ginger
pinch of salt
1 tablespoon cornstarch
Stir to combine thoroughly and spread evenly in the baking dish. Bake for about 30 minutes.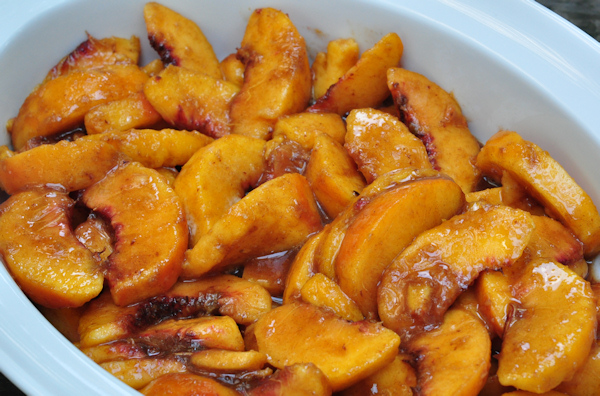 In the meantime, prepare the biscuit dough. You need
1 & 1/2 cups all purpose flour
2 teaspoons baking powder
1/2 teaspoon salt
3 tablespoons light brown sugar
4 ounces cold butter, cut into small cubes
3/4 cup cold buttermilk
1 teaspoon vanilla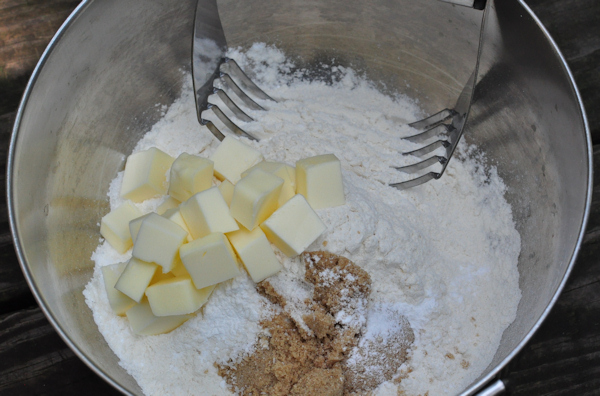 Using a pastry cutter or two knives, work the butter into the dry ingredients, until the butter is incorporated – it will resemble cornmeal in texture. Add the vanilla to the buttermilk and quickly fold into the dry ingredients, taking care not to stir too much. Distribute the dough over the peaches. I find it easiest to use a small disher or cookie scoop, but a tablespoon also works just fine. Sprinkle the top with about a tablespoon of granulated sugar.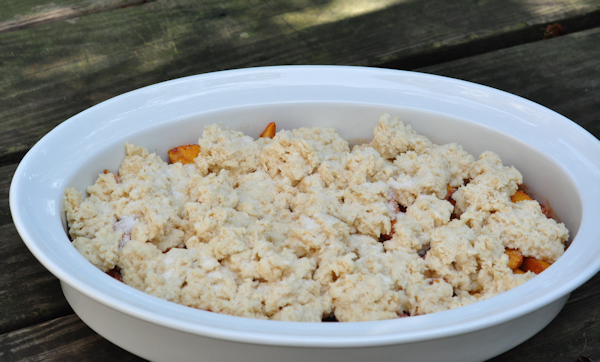 Return to oven and bake another 30 to 35 minutes, until the top is nicely browned and the peach filling is very bubbly around mthe edges.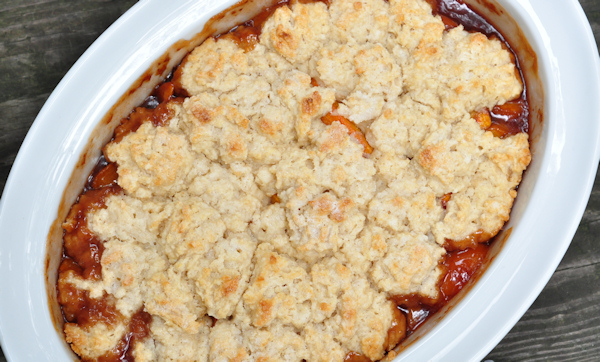 Cool for about 30 minutes and serve with vanilla ice cream or whipped cream.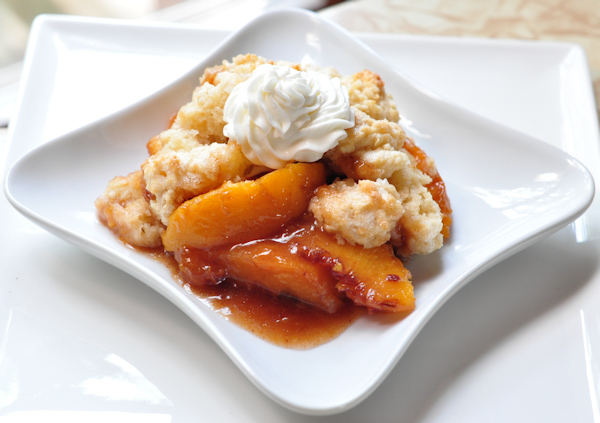 I'd tell you that the leftovers will be safe out of the fridge for about a day, but I know you won't have any leftover, so why bother? If you do though, after a day, they should be refrigerated.
More fruit desserts you may like:
Apple Cheese Crisp
Chablis Ginger Pear Crisp