For my Birthday this year, my family got together and helped me get something I have wanted for a long time – a stand mixer. Long had I been abused, confined and hampered by my lack of a stand mixer, but no more. I asked advice from friends about which brand is the best and hands down, the favorite was Kitchenaid. So why did I end up getting a Cuisinart
?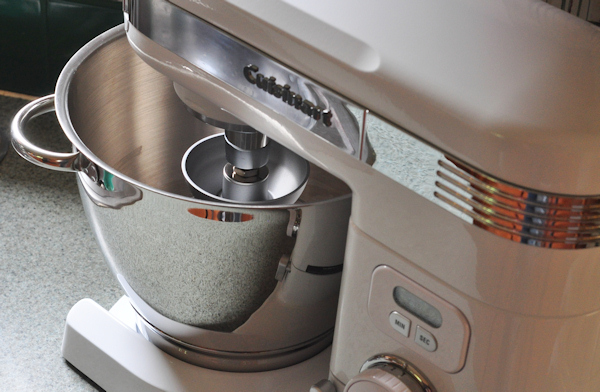 Because in reading over reviews, I found that newer Kitchenaids just don't seem to have the same quality that they once did, even just a few years ago. And every person who recommended the Kitchenaid had an older one.
It was the number of positive references to the Cuisinart, in reviews for the Kitchenaid that led me to investigate it. I am glad I did. The Cuisinart is more powerful, has a better warranty, has better reviews and with the rebate Amazon is offering right now, it is quite a bit cheaper. Only time will tell if I made the right choice, but I am very happy with it so far.
I made cookies first thing, and I will blog that effort later in the week, but I wanted to give it a little tougher workout to see how it would perform. Bread. Specifically, Italian bread. I make a mean loaf of crusty Italian bread, even if I say myself, which I do; but it is a rather arduous task, taking at least 20 minutes of vigorous kneading by hand. Could I duplicate the quality without quite so much sweat equity involved? Let's see.
This is a very simple recipe, containing just 5 ingredients. It has the added benefit of being almost entirely fat free, which is good if you are watching what you eat. I used the recipe I always do, changing only the method to utilize the mixer.
Place 1 and 1/4 c very warm water in the mixer bowl and sprinkle over it
1 packet active dry yeast
1 teaspoon sugar
Stir lightly and allow to sit for 5 minutes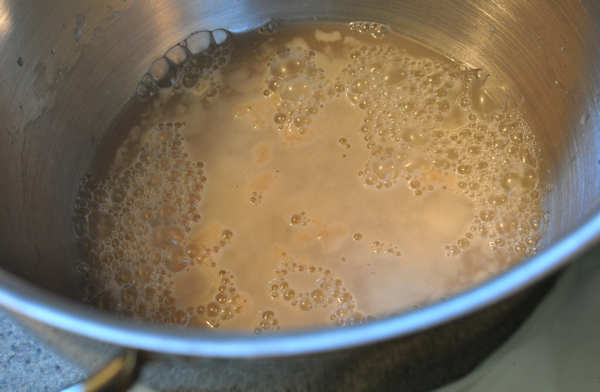 Add
3 cups all purpose unbleached flour
1 & 1/2 teaspoon kosher salt
Beat at medium low speed for 2 minutes, scraping the sides of the bowl halfway through, if needed. Allow to rest for 20 minutes.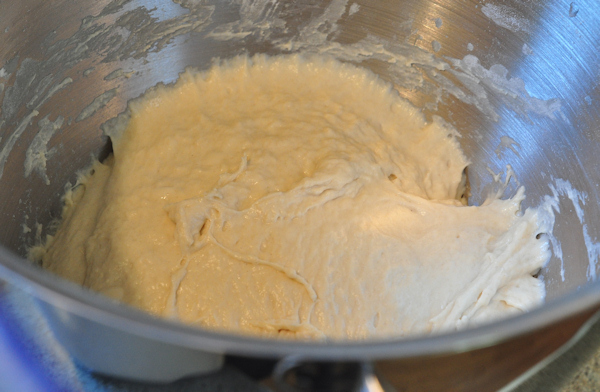 Turn mixer back on and gradually add up to another cup of all purpose flour. I add it in 1/4 cup increments and for this batch used about 3/4 of a cup. You know you have a enough when the dough is only the slightest bit sticky to the touch. A little more or less isn't going to make huge difference, so don't worry about getting it exactly right. If you want to be just like me, you can forget to take a photo of this step.
Set the mixer to medium speed and allow it to knead the dough for about 6 minutes. I guessed at this since I had no idea how to translate 20 minutes of hand kneading into an equal amount of machine kneading. I do know how the dough should look and feel though and this was the right amount of time to achieve that.
See? Nice and smooth and not at all sticky.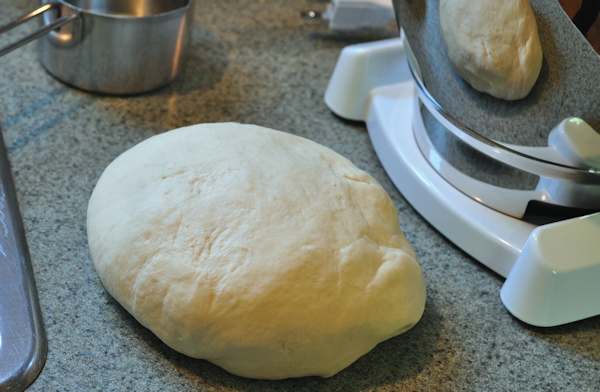 I then removed the bowl from the mixer, oiled it with about a tablespoon of olive oil, and returned the dough to the bowl, turning it to coat all sides, and covering it with a piece of plastic wrap to prevent the top from drying out. It rose for about an hour, until it had doubled in size.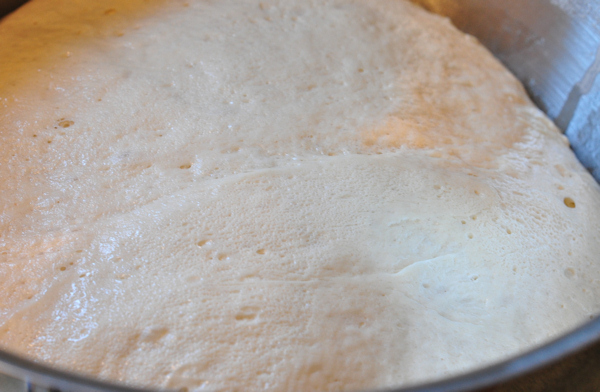 I turned it back out on my counter and after kneading just a few turns to ensure it was evenly punched down, I shaped the loaf.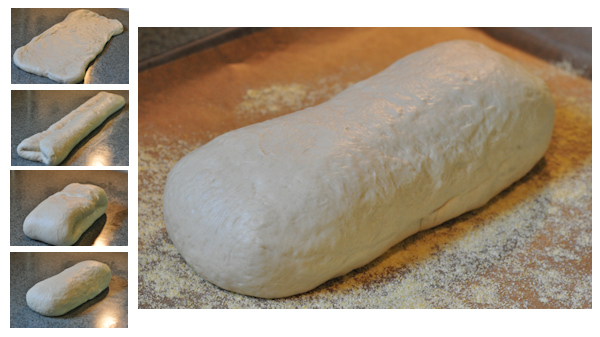 Flatten into a large rectangle and turn each edge to the middle, pressing all along each seam to help it adhere. Turn the two ends to the middle until they meet and pinch together all of the seams. Roll gently to get it all smooth and shape gently into a slightly flattened rectangle with rounded ends. It's hard to explain – I hope the pictures help. Line a large heavy baking sheet with parchment paper and sprinkle with corn meal, and lay shaped loaf on top of that.
Brush the top and sides liberally with water, and place in a warm spot to rise again.
It took only about 40 minutes to double again. Preheat the oven to 400º, and place a shallow dish half full of boiling water on the bottom rack. Brush all surfaces of the loaf with water again, and using a sharp knife, cut four diagonal slashes on the top surface – about 1/4 inch deep or so.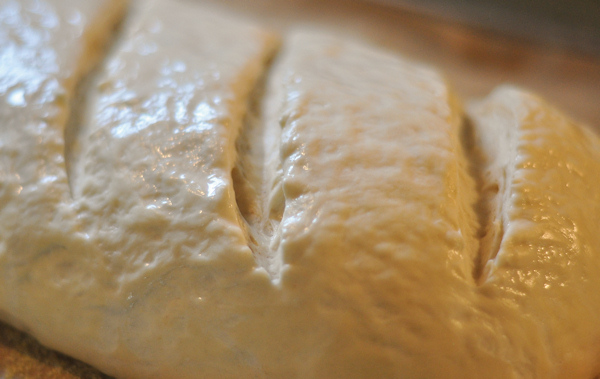 After 10 minutes, brush with water again, and then a final time 10 minutes after that. Total baking time is right around 30 minutes – it should sound hollow when you tap it and be very browned and crisp looking. Remove to a wire rack to cool for at least 15 minutes before slicing.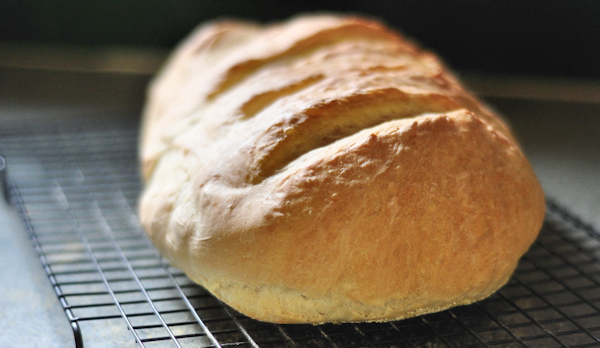 I was quite pleased with the result. A nice soft inside, surrounded by a crispy chewy crust and with the same simple but delicious taste I am used to getting from this recipe.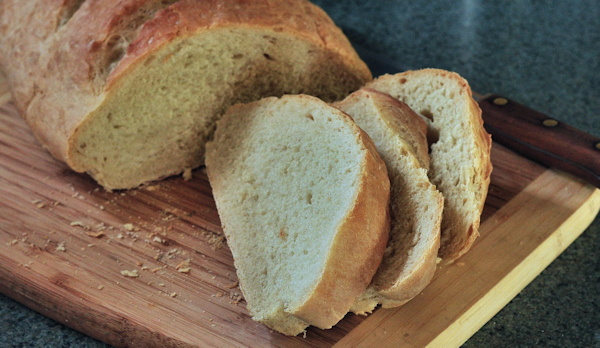 Pretty awesome actually.