This recipe takes more effort to write than it does to make. So, so simple, it is also pretty inexpensive, versatile and relatively diet friendly. Oh yeah – it tastes reeeeeeally good! That is kind of important.
The amounts I am giving you here were sufficient for 3 medium sized chicken breasts.  Begin by combining, in a shallow dish, like a pie plate:
1/2 cup buttermilk
1/4 teaspoon garlic powder
1/2 teaspoon kosher salt
8-10 grinds of pepper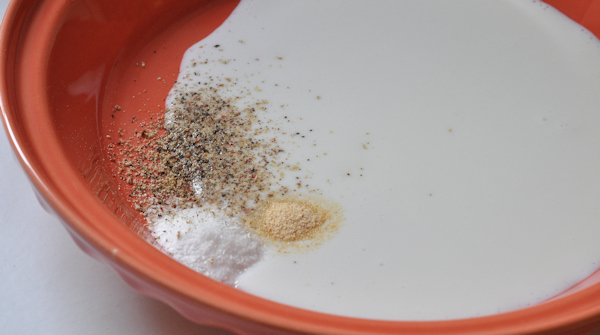 Mix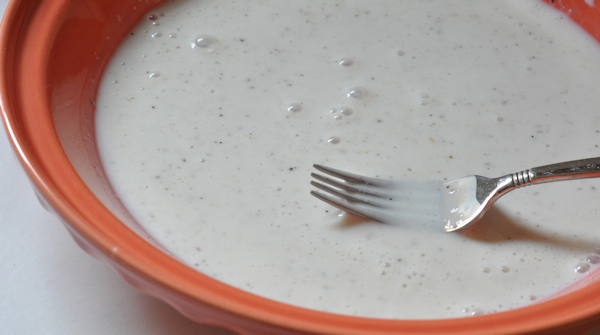 Trim the chicken beast of fat and other nasty bits. and gently pound to an even thickness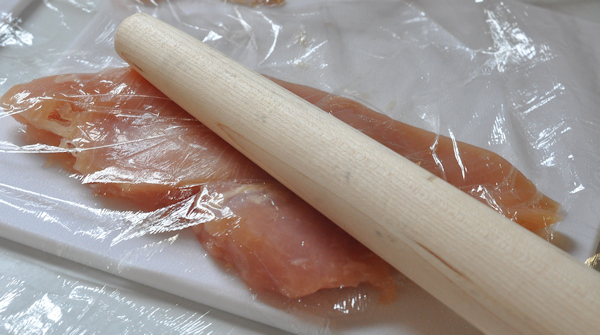 Till it looks like this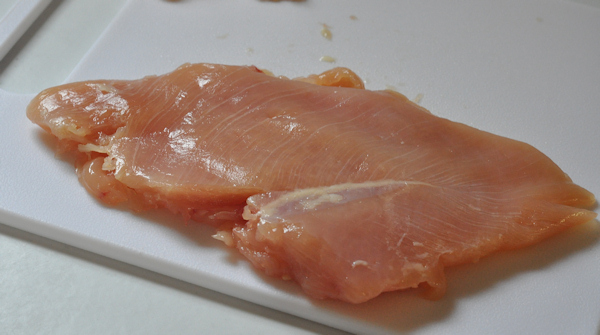 Place each one in the buttermilk mixture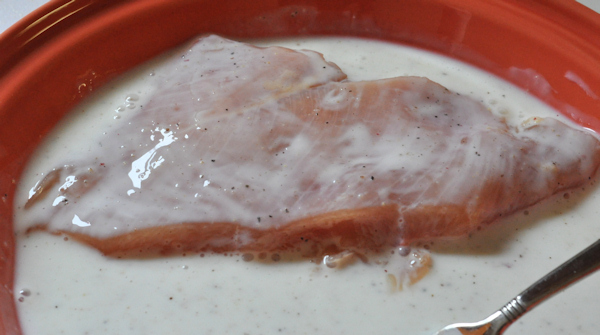 Make sure you use a dish that is wide enough so that all of the chicken can lie flat. If I think of it, I do this the day before, and put it in the fridge overnight. At the very least, I try to let it sit at least a couple hours, but if 20 minutes is all the time you have, it will still be good. The buttermilk helps tenderize the chicken, and makes it juicy.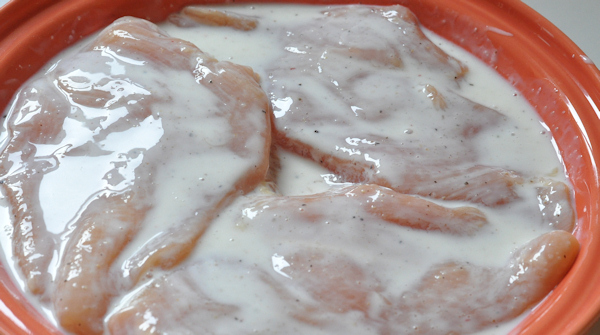 In another shallow dish – again I use pie plates for this – combine bread crumbs and seasonings. I will tell you what I have going on here, but you can use whatever combination you like. The herbs and spices can be varied – I use this method of oven frying to make chicken parmesan for example, using garlic powder, italian herbs and bit of the powdered romano cheese from the green can. Sometimes, I make it a lot spicier, by adding some hot sauce to the buttermilk, and extra chili powder and cumin to the flour. The bread crumbs are dry – a combination of store bought and the store of dried bread I always seem to have around, whizzed up in the food processor.
1 cup of dry bread crumbs
1 teaspoon garlic powder/granules
1/2 teaspoon onion powder
1 teaspoon dried parsely
1 teaspoon dried oregano
1/2 teaspoon dried thyme
1/2 teaspoon dried basil
1 teaspoon kosher salt
10-15 grinds of pepper
1 teaspoon California chili powder
1/2 teaspoon smoked paprika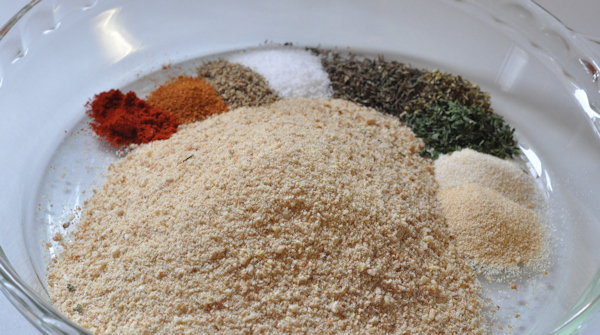 Stir till evenly combined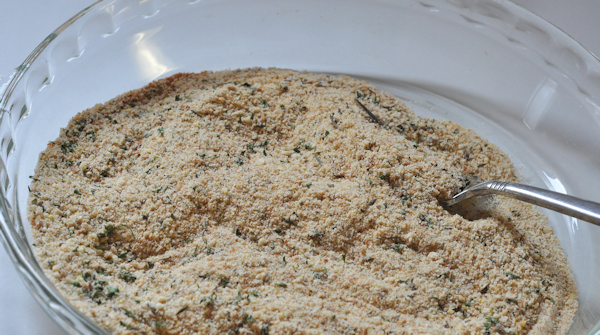 Take each breast, one at a time, from the buttermilk [leave all the buttermilk on there – no shaking it off or anything]and place it in the bread crumb mixture.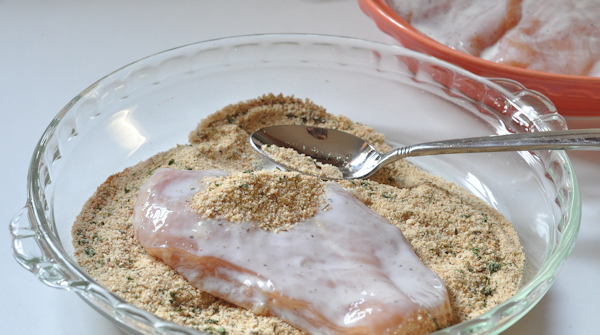 Using a spoon, cover the top with bread crumbs and press all over the surface lightly to help the crumbs adhere.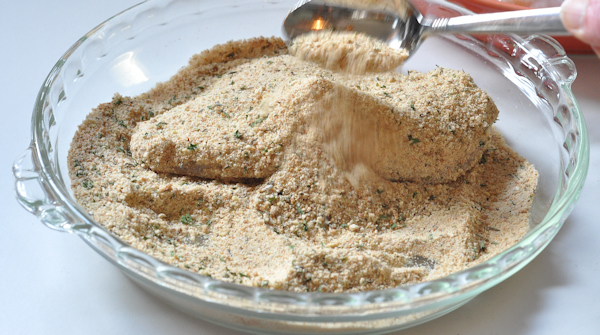 Gently place each one on a rack that is set on a sheet pan. I line them with the parchment paper I will use when cooking them, because some crumbs are going to fall off and it will be easier to just pick up the paper and shake the crumbs off. Make sure they aren't touching, and put the whole thing in the refrigerator for 30 to 60 minutes, depending on how much time you have. This will make the breading really stick to the chicken. You can go straight from breading to baking, but this extra step does give you a crispier coating.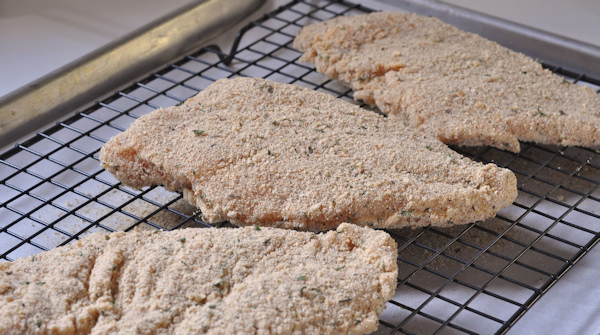 Preheat the oven to 400º. Pick up the rack, remove any crumbs fom the pan, and drizzle a line of olive oil where each breast will be – about a teaspoon each.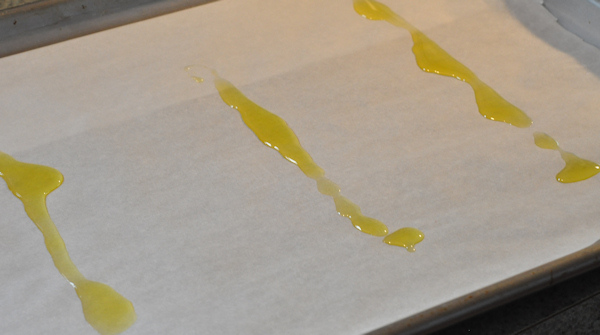 Lay each breast flat on the line of oil and drizzle another teaspoon or so over the top of each one.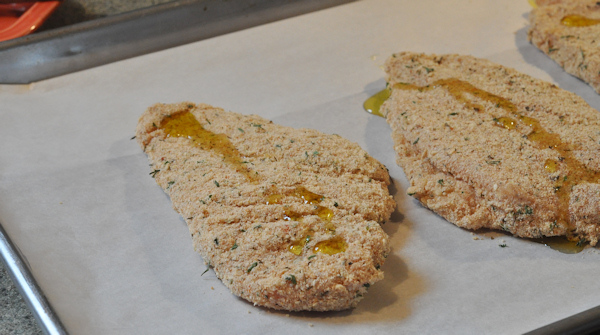 Bake for about 12 minutes, and then turn each one over and bake another 8 minutes or so.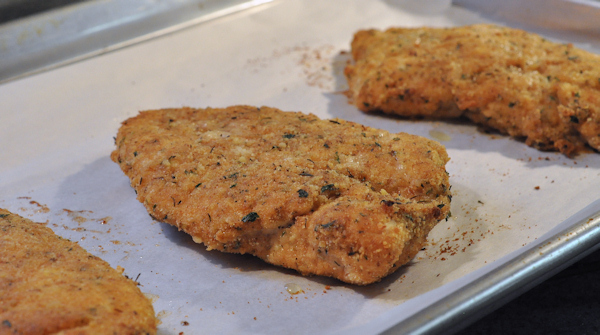 So nice.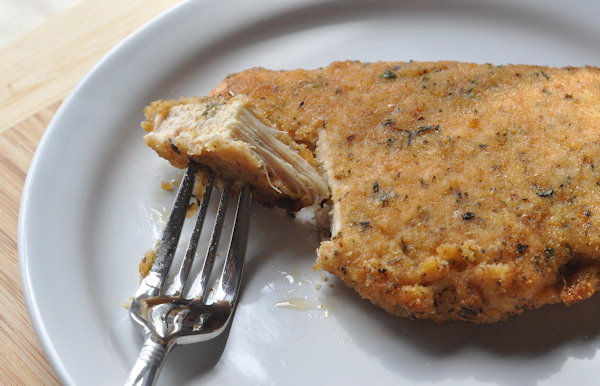 You can use chicken prepared this way for chicken parmesan, for sandwiches, or as we had this night – with a side of garlic mashed potatoes and some sauteed brussells sprouts. You can use this same method to make chicken fingers or nuggets too – a much better alternative for your kids than the frozen ones. Have fun!