Pizzocheri. "Peets-oh-keri" As you will soon see, this isn't anywhere near authentic pizzocheri at all. I don't know what else to call it though. It's heavily inspired by Mark Bittman's recipe here, in his NY Times column. Pizzocheri are actually buckwheat noodles and if I had any I would have used them. I would love to use that much butter, but I just can't make myself do it. And potatoes with noodles is just too much starch for me. I thought sausage would be good in it too. Are you starting to understand the "ish"?
But honestly – you have heard me say this before – it's your food. Cook it the way you like it. Cook the way you can, given what you have on hand. It's the cooking that's the thing. And given that, there are no hard and fast amounts in this recipe. I was cooking along nicely when it occured to me that this is going to be really good and I ought blog it, so I wasn't measuring anything. These photos have that mellow weekday evening in the kitchen look about them -not great lighting for photographs according to conventional wisdom, but it doesn't get any more real than this.
So – to get started, brown some spicy Italian sausage – a half pound or so. You can do them whole and slice them later as I did, or remove the casings and crumble as you brown them. Remove from the pan and set aside. In the same pan, heat 3 tablespoons butter and over low heat, saute about a pound and half of chopped cabbage – maybe half of a medium head, along with a good sized onion, cut in strips and a couple of celery stalks, cut in slices. Stirring frequently, cook until the cabbage is really getting limp and add a couple cloves of garlic that have been minced and a few sprigs of thyme [about 1/2 teaspoon dried if that is what you have]. Add sausage back to the pan and cook another 5 minutes. Layer half of the mixture in a greased baking dish.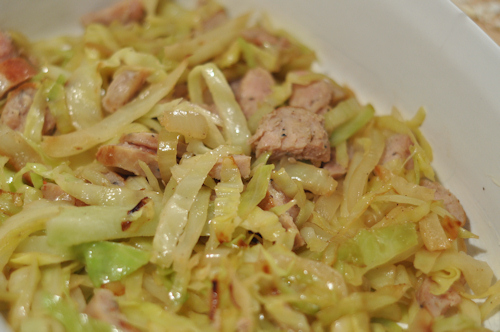 Next, add a layer of whole wheat noodles [buckwheat if you have them of course]- a couple servings worth, cooked according to package directions, but pull them out a minute or two before they are completely done. Top the noodles with a good layer of grated romano or parmesan cheese, and then with the rest of the cabbage. Pour 1/3 of a cup of half and half [or milk] over the layers and press them together with the back of a spoon. Cover and bake for about 10 minutes in a 400º oven.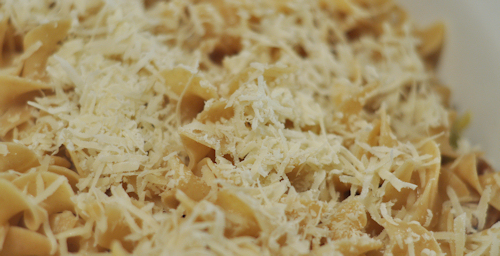 Back in your saute pan, melt a tablespoon or so of butter [this is sounding like a lot of butter I know, but the orginal dish had a cup I think] and stir in 3 slices worth of fresh bread crumbs. To make those, tear the bread in strips and zap in a food processor or what have you [I have a Magic Bullet I keep on the counter for little zapping jobs like this]. Don't use the packaged bread crumbs – the minute it takes you to make the real deal is more than worth it. Remove the foil and spread the crumbs over the top and return to the oven for about 15 minutes, until the top looks like this – all toasty and browned.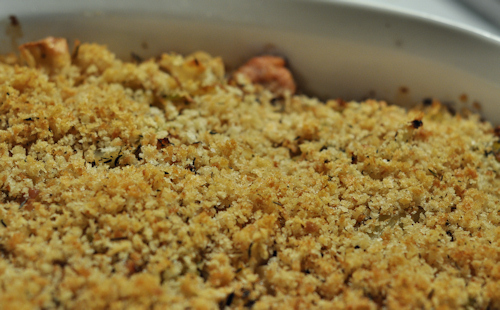 This made about 3 servings since it was all we had for dinner that night. It would go further if you add some sides like a salad or some green beans.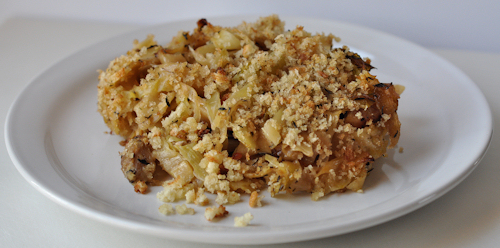 Let's take a closer look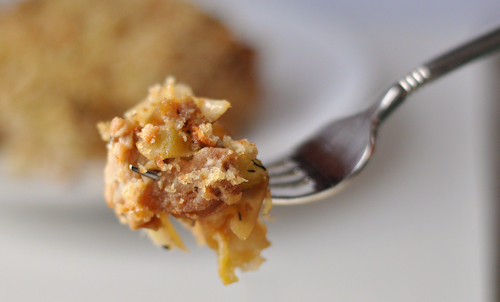 You might want to check out Mark Bittman's blog on the New York Times website – it is here. His series of recipe videos called "The Minimilist" can also be found on Facebook, by searching his name there. I highly recommend them – no matter what your level of cooking expertise, you will find inspiration in what he does with food.