Pesto is amazing stuff. It only takes a few ingredients, and a few minutes to create a substance that adds a glowing spark of flavor to anything you put it on. A teaspoon of pesto makes an ordinary bowl of vegetable soup taste like a master chef invaded your kitchen. Not sure what to make for dinner? Saute a few of your favorite veggies, mix in a few handfuls of your favorite cooked pasta, with a few tablespoons of the cooking water and 1/4 cup of pesto – dinner is served! It's a wonderful addition to pizza, foccacia or garlic bread – really, there are just endless ways to use it. I have been fooling around with another recipe using pesto that we have really enjoyed a few times lately, and I think I finally have it perfected to my satisfaction, so I'll be sharing that here in a few days. In the meantime, we first need to make some, right?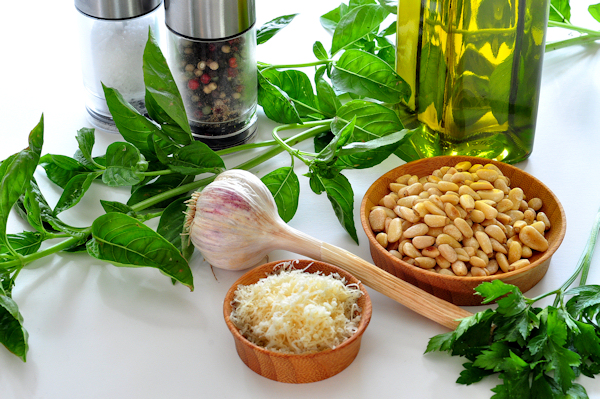 I'm not reinventing the wheel here – most pesto recipes are very similar in ingredients and proportions. If you don't have pine nuts, walnuts can be used. I do lightly toast the nuts I use, but that is purely personal preference, as I have noticed anyone else suggesting it. In addition, I like to use about 1/4 to 1/3 flat leaf parsley, along with the basil. I like the additional herbal flavor, but it can just as easily be left out.
2 packed cups fresh basil leaves
1/4 cup flat leaf parsley
3 medium cloves garlic, lightly chopped
1/3 cup pine nuts
1/2 cup olive oil
1/2 cup freshly grated hard Italian cheese, like Parmesan or Romano
kosher salt and freshly ground pepper
Make sure to remove the stems from the basil and parsley, and wash well – I use my salad spinner to get the herbs good and dry. As I said, I toast the nuts in a dry iron skillet on top of the stove – just a little bit, maybe 2 or 3 minutes at the most. And, I prefer Romano to Parmesan cheese in my Pesto, as I think it has a more intense flavor.
Pulse the garlic and pine nuts in your food processor until they are starting to get broken up nicely. Add the basil and parsley, and process at medium speed for a minute or two. With the processor still running, stream in the oil through the fill tube, and leave running until the mixture is pretty much uniform and well blended – another minute or so. Add the cheese and pulse a few times to combine. Taste, and add salt and pepper as needed – the amount of salt will depend on the saltiness of the cheese, the pepper on personal taste.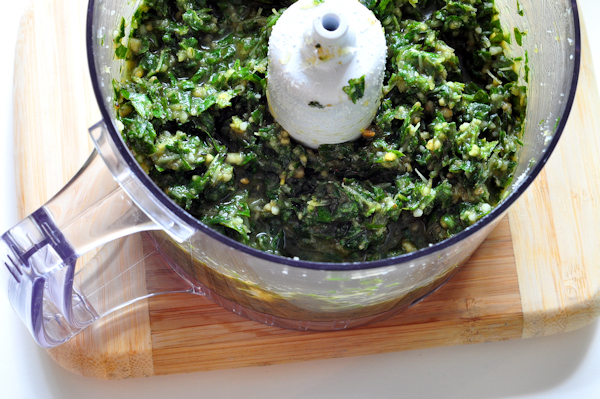 Now – here is one of the best things about pesto – it can be frozen with virtually no loss of taste or quality. You can save that bright summery flavor for the dead of winter when you most need a reminder that summer is out there somewhere, and that it will return eventually.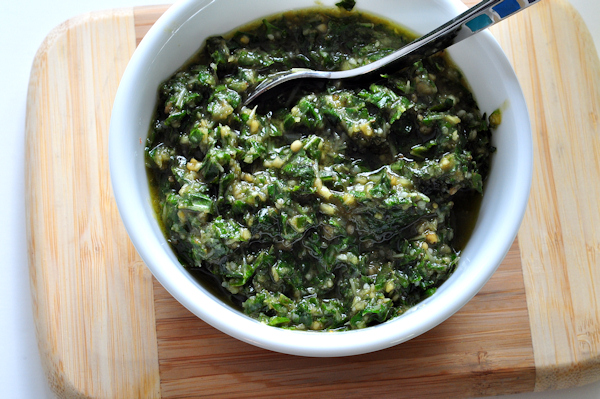 I often see people talking about freezing it in ice cube trays, but I prefer to use a muffin tin. Lay a sheet of plastic wrap over the tin, and push the wrap down into the wells with your fingers – you can do a couple at a time if you start our with a good sized piece of plastic wrap. Spoon the pesto into the wells – you can put in just a couple tablespoons, or fill it right up, if you know you will have a need for that much at once. You might want to put a little extra oil over the pesto in each well – it will stay greener if it is submerged. Freeze for a couple hours, pull the plastic wrap up to cover the pesto and use sharp scissors to cut apart the individual pieces. Make sure they are securely covered with plastic wrap, and store in a ziplock bag in the freezer. Most places say it will keep a few months, but I've kept it much longer than that and it was still delicious. I have about 5 or 6 batches in the freezer already this year – it's been a good year for basil, despite our perverse weather, and there is enough left in the garden still for another couple batches. Which is just fine with me, because I love tasting a little bit of July in January!