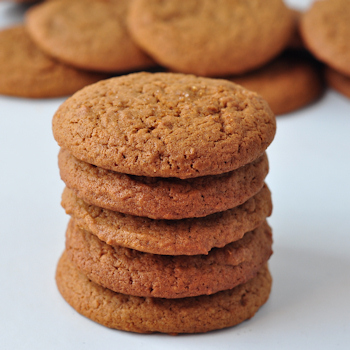 Sometimes when you've been making a recipe for years – and making it the same way every time – you don't really consider that there may be another, maybe better way to do things. That is the case for me with molasses cookies. A few years ago, I shared my favorite recipe for the Molasses Crinkles my grandmother often made. We love those little gems still, and setting aside any kind of cookie with chocolate in it, they were probably my favorites. But, like most molasses cookies, this recipe uses ground ginger. There is nothing wrong with ground ginger – it's a very useful spice to keep on hand, and back when Grandma was making these, you could hardly find fresh ginger within the continental United States. That was when the fresh produce area in most grocery stores would fit in the truck of a mid-size car. It wasn't the happy place it is now, but a deserted, dim area of the store where you would only see a few odd souls picking over the paltry offering of withered carrots, hard pink tomatoes and iceberg lettuce. So you really can't blame Grandma for the ground ginger in her cookies – it was all she had to work with.
But, as usual, I digress. If you don't already have some fresh ginger in your fridge – go – go right now – and buy some! We'll be right here when you get back. And grab a lemon too, while you are there, because I saw no reason to limit myself to just one zingy fresh flavor when I was figuring out this recipe. In the meantime, the rest of us will get started. Preheat the oven to 350 degrees, and prepare a baking sheet – grease with shortening or line with parchment paper or a silpat.
Ingredients:
3/4 c soft butter
1 cup dark brown sugar
1 egg
1/2 cup dark molasses
1 tablespoon freshly grated ginger
1 tablespoon fresh lemon zest
2 & 1/2 cups all purpose flour
1 teaspoon ground cinnamon
1 teaspoon baking soda
3/4 teaspoon salt
Cream the butter and sugar until well blended. Add the egg and beat several minutes, until light and fluffy. Beat in the ginger and lemon zest. In a smaller bowl, whisk together the dry ingredients, and add gradually to the butter mixture, beating all the while. Don't overmix, but everything should be uniformly combined. Drop by tablespoonfuls [or a medium cookie scoop, which is what I use] on the prepared pans, leaving an inch and half or so between, to allow for spreading. You will get about 30 cookies. Bake for 8 to 10 minutes. They will still be slightly soft in the middle, with a bit of browning across the tops. Remove from pans and cool on a rack.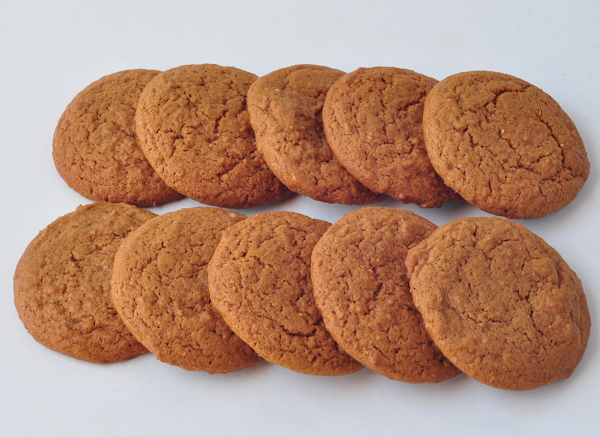 The texture of the cookies is just sublime – they have a little crispiness outside and a lovely chewiness inside. The best thing is, each day they taste a little better than the day before. I'm not sure at what point they reach some kind of flavor apex and begin a downhill slide, because they were all gone long before we got there, but if you need to bake cookies a couple days before serving them, these will do very nicely.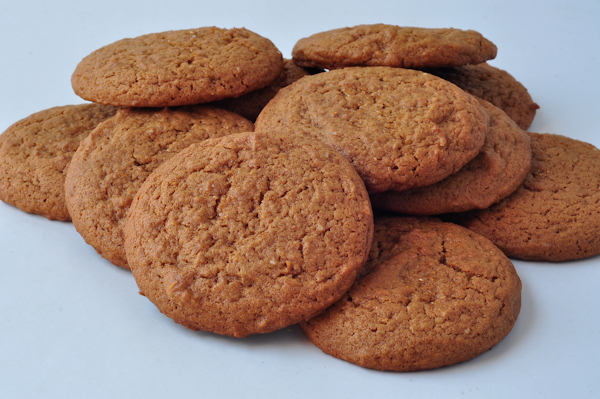 Time to make some more I think.