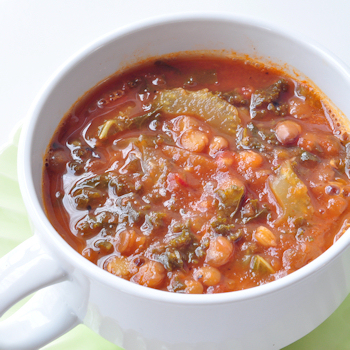 So – are you getting tired of winter yet? This is the time of year when all that snow and ice and frigid wind really starts to make you think about throwing in the towel on your job and other commitments and taking off for a deserted tropical island where you can live out the rest of your days – preferably in cutoff shorts. With an umbrella drink.
That can get you in hot water with your loved ones though, and unless you're already retired, it can really put a crimp in your long term financial plans. So maybe we should just stay put, keep our jobs and have some soup instead. Spicy Lentil Kale Soup might not take the place of a hot sandy beach, but it can help soothe your winter-abraded nerves that are starting to twitch every time you look at the weather forecast. And – it's super easy, very healthy, plus the leftovers taste even better than it did the first day.
Kale and lentils are things that I nearly always have around, but if they aren't ingredients that you typically use, they are easy to find in most grocery stores. I try to buy lentils in the Indian food section of the store – they are cheaper there in larger bags that the little one pound bags you'll find with the other dried beans. Kale is in the produce section, and some stores might have it frozen. This soup is so simple that I didn't do step by step photos – it is also very adaptable, so I am detailing some substitutions that will work well, as well as some additions you might be interested in trying.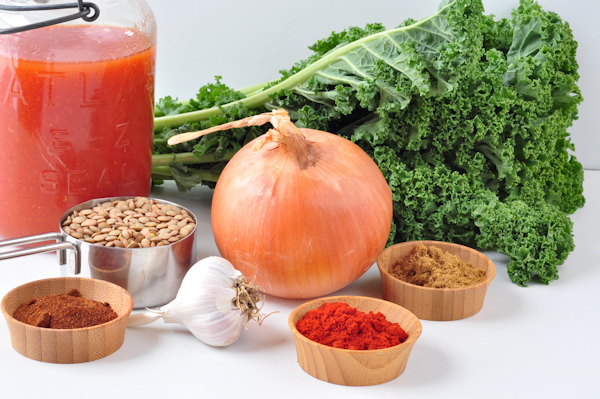 2 medium celery stalks, cut in thin, diagonal slices
1 medium onion, cut into thin strips
salt and pepper
3 or 4 cloves of garlic, smashed and minced
1 teaspoon ground cumin
2 teaspoons smoked paprika
1 -2 teaspoons chili powder
32 ounces tomato juice*
32 ounces stock – chicken or vegetable**
1 15 ounce can stewed tomatoes with chilies***
1/2 teaspoon kosher salt
1 & 1/2 cup lentils
About 12 to 16 ounces kale
Begin by heating a couple tablespoons of olive oil in a 5 quart soup pot. Add the onions and celery, and cook over medium heat until they get slightly soft, with maybe a touch of color on them. Sprinkle with about 1/2 teaspoon kosher salt and a few grinds of fresh pepper and stir in the garlic and cook a minute or so, then add the cumin, paprika and chili powder. Stir to incorporate the spices and cook about a minute to open up the flavors a little. Add the tomato juice, stock and the stewed tomatoes, and the 2nd 1/2 teaspoon of salt. Stir and let warm over medium heat until at the simmer point. Add the lentils and leave at a simmer for about 40 minutes, or until the lentils are soft but not mushy.
While the lentils are cooking, prepare the kale by washing thoroughly and removing the center ribs. Removing those ribs is pretty easy – just lightly slide your knife along them and the leaf part should separate right off. Then chop the kale coarsely – you want pieces that are about an inch square. Taste the soup at this point for seasoning. Add more salt, cumin, paprika and chili powder until it has the amount of heat you like. I threw in some Sriracha hot sauce, because it is my fervent belief that nearly everything is better with a little hot sauce in it, but hold the heat to whatever you like best. Add the kale – which might seem like it's going to be too much, but it's not – and stir in. Simmer another 20 minutes. Taste again to see if it has enough salt. Serve right away, or put in the fridge overnight so the flavors can meld even more, and reheat to serve.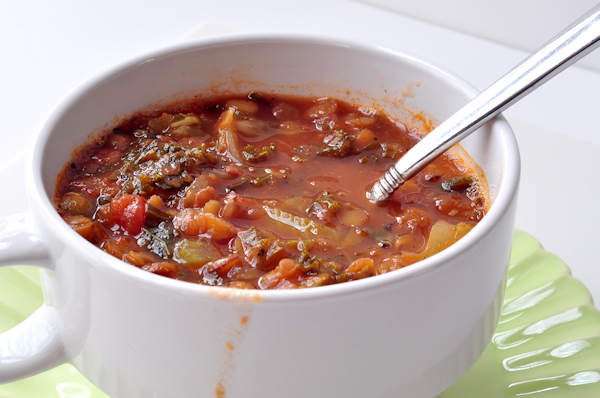 Vegetarians and flexitarians will like it as is, but I often add a bit of sausage or leftover ham. A couple strips of crispy thick cut bacon would be good too.
So, there you have it – a soup that will chase away the chills and satisfy you all the way down to your wool-sock clad toes.  Even if you'd SO rather be wearing flip flops.
*I actually make a tomato soup base when I am doing up my tomatoes in the fall, but since most people don't have that, tomato juice is an excellent choice. You could also use a large can of tomato sauce and an equal amount of water.
**I used homemade chicken stock, but store bought will certainly work. Vegetarians will want to use a vegetable stock of course. Water will work just fine if that is what you have – there are plenty of great flavors in here already.
***this is the one canned tomato product that keep on hand, even if I have lots of tomatoes from the garden put up, just because it is so easy. I buy the store brand, but I think the most familiar national brand is probably RO*TEL®. You can just use a 16 or 18 ounce can of plain tomatoes and throw in couple diced jalapenos if you prefer.