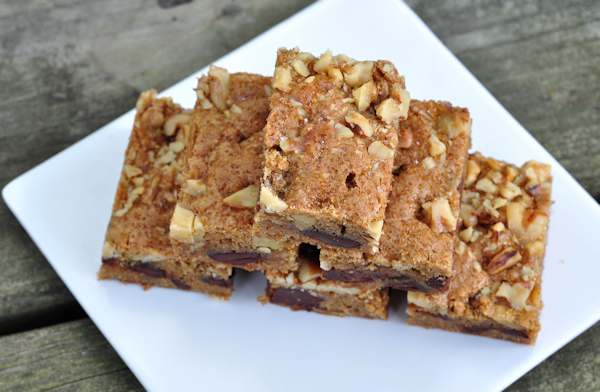 If you are not a fan of chewy, rich blondies, you should probably just skip over this post. Or if you aren't enamored of the zingy spice of fresh ginger, combined with bittersweet chocolate. Maybe you don't care for the roasty crunch of toasted walnuts? I mean, I don't want to keep you here against your will or anything, so I want to be upfront about the incredible delicious flavor of these tasty little morsels of gingery perfection. They are everything I just mentioned above and as soon as we finished up the first batch, I turned right around and made another one. I can't imagine why I never thought of this before because I love gingery baked stuff, but now that I have, please do yourself a favor and give these a try. That old cliche "you won't be sorry" doesn't even begin to cover it!
Fresh Ginger Blondies
1/2 cup softened butter
1 cup dark brown sugar
1 egg
1 tablespoon freshly grated ginger
1 teaspoon vanilla
1 tablespoon dark molasses
1 & 1/3 cup all purpose flour
1 teaspoon baking powder
1/2 teaspoon kosher salt
1/2 cup bittersweet chocolate chips
1/2 cup chopped, toasted walnuts, divided
1 tablespoon sanding sugar, or other coarse sugar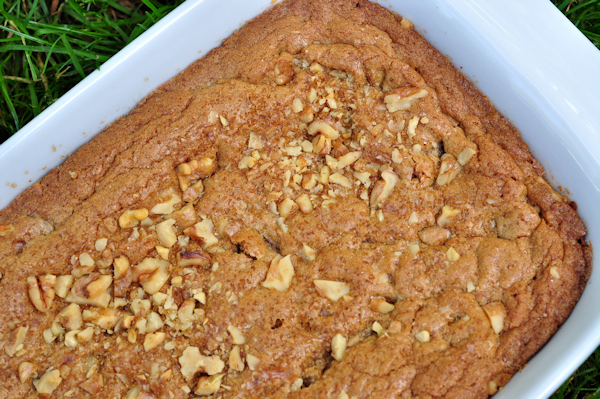 Preheat the oven to 350 degrees and grease an 8 by 8, or 7 x 11 inch baking dish.
Beat the soft butter and dark brown sugar until the mixture is well combined and fluffy. Beat in the egg, vanilla and ginger. Normally, recipes tell you to combine the dry ingredients in a smaller bowl, before adding them to the butter mixture, but for a recipe this size, I don't bother. I just measure in the flour and other dry ingredients, and stir it all together until combined. I like the kosher salt in these, because it means that every so often you get a little salty crunch which is very nice. Once the dry ingredients are incorporated, stir in the chocolate chips and 1/3 cup of the walnuts. Spread evenly in the greased pan. Sprinkle the rest of the chopped walnuts overtop and then sprinkle with the sanding sugar. Bake in the preheated 350 oven for about 30 to 35 minutes, then cool on a rack. Slice into squares for serving and store at room tempurature in a sealed container – they will keep for about 5 or 6 days. It's a good idea to make these a day ahead, as the ginger flavor will become deeper and richer as they sit.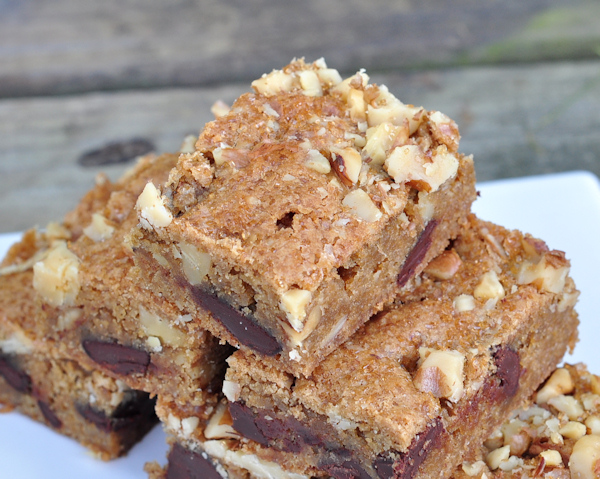 A fitting welcome for the fall baking season!