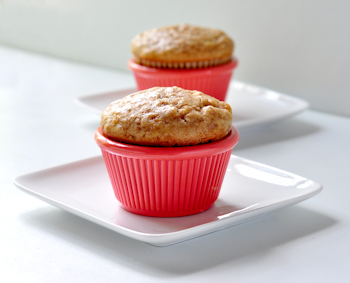 I don't think grownups are supposed to like peanut butter and jelly as much as I do. For a lot of my adult life, I wouldn't touch it – a reaction to the river of pb&j we had as kids. Our school didn't have a hot lunch program, and with 5 kids to feed, I am sure pb&j was the logical choice. By about 4th grade I was ready to give up lunch forever. Unfortunately, I was starved by lunchtime, since, when my Mom wasn't looking, I had fed my detested oatmeal to the dog at breakfast. Every day began with this terrible injustice. Unjust, because my mother hated oatmeal and would not have touched it with a ten foot pole, a fact I futilely point out to her every day. I am not sure how she felt about eating pb&j herself, but by lunchtime, starvation thrust me into the arms of whatever was in my lunch bag.
It wasn't until I had kids of my own that I began to appreciate peanut butter again. Now, I could eat it every day, and if it weren't so fattening, I would. Buttered toast, piled with crunchy natural peanut butter and slathered with fruity jam. I am sure it is what they have for breakfast in heaven, and when I get there, it is what I am having every day. Somehow, these muffins seem healthier than the toast. They aren't really, though they do have whole wheat flour, raw sugar and natural peanut butter. Ok, maybe a teensie bit healthier. They are really easy though and I bet kids would love to help make them.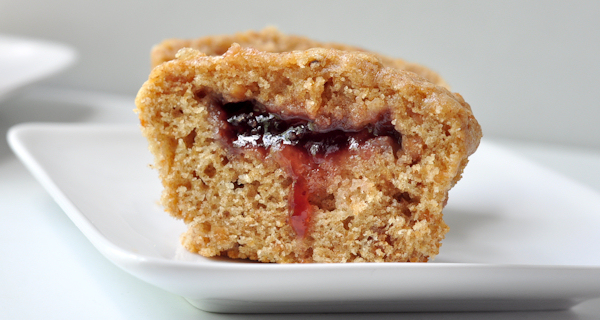 Preheat oven to 350 degrees and line a 12 spot muffin tin with paper liners.
Combine:
1 cup all purpose flour
1 cup whole wheat flour
1/2 cup raw sugar [granulated will work fine]
2 teaspoons baking powder
1/2 teaspoon salt
Use a pastry cutter to blend in:
1/2 cup natural peanut butter
3 tablespoons softened butter
In a small bowl, or large measuring cup, beat together:
2 eggs
1 cup milk [I used skim]
Pour the milk mixture into the dry ingredients and fold together just until combined. Use a medium cookie scoop, or a large spoon, and put about 2 tablespoons of batter in each muffin cup. Top that with a generous dollop of jam or jelly. I used strawberry, but any kind will work just fine. Use the remaining batter to fill the cups evenly, trying to cover the jam as much as possible. Bake for about 20 minutes, until a toothpick comes out with no batter on it [there will probably be jam of course, but just make sure there is no raw batter] Remove to a cooling rack for at least 20 minutes before serving. Remember that the jam inside will be very hot, so use caution, especially when serving them to kids.
They keep nicely at room temperature for 2 or 3 days, and reheat quite well.  Enjoy!