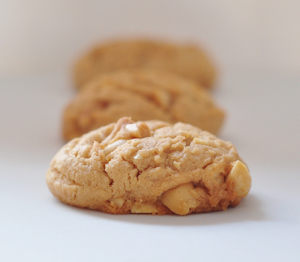 I don't usually use regular peanut butter in anything anymore. I switched over to natural brands a few years ago, and for the most part have adapted most of my recipes to use natural. Natural peanut butter doesn't have the additional fat and sugar in it that regular brands do, so sometimes the result can be quite different. I bought some regular peanut butter a few months ago, to use in a recipe I ended up not liking, so today I am using up the rest of the jar and this is the perfect recipe for that. It's a recipe I've used for years, and I am not sure where I got it originally, but it bursts with peanut flavor, and isn't too sweet. Next time, I'll try it with natural and let you know how it works out, but for now, we'll go back to the good old days and Skippy.
Ingredients
1 cup peanut butter
1 cup butter
1 cup light brown sugar
1 cup granulated sugar
2 eggs
2 & 3/4 cups all purpose flour
1 & 1/2 teaspoons baking soda
1 t baking powder
1/2 teaspoon salt
2 cups shelled, roasted and chopped peanuts
Cream together the peanut butter, butter and sugars, until light and fluffy. Beat in the eggs. In a smaller bowl, whisk together the dry ingredients, until completely combined and then mix into the wet mixture. Mix in the peanuts. Line baking sheets with parchment and using a small cookie scoop [1&1/2 teaspoons], portion dough onto the sheets, leaving an inch and a half between them. Bake at 350 for 10 to 12 minutes, turning pans half way through and remove to a wire rack to cool. Makes about 100 small cookies.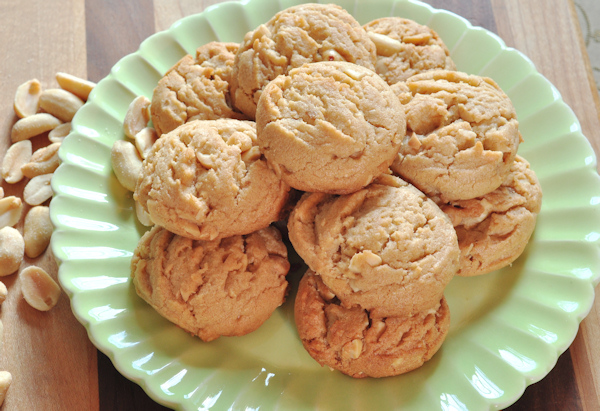 They are a luscious indulgence, that thankfully, freezes well, so you can put some away for another day.