One item that takes up quite a lot of real estate in our veggie garden is hot peppers. We have 18 plants this year, with 6 of those being jalapeños. There is, of course, no way we can eat 6 plants worth of jalapeños before they go bad.
Why hot and cold though? The peppers themselves are the hot and how I save them is the cold.
Nothing could be simpler. Wash the peppers and dry completely. Lay them in a single layer on a baking sheet, lined with paper towels, parchment paper, or as I do here, with a woven kitchen towel.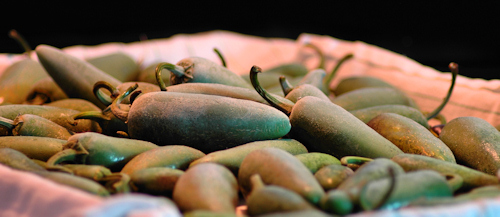 Freeze until completely solid, probably about 4 hours or so and divide among containers – I usually use freezer grade zip-lock bags. You can use containers if you prefer, but you will never be able to use them for anything else because the flavor of those peppers is forever married to the plastic by the time you use them up.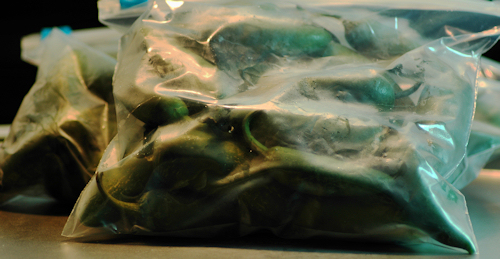 When you want to use the peppers, just take out however many you need and let them thaw slightly, and using a very sharp knife, slice them up. These little slices are perfect on pizza which is what we use a lot of them for. I also chop them up and use them in soup, stew, casseroles, chili, burritos, tacos, quesadillas, or sprinkled over my bran flakes on those mornings I have trouble waking up.

Don't have a garden? Because they are so cheap in the stores right now, you can buy a good supply and get some put up for your own pizza. Then, you'll feel all Little House on the Prairie this winter when your guests remark on the fresh zippy flavor. Don't tell them how easy it was – better they should think you had to sweat.