The winner for the July "Comment Love" giveaway is none other than the lovely Kate!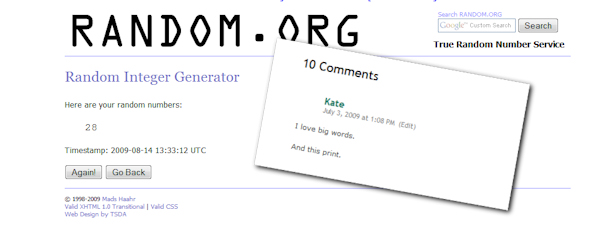 Oddly, as the winning comment is only number 28 for the month, her comment happened to be on the post announcing the winner for the previous month. I love seeing a frequent commenter win, don't you?
I am going to have to skip this month's giveaway. We have some financial uncertainty coming up, as the job Larry has been working on since earlier this year is nearly at an end and it remains to be seen if he will pick up another right away. An uncomfy side effect of being a carpenter is that when the building is completed, they expect you to go away and refuse pay you any more. Go figure, eh? It's circumstance we are used to, but it is cause for caution just the same. On the plus side, I picked up a new project within about 20 minutes of the last of my company leaving yesterday.
I do have lots to tell you about over the next couple weeks – lots of nice shots from the extended visit with all of my family, some nice photos I have been working on and I am finally getting my store up and running. Thanks so much to those who have encouraged me to do this and to those who have already purchased my photos even if I haven't made it easy up until now.
So tell me – what are you doing this weekend? Hope it's a good one!