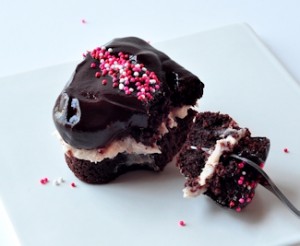 I wanted to get this recipe out early this week, in case you are still looking for a delectable little treat for your Valentines Day dinner, or maybe just something you can give away to show you care. I think these will do the trick in either case, or for any number of other sweetheart oriented occasions. You start with a rich, gooey-but-not-too-gooey fudge brownie. Then you slather the center with a cream cheese sour cherry filling, and top the whole thing with a chocolate ganache glaze. And some sprinkles! If it sounds a little over the top, that is because it is. But there is no better time to be over the top with a chocolate dessert than Valentine's Day, is there? I didn't think so.
You do want to make sure that you get sour dried cherries rather than sweet ones, for the filling. The sour cherries very nicely balance out the rich chocolate, but sweet ones would probably be kind of cloying here. I actually got mine at Sam's Club, but you can get them in big supermarkets or online. You will also need a pan that will make little heart shaped cakes. I have this silicone one
which also makes cute muffins and scones. You do need to be careful when moving silicone pans around in the oven – even on a baking sheet, my first batch somehow managed to slide right off and dump half of the batch in the bottom of the oven. Boy did I burn my tongue! [ba-da-dum!] And though there are 3 parts to this recipe, they all sail right along and none of them takes terribly long.
Make the filling
2 ounces cream cheese
2 tablespoons soft butter
1 & ½ cups confectioner's sugar
½ teaspoon vanilla extract
¼ cup finely chopped dried sour cherries
Beat together the cream cheese and butter, then with mixer on low speed, gradually add confectioner's sugar, then stir in vanilla and cherries. You can make this the day before, and hold overnight at room temperature for more intense flavor.
Make the brownies
Prepare heart shaped silicone or metal muffin pan according to manufacturers directions. Preheat oven to 350°.
6 tablespoons soft butter
¾ cups granulated sugar
1/3 cup + 2 tablespoons baking cocoa
1 egg
1 teaspoon vanilla extract
½ cup all purpose flour
½ teaspoon baking powder
½ teaspoon salt
In a glass bowl, melt the butter, then cool for a couple minutes. With a wooden spoon, stir in sugar, and then the cocoa. Beat in the egg, and then the vanilla. In a smaller bowl, whisk together the flour, baking powder and salt. Add all at once to the butter mixture and stir just until combined. Divide equally in the muffin pan and tamp slightly to make sure there are no gaps in the individual molds. Bake for about 20 minutes, until a toothpick inserted near the center comes out clean. Cool in the mold and then carefully remove. Refrigerate for an hours or so.
Make the glaze
4 ounces bittersweet chocolate, chopped
4 tablespoons heavy cream
2 teaspoons corn syrup
Put all ingredients in a small glass bowl and microwave 30 seconds at a time, stirring each time, until melted and smooth.
To assemble
Cut each brownie in half horizontally – do this slowly and steadily.

Spread some of the cream cheese cherry filling on the bottom half and then carefully press the tops on.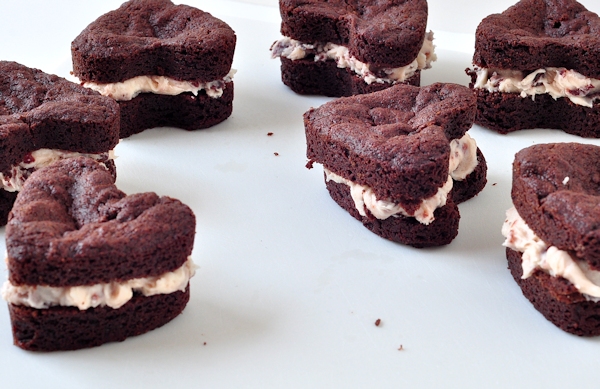 Carefully dip the tops in the glaze and then sit upright on a rack. You may need to add a small spoonful of glaze to even out the top.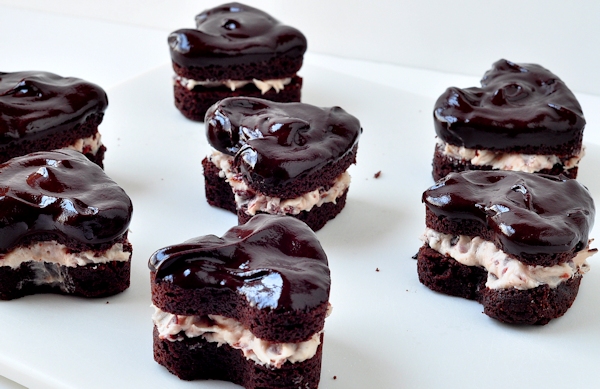 If wanted, sprinkle with a mixture of red, pink and white sprinkles in a diagonal line across the hearts. Can be served right away, or stored at room temperature for 24 hours – refrigerate after that.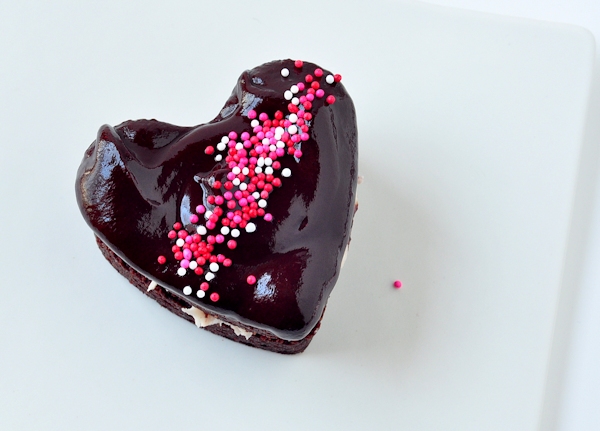 These are the prefect decadent ending to a special Valentine's Day meal.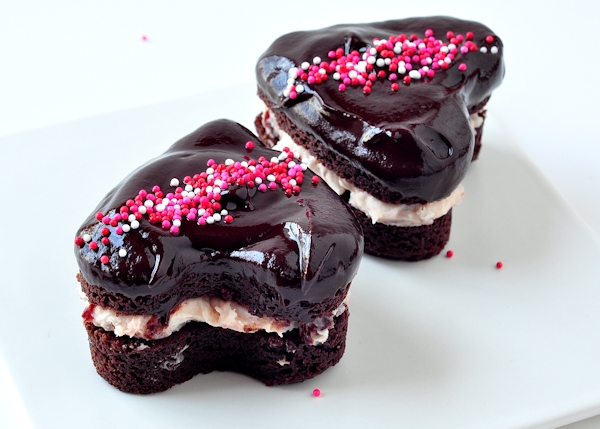 I sure wish they weren't all gone already…
Printable recipe:Valentine Brownie Hearts