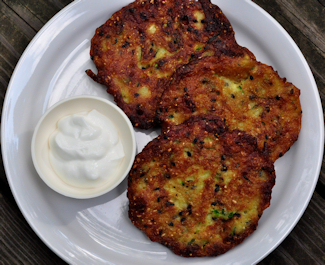 More than one person in my family has asked me why I haven't blogged this recipe. It is probably my family's favorite thing that I make, and something they request frequently. If my folks are here from Arizona, I have to make Zucchini Fritters at least once or my Dad feels neglected, and it was the only food containing summer squash that Lauren would eat.
Making these takes me back to the years when the girls were little, and our garden was small. Even a small garden seems to produce prodigious amounts of zucchini though, and as I already mentioned, Lauren despised zucchini. She was a plan-ahead kind of girl, and insisted I tell her what we were having for dinner in the morning, so she could either cradle the anticipation of a well-loved meal all day, or fret, agonize over and try to talk me out of making something she didn't like. All day. She dreaded the thought of eating zucchini for dinner the way that delinquent tax payers dread their appointment with the IRS. She was a "dead zucchini eater walking" right up until dinner time, passionately bemoaning the injustice of her upcoming fate. Her dramatic stylings were definitely the inspiration for these fritters, and even though she has decided in her adult years that eating zucchini is not the universe-destroying activity she once feared it was, she still likes these the best.
So why haven't I blogged it? Not because it is a big secret or anything, but because it is one of those things I make that has never had a real, written down recipe, but is rather an "add a little of this, add a little of that" dish. Never once in all these years have I ever measured a single thing that goes in them. Until now, that is.
Despite our dry weather in the middle of the summer, we have had a steady supply of zucchini. A lot of the time, we just have them grilled, because we are grilling some kind of protein anyway and grilled squash doesn't heat up the kitchen or dirty a pan. You definitely cannot say that about these fritters. They are a bit of a pain to make to be perfectly honest, and the times it takes to get them all fried up definitely heats up the kitchen. Add to that, the fact that they are fattening as heck, and you have to wonder why I am showing them to you at all. For just one, very very good reason. They are insanely delicious.
They are also a good way to use up slightly over-sized squash, because they benefit texturally from slightly bigger seeds and a little bit tougher skin. These squash were about a foot long each.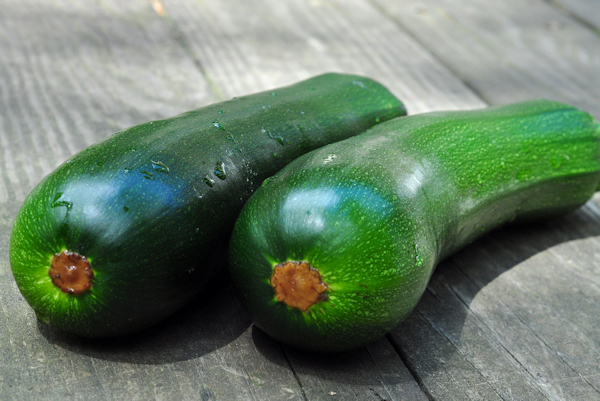 Zucchini Fritters use very simple ingredients, most of which I am betting you have in your kitchen right now. We didn't have a lot of money when I first started making them, so ordinary supplies were all I had on hand. These prove that you can make some truly delicious food with inexpensive items – it is all in how you combine them. And frying them doesn't hurt – plop just about anything in sizzling oil and it tastes great, right? Here is what you need and how to go about it.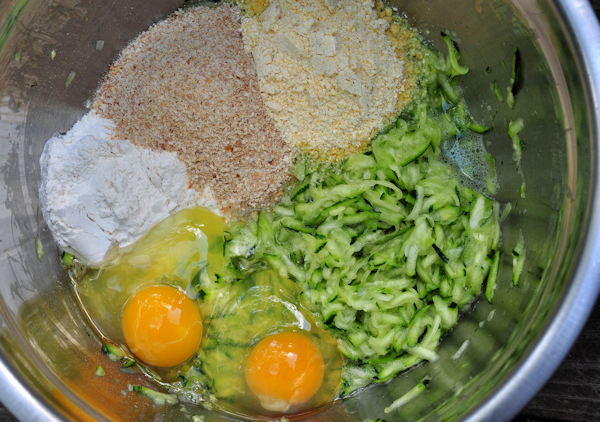 About 1 pound of roughly grated zucchini
1 small onion, grated
1-2 cloves garlic, finely minced
2 eggs, beaten
1/3 cup all purpose flour
1/3 cup cornmeal
1/3 cup dry breadcrumbs
1 teaspoon salt
about 10 grinds black pepper
2-3 tablespoon finely chopped fresh herbs [basil, oregano & parsley are our favorites]
about 1 cup buttermilk
1 teaspoon baking powder
2 tablespoons sesame seeds
Combine the zucchini, onion, garlic and eggs. Thoroughly mix in the flour, cornmeal, bread crumbs, salt and pepper, and herbs. Stir in enough buttermilk to achieve a fairly thick batter – a bit thicker than a pancake batter.
This is where the need for a bit of flexibility comes in, because some zucchini is going to have more moisture than others. Let this mixture sit for about 30 minutes, and if has become watery at all, stir in a couple more tablespoons of flour.
Add the baking powder and sesame seeds, and allow to rest for another 5 minutes or so. Heat 1/2 inch of olive oil in a wide saute pan. You can use half vegetable oil if you like. When the oil is good and hot, use a large spoon to carefully lower the batter into the pan, and spread it out slightly. I use about 1/4 cup of batter for each one, and in my big 14 inch pan, I can do 4 at a time, as they should not be touching. In about 3 minutes, they should be browned on the bottom, and you should be able to easily turn them with a pair of tongs – if not, let them cook another minute, and then turn. Cook on the other side until crispy and deep golden brown. Remove to clean newspaper, or paper towels to drain, sprinkle lightly with coarse salt and repeat until all of the batter is used up. You may need to add a bit more oil before you are done.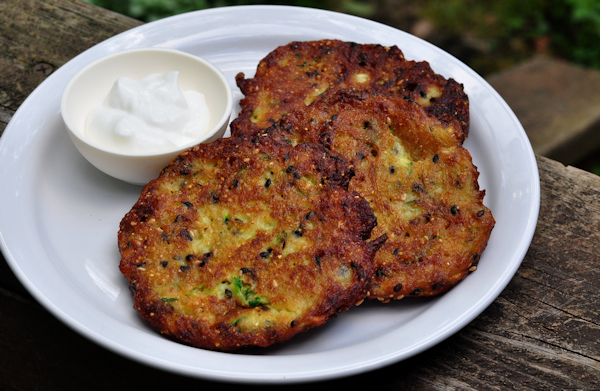 Serve with a healthy dollop of sour cream for dipping.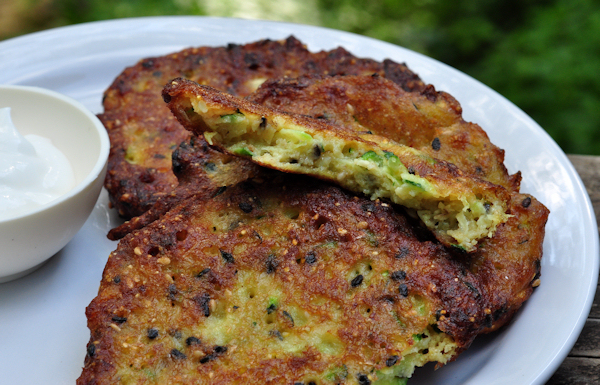 Then, get ready to make some more, because you are going to need them!