This is another beautiful side dish for your Thanksgiving meal. Easy to prepare – a good part of it can be done a day or two ahead and then you can finish it up with about 20 minutes in the oven just before serving. Lemon and honey combine to give you a fresh and tangy-sweet light glaze on the squash that will be a very nice counterpart to some of the richer dishes you usually find on the table at holiday time. I am not going to give you any hard and fast amounts here – there are a lot of variables, so I am going to tell you the method involved and then you can adapt it to your own preferences and how many people you are serving.
You can use other kinds of winter squash, but butternut is particularly easy to peel and cube, which is a prerequisite to roasting the squash. This was a smallish one, weighing about two pounds before I peeled it and the resulting dish would serve 3 people generously. You can multiply the basic amounts from there, depending on how many servings you need. Peel, seed and cube the squash and distribute evenly on a parchment lined baking sheet. Drizzle with a couple tablespoons olive oil and sprinkle with kosher salt and freshly ground pepper. Bake in a 400 degree oven for about 45 minutes, stirring occasionally to ensure the cubes don't get too browned in one spot. You can do this part ahead, refrigerate and then finish off while the turkey is resting. Take the squash out of the fridge a few hours before you will finish it, so that it is at room temperature.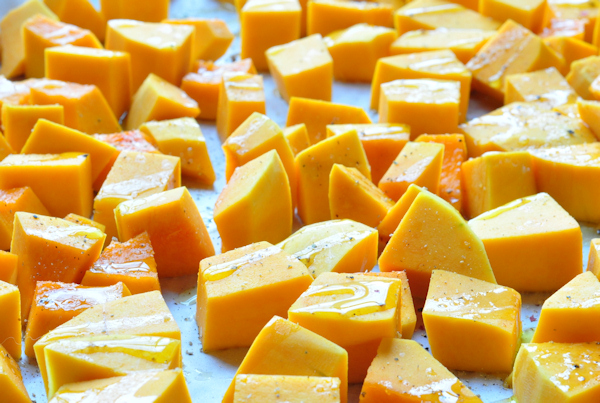 The glaze consists of just two ingredients: honey and lemons. For 2 pounds of squash, I used the juice and zest from 1/2 of a large lemon, along with 3 tablespoons of honey. Mix the juice, zest and honey in a small bowl until completely homogeneous and blended.  Taste for flavor balance – you don't want it to be really sour, but you don't want it overwhelmingly sweet either.  If it tastes good in the bowl, it wil taste good on the squash.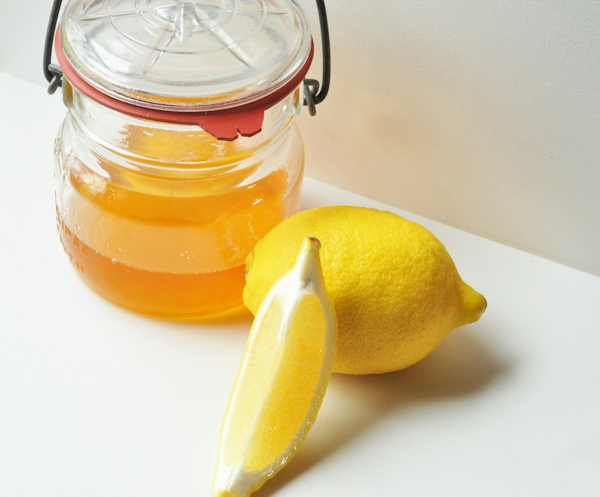 When the squash is nicely soft and caramelized, [or if you baked off the squash ahead, bring back to room temp and spread back on a sheet pan lined with parchment] drizzle evenly with the honey and lemon mixture and mix gently.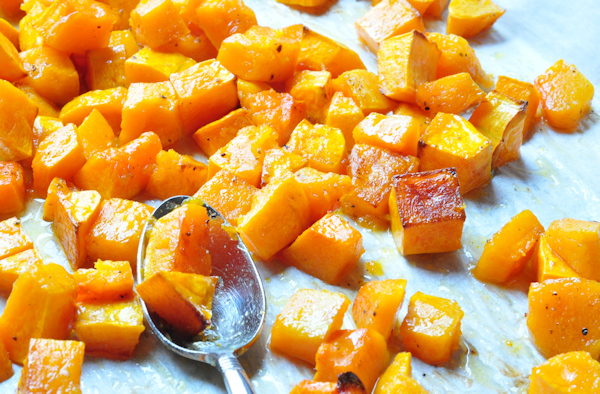 Return to the oven for about 20 minutes, mixing half way through. The sauce will somewhat absorb into the squash and also glaze it a bit. Serve with a bit of lemon zest grated over the top.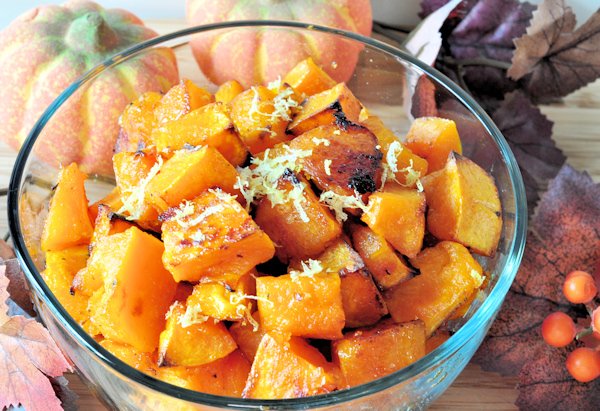 Due to the technical issue of running out of LP gas yesterday, I made it this morning for today's blog, I plan to serve it for dinner tonight. Unless I eat it all before then, because it is so good that I can't stay out of it. You have to make this! It will certainly give you one more thing to be thankful for, I guarantee that.