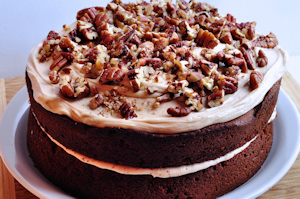 If I live to be a hundred years old, I will retain this one specific memory of walking in the back door of my grandparents' house and and being nearly knocked over by the enticing aroma of something Grandma had made with pumpkin. I don't remember what it was, but I am transported to that place in time when I catch the scent of baking pumpkin. This smell of this cake as it baked, had me right back in Grandma's kitchen, teasing her for a sip of her coffee and hearing her tell me I had to wait till after dinner for a piece of whatever treat she had just conjured up. That alone would be worth the trouble of making this cake, but there are other benefits as well, like ending up with something totally delicious and wonderful.
If you follow me on Twitter, you probably saw me dreaming up this cake this past Saturday. I had a lovely little pie pumkin to cook up, so I looked through the pantry for something that would go well with it. Candied ginger would add a nice deep flavor that would complement the pumpkin. Spicy fruit flavored cakes always go well with cream cheese frosting and for a richer flavor, I decided on a brown sugar cream cheese frosting. And to top it all off – toasted, salted pecans.
So, I had my plan – first though, I had to get the pumpkin ready to use. Wash the outside, and take off the stem. Cut in half from top to bottom, and scoop out the seeds and pulp. The seeds are very tasty toasted if you want to go to the trouble. Line a heavy baking sheet with parchment paper – you don't want to skip this step, because the juice from pumpkins or squash turns into a nearly impossible to remove lacquer as it bakes. Place the halves cut side up , and sprinkle lightly with kosher salt. Bake at 350 degrees for about 40 minutes to an hour. The time will vary greatly depending on the size of the pumpkin, so go by doneness, not the timer. Dump out any liquid that accumulates in the centers. A knife inserted in the thickest part should meet no resistance at all – you want this very soft.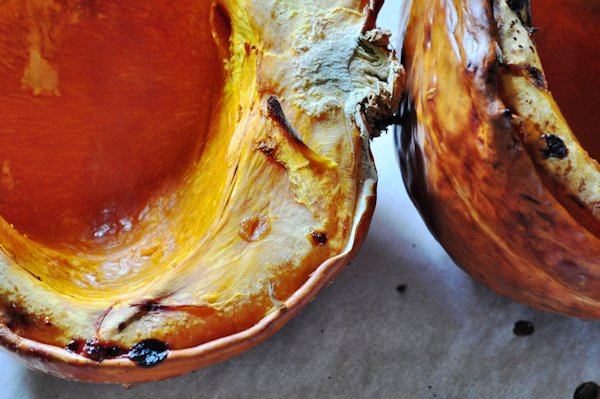 Allow to cool enough so that you can handle it without burning yourself. Scoop all of the insides into a bowl, and discard outer shell. You can now mash the pulp with a potato masher, run it through a food mill, process it with a food processor or blender, or as I did, run through it with an immersion blender. It should be smooth with no big chunks. Set aside for a bit, while we get started on the rest of the cake.
Preheat the oven to 350 degrees, and grease two 9 inch cake pans with solid shortening. If pans aren't nonstick, you may want to trace the correct size circles onto parchment paper, cut out and place parchment circles in bottoms of pans.
Beat until creamy
3/4 cup soft butter
Add
1 & 1/2 cups granulated sugar
And beat until fluffy
Beat in, one at a time
3 large eggs, at room temperature
Add, and beat well, until completely incorporated
1 & 1/2 cups pureed pumpkin
1/4 cup light molasses
1 & 1/2 teaspoon put vanilla extract
4 tablespoons candied ginger, finely chopped [sprinkle with granulated sugar to keep it from sticking together as you chop]
In another bowl, whisk together
2 & 1/2 cup all purpose flour
1 teaspoon baking soda
1/2 teaspoon baking powder
1/2 teaspoon kosher salt
1 teaspoon ground cinnamon
1/2 teaspoon grated nutmeg
1/2 teaspoon ground allspice
You also need to measure out
1/2 cup buttermilk
Add the flour mixture in three parts, alternating with the buttermilk, beating well between each addition, and scraping sides of bowl as needed.
Divide batter evenly in the cake pans and bake for about 40 to 45 minutes, rotating pans after 20 minutes. A toothpick inserted in the center should come out clean, with no crumbs sticking to it. It is easy to under-bake a moist cake like this, so don't take it out too soon. When done, [don't turn the oven off yet] cool for a couple minutes in the pans, and remove carefully, running a clean knife around the edge to loosen, and cool completely on a wire rack.
Toast the pecans – about 3/4 cup whole. Lay in a single layer on baking sheet and drizzle with about a teaspoon of vegetable oil, and sprinkle with kosher salt. Toast in 350 degree oven – they will take about 8 or 9 minutes – stir a couple times so they cook evenly. Remove and when cool enough to handle, chop very coarsely – roughly in thirds.
Make the frosting:
Beat together
4 ounces soft butter
6 ounces soft cream cheese
Add, and beat for several minutes
1/4 cup dark brown sugar
1 cup at a time, beat in
4 cups 10x powdered sugar
Add, 1 tablespoon at a time
heavy cream
It took 2 tablespoons to get it to a good spreading consistency.
To assemble the cake
Carefully brush crumbs from sides and bottom of cake layers. Place the first layer, bottom side up on cake plate, being careful to center it. Spread with half of frosting, trying to stay about 1/2 inch from edge. Place second layer on the frosting, this time with the top up, and make sure it too is centered. Spread remaining frosting on top, and then sprinkle the top with the toasted pecans.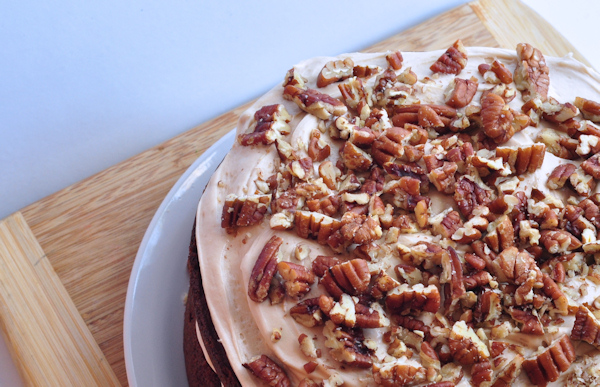 Cut in wedges to serve
This is pretty rich, so it will probably give you 12 servings. It will keep at room temperature for a couple days, but after that it should be refrigerated.
I could not be happier with how this turned out – the mixing method yielded a cake that was quite light compared to many pumpkin cakes and the pieces of ginger are like little flavor firecrackers going off in your mouth. The salted pecans are a wonderful counterpoint to the sweet flavors. A keeper I would say!