This is sort of an un-recipe. I will tell you the amounts I used, because for this post, I did measure. I understand that not everyone is comfortable with cooking a meal by the "little of this, little of that" method. Normally, I don't measure any of it. Casseroles like this are pretty forgiving when it comes to measurements, and with a bit of experience, you can leave the measuring cups in the cupboard. So- feel free to change things to suit your own taste and what you have on hand, or follow along exactly. It will be good either way.
To begin, get a big [like 3 quart] saucepan of water going for the pasta – throw a teaspoon of salt in there. When it comes to a boil, cook 12 ounces of ziti or penne according to the package directions, but pull it out and drain it about 3 minutes earlier than the time given. It is going to cook more in the oven, and you don't want it to be mushy.
In a large saute pan, heat a couple tablespoons of olive oil and add
1 lb of Italian sausage, removed from the casings
[for locals this is Lupo's Hot Chicken Sausage – yum!] Saute the sausage, breaking it into big crumbles as it cooks. When it's about half done, add
1 medium onion, cut in a large dice
1/2 large green pepper, cut in a large dice
1/2 large red pepper, cut in a large dice
8 ounces of button mushrooms, cut in thick slices
1/2 teaspoon kosher salt
few grinds pepper
Oil the bottom and sides of a large baking pan. Mine is about 10×14 inches. When the pasta is done, drain it and mix with
the sauteed veggies and sausage
4 large garlic cloves, smashed and minced
8 ounces of mozzarela cheese, cut in cubes
15 ounce can of diced tomatoes
1/2 teaspoon oregano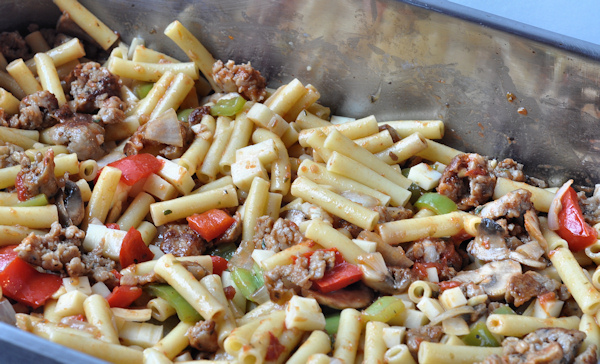 Mix together
24 ounce carton of ricotta cheese
1 beaten egg
2 tablespoons parsely [dried or fresh]
1/2 cup grated romano or parmesan cheese
1/2 teaspoon salt
few grinds pepper
Mix well and spread evenly over the the top of the pasta/veggie mixture in the pan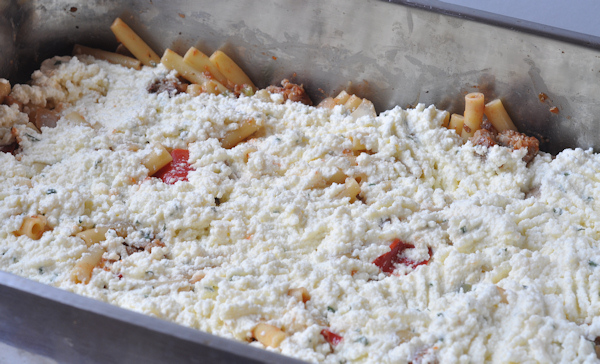 Over top of that, spread either
4 cups prepared spaghetti sauce
or
4 cups thick tomato sauce
1/2 teaspoon salt
a couple smashed and minced garlic cloves
1 teaspoon oregano
1/2 teaspoon each thyme and basil
Prepared sauce is fine for this – I used my own spaghetti sauce from last fall. Spread over the ricotta layer, being careful to cover the entire surface, without mixing the sauce and cheese together too much.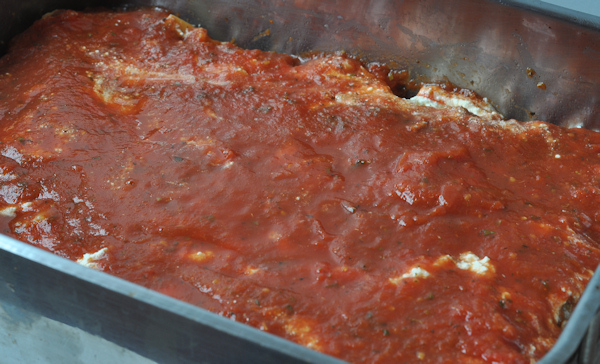 Bake at 350º for about and hour to 90 minutes, until it is all bubbly. You can sprinkle the top with some grate parmesan or romano cheese for the last half hour. Allow to cool for about 15 minutes and then serve with a green salad and some crusty Italian bread.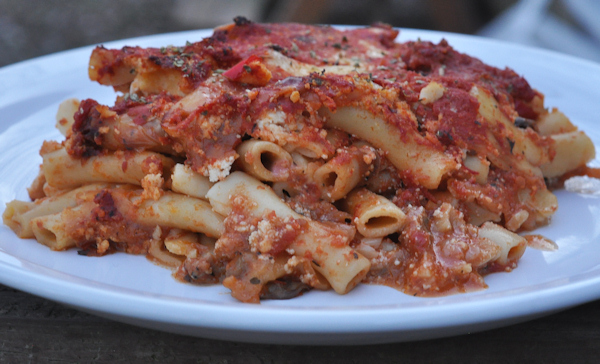 The leftovers – if there are any – are even better the next day. Tonight, or tomorrow – it will make you feel good right down to your toes.
Another post you might enjoy:
Fresh Tomato Sauce