It is hard to beat this time of year, when it comes to garden fresh veggies. We are still getting summer vegetables from our late plantings of green beans and summer squash, while the fall stuff is just coming into perfect ripeness. Like winter squash. We are calling these particular squashes "Mystery Squash", because we have no idea what they are or how they came to be in our garden. They small for the most part – a little bigger than an acorn squash but with this shape rather like the much bigger [and bluer!] hubbards. Perhaps some seeds got mixed up in the packets we purchased back in the spring. No matter, because wherever they came from, they are very tasty. This recipe will work for any smallish winter squash – acorns, any of the squatty turban-shaped varieties. I would not use something like butternut, because the smaller ones will allow the flavors to permeate the whole squash better.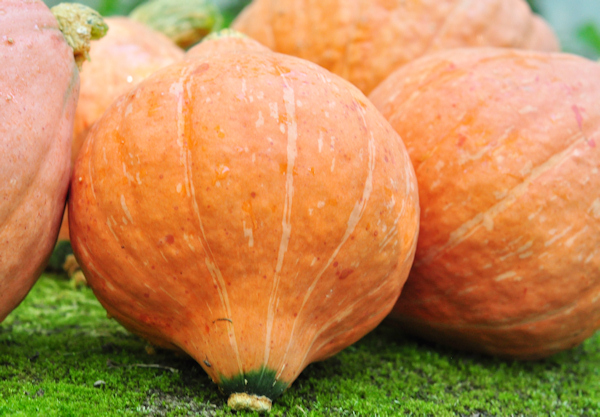 To begin – wash the exterior of the squash well. I like to serve these right in the shell still, so you want that to look nice. Cut in half from end to end, and scrape out all the seeds and loose stringy stuff inside. Sprinkle with kosher salt and freshly ground pepper.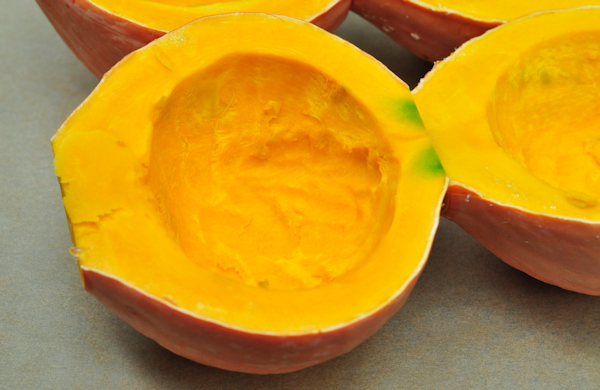 For the aromatics you are going to put in the middle, you want a good mixture of peppers. How much exactly will depend on to your personal preferences – the more hot peppers and garlic you use, the stronger the flavors in the finished dish. This about what I used for each squash half, with all the ingredients cut into a pretty small dice:
2 tablespoons red cherry hot peppers
2 tablespoons jalapenos
1 tablespoon each red and green sweet peppers
1 tablespoon shallots
1/4 teaspoon garlic, smashed into a paste with the side of a knife blade
Spread the mixture up onto the sides in there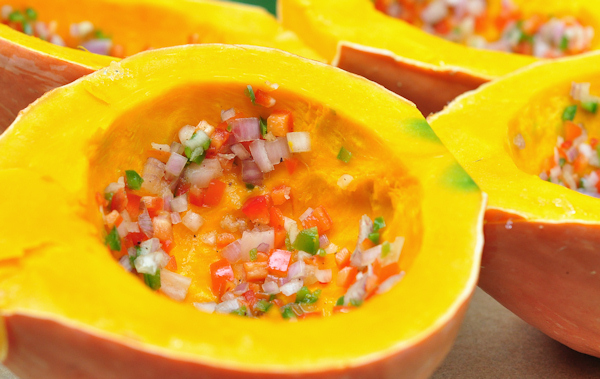 Then – a generous squeeze of honey in the middle. I used about 2 teaspoons per half. Use the back of a spoon to spread that up the sides as well. I also basted the cut edges of the top with honey.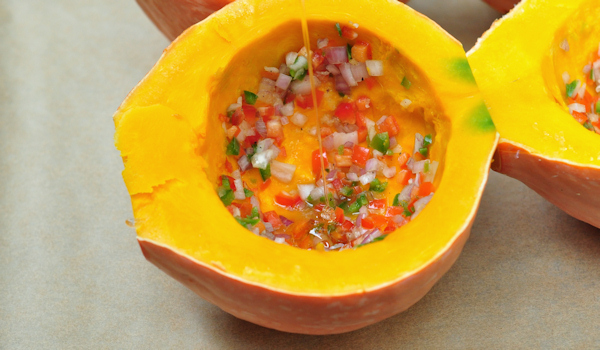 Bake in a 350º for about an hour to an hour and a half. Every 20 minutes or so, take a spoon and drizzle the juices from the middle back up the insides – everything is going to tend to run down and pool in the bottom, so just spread it back up the sides every so often. How long it takes to bake exactly depends on how large and how ripe the squash is and it is better to let it bake too long than to take it out before it is done. A sharp knife inserted in the squash should meet no resistance at all.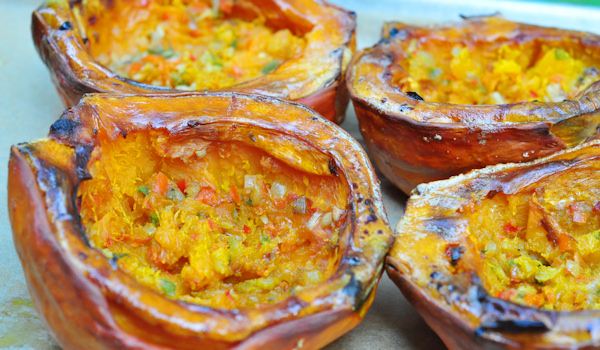 You can scrape everything out of the shells into a bowl and kind of mash it together, but I prefer to just serve them like this, with a dollop of butter melting into the center of each one.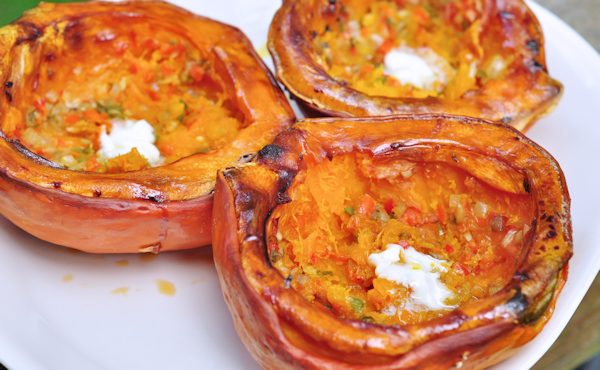 The combination of flavors is sublime – sweet, spicy and mellow. Easy to make – and oh, so easy to enjoy!
Another recipe you may enjoy:
Chili Roasted Winter Squash