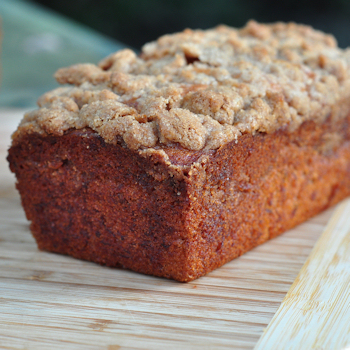 Once again, after a visit from the grandkids and their parents, we have some bananas left over.  The kids would have taken them home actually, but I had been thinking of this recipe for awhile, so I was happy to have them sit and ripen a few days on the counter.  Don't ask me how it is that though neither of us cares for bananas eaten out of hand, we both love baked stuff with bananas, but it is true.  This coffee cake turned out exactly how I had pictured it – moist and dense and rich.  The topping gets all nice and chewy around the edges, and baking it in small loaf pans ensures you have lots of edges.
Begin by greasing 4 small loaf pans and preheat the oven to 350 degrees.
1/2 cup soft butter
1 cup light brown sugar
2 eggs
3 or 4 very ripe bananas
1 teaspoon vanilla
2 cups all purpose flour
3/4 teaspoon salt
2 teaspoons baking powder
1/2 cup buttermilk
I used my stand mixer, but a hand mixer will work just fine. Cream the butter, beat in the sugar and eggs, then the bananas and vanilla. Combine the dry ingredients, and add to the butter mixture. With the mixer running, add the buttermilk, and mix until completely combined and smooth – a minute or so at medium speed.
Prepare the topping by mixing together
1/2 cup butter
1 cup sugar
1 cup all purpose flour
1 teaspoon cinnamon
It will form nice big crumbles.
Fill each prepared pan about 1/3 full and divide half of the topping among the 4 pans. Fill with remaining batter, and top with remaining streusel. Bake for 35 to 40 minutes until a toothpick inserted near the center comes out clean. Cool on a rack for about 10 minutes, loosen the edges and carefully remove from the pans. You may lose a bit of the topping when you are doing this bit, but you have my permission to eat that yourself – it falls under the heading of quality control, a vital part of any baking project. Cool a bit more and then slice to serve.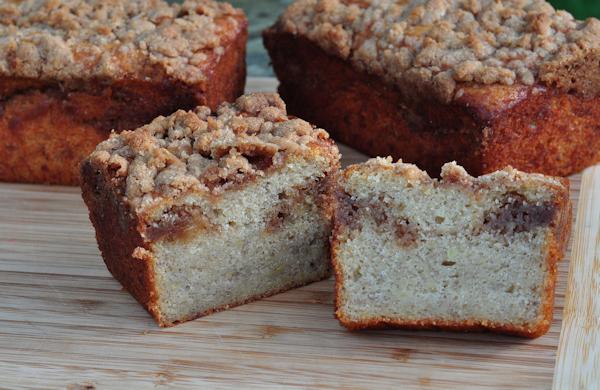 You can dust the slices with a bit of confectionary sugar and serve with butter, but it truly doesn't need a thing, with the possible exception of a nice rich cup of coffee or tea. It tasted even better the next day, as the flavors had deepened and blended by then. You can reheat it before serving if you like.